Given the rapid pace of technological advancements, key opinion leader (KOL) identification & profiling has gradually advanced from its traditional approaches to become a widely acclaimed healthcare and pharma marketing technique. Market developments have further bolstered the acceptance of newer approaches by making them more effective.
Key opinion leader identification undisputedly stands to be the most sought-after tool to analyze markets based on the views of industry experts who present an unbiased overview. Though KOL identification plays a significant role in influencing the perception and opinion of stakeholders, the impact of such influential opinions can be directly associated with the accuracy of the approach. Infiniti Research's expertise in KOL research and ability to comprehend influencer viewpoints as a vital pharma marketing tool stand apart due to its unique influencer identification, profiling, and mapping approach. Compared to traditional approaches, we go a step ahead and analyze the social footprints of influencers across therapeutic areas and demographics. We'll help you identify key opinion leaders who can positively impact your brand through in-depth analysis and robust reporting- Contact us for more information.
How KOL identification and profiling can help you engage with the right influencers
At Infiniti Research, we adopt an advanced approach to key opinion leader research- driven by market developments and technological advancements to cater to the dynamic needs of our clients. Our approach to KOL identification and mapping helps businesses to identify, map, and prioritize influencers by leveraging in-depth research and qualitative & quantitative insights obtained from various sources, including literature reviews, longitudinal patient claims data, clinical trials, focus groups, company affiliations, regulatory bodies, and advocacy groups.
The outcome of our approach to KOL identification is accurate and can be utilized by clients in numerous ways, be it to improve their product launch strategy, commercialization plans, or enhance resource utilization. Our focus areas include:
Tactical planning for KOL engagement strategy development
Identification of key influencers and thought leaders
Key opinion leader mapping and network analysis
Effective key opinion leader identification and mapping serve many purposes if done right. According to our experts, initiating the process by adopting the right approach can help drive maximum value. Request a free proposal to know more about our KOL research services.
Why choose Infiniti Research?
Top reasons to collaborate with us-
Dedicated pharma and healthcare research division that delivers 200+ projects every year
Proven track record of creating and managing KOL profiles across geographies
Ability to aid the creation of global key opinion leader databases
Flexible engagement policies and pricing plans
Cross-functional teams comprising analysts, healthcare market research experts, and industry thought leaders
Key opinion leader identification: Our holistic approach
Our approach focuses on identifying, profiling, and measuring the impact of key opinion leader viewpoints to empower clients with the insights to maximize their business outcomes.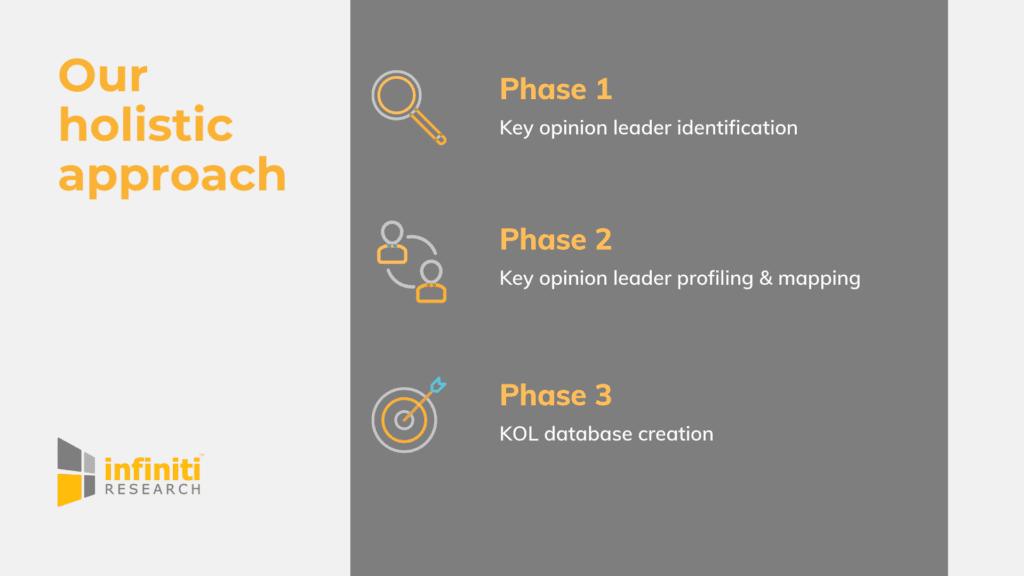 KOL identification
We adopt a robust three-pronged approach to help our clients identify key opinion leaders. This process is further customized to suit the client's requirements and the target therapeutic area. As part of this analysis, we identify the most relevant entities for every client's geographic region and problem statement. We then deep dive into focus areas and build a list of key influencers using highly relevant data sources and tailored surveys that aid in creating a peer-recommended influencer list.
KOL profiling & stakeholder mapping
Once we've identified the top influencers, we aggregate the data and build targeted medical profiles to provide an overview of the influencer ecosystem. Prioritization of these profiles helps filter out the top influencers in each market segment.
Our research team works with you to create a tailored approach that can help you identify, map, and prioritize key influencers. Request more information to learn more about our capabilities.
KOL database creation
The final phase focuses on developing an integrated repository consisting of key opinion leader information and details on how they can positively impact the client's business. It includes details of clinical trials, geographic data, demographic insights, heat maps, and other confidential information.
The most challenging part of a KOL research program is identifying and prioritizing influencers. Having worked on several KOL research projects, we have gained the experience and expertise required to support your every business requirement – Request a free brochure to get started!