During 2015-16, the global market for residential smoke detectors was valued at over USD 1 billion and is expected to witness stable growth at a CAGR of over 2% by the end of 2025.
For any business to succeed and thrive, it is a prerequisite to develop effective market entry strategies and keep a close track of the competition and state of the industry. Typically, companies commission market assessment analyses to assess the viability of a business opportunity under consideration. However, a well-prepared assessment delivers value far beyond that immediate need and help businesses foresee the challenges and pitfalls that lie ahead. Besides providing vital data and context for evaluating an opportunity, a market assessment study reveals much more than conventional research.
Smoke detectors may be one of the most indispensable items in a household, because of its obvious potential to save lives and property. These early warning devices alert about a fire breakout and dangerous smoke while there is still time to evacuate; however, they need to be tested regularly to ensure proper function. Smoke detectors include an

electronic PCB and a sensor that is enclosed in a plastic chamber, which includes the components necessary for the detection of smoke. The detectors sense the smoke from a fire and activate the alarm. Several advanced technologies, including wireless sensors and smart buildings, are entering the residential smoke detectors market. Smart smoke detectors comprise a group of sensors and detectors that can communicate easily with control units, ensuring better efficiency in the systems.
Globally, the market for residential smoke detectors is envisaged to grow at a CAGR of over 2% until 2025. Much of this growth is predicted to be driven north considering the implementation of stringent fire safety legislation and increasing residential construction across the globe. Considering significant growth prospects across the globe, a leading manufacturing firm asked our team to assess the market and competitive dynamics to increase transparency on market structure and technical requirements across target regions. The results were expected to enable clients in getting actionable insights on the key trends and future growth prospects of this market. Additionally, this market assessment study also enabled identification of potential partners who would be a good fit for the supplier by assessing their design and manufacturing capabilities.
The Business Challenge
To assess and understand the growth opportunities and routes-to-market the product, the client – a global conglomerate specializing in the areas of electrification, automation and digitalization – approached Infiniti to carry out a market assessment study on residential smoke detectors, which would help them gain insights into the market structure and laws and legislations influencing the market.
The key focus of this market assessment study was to provide actionable insights on residential smoke detectors, including market size estimation, segmentation, and analysis of the routes-to-market the product, the legislation and regulatory mandates associated with the product, competitive dynamics, and to identify potential partners for business growth.
Based on the brief, Infiniti's client and project management team worked synergistically with the client's team, to identify and provide details around potential competitors in each residential smoke detectors market segment.
Infiniti's experienced market assessment team tracked recent developments and innovations in the market through

secondary journals and reached out to relevant stakeholders such as channel partners, business executives, traders, dealers, and suppliers to understand their views on the market. Our analysts engaged with regulatory bodies to get a better understanding of the regulatory mandates that directly influence the short and long-term growth prospects of this market.
Why Infiniti Research is the preferred partner for more than 55 Fortune 500 Companies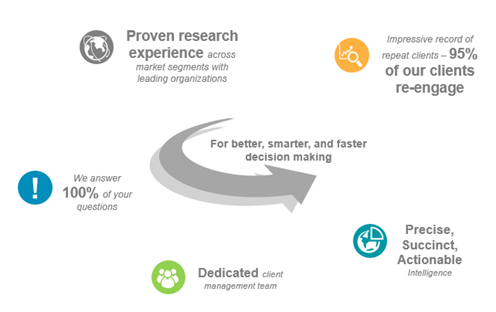 Solution Offered and Impact
A dedicated market assessment team with hands-on experience in serving the various information needs of leading global companies was assigned to this engagement to help clients understand the acceptability of their products. To address the challenges specific to clients' requirements, Infiniti's market assessment team recommended a comprehensive and systematic approach for this engagement. The approach provided a complete 360-degree view of the residential smoke detector market, including in-depth analysis of the customer's buying habits and product sources and channels. Moreover, the experts would also provide a detailed understanding of whether there is displacement or erosion of some commercial fire systems in favor of feature rich interactive residential detectors.  Furthermore, the experts also proposed to conduct a blended research methodology consisting of in-depth qualitative and quantitative analysis followed by data cleaning and validation to offer strategic insights on the market's growth.
Furthermore, the market assessment experts used secondary research as a major precursor to the study and for building initial hypotheses specific to the target market, end users, and major product categories. Secondary research was also used to obtain, organize, and analyze relevant published information from a wide array of market research reports, annual reports, white papers, magazines and publications, websites of competitors, company publications, case studies, journals or magazines, news aggregators, and industry forums.
In just eight weeks, the client – a leading infrastructure and industry solutions provider – gained actionable insights on the latest trends and future requirements for residential smoke detectors. The clients also gained insights on the rapidly growing trend of smart home adoptions on the residential smoke detector markets. The market assessment experts at Infiniti provided valuable information on the long-term impact of new technology and non-traditional competitors entering the market. Furthermore, an assessment of current and emerging market trends was also shared with the clients.
Benefits of Our Integrated Approach?
In a relatively short period of eight weeks, the client saw clear benefits from our relationship. The client gained a holistic overview of the current market trends, drivers, and challenges associated with residential smoke detectors. Additionally, with an analysis of the trends in the development of fire safety laws and legislature in countries that do not have existing regulations benefit, the client benefited in terms of ROI.
Here are some of the key points appreciated by our clients
Dedicated Market Assessment Portal.

A centralized platform for the collection, storing, processing, reporting, and dissemination of information with the specific purpose of assisting the decision-making process and developing actionable insights. This portal includes comprehensive information on quantitative and qualitative aspects on target markets, competitors and end-users.

Collaborative learning.

We leveraged the experience of our healthcare team and our technical capabilities to enable report-sharing and other collaborative features appreciated by client teams.

Database Access.

Access to a patient database containing information about 60+ medical diseases and conditions, such as patients undergoing treatment, untreated patients, and patients with chronic conditions.

Interactive Dashboard.

Using our Portal based solution for healthcare professionals, we took a design-first approach to problem-solving and helped break through previously held assertions.

Value for Money.

Infiniti's dedicated client management team customizes reports to suit business requirements and offers the best insights for every dollar spent.
A must-read market assessment study for strategy experts and decision makers looking for insights on the residential smoke detectors market.