Every hour, COPD is estimated to kill over 250 people worldwide. The WHO estimates that COPD will be the third leading cause of death globally by 2030.
More like a 'smoker's cough,' the chronic obstructive pulmonary disease (COPD) is a life-threatening lung disease that interferes with normal breathing. A recent study shows that it is the only major cause of death whose prevalence is on the increase and is envisaged to be the third leading cause of death globally by 2030 – exceeded only by heart diseases and stroke. This recent increase in the incidence of COPD in regions like the Europe has subsequently accelerated the need for treatment options like Non-Invasive Ventilation (NIV), which help patients breathe through a machine that is attached to a mask. Though similar to a nebulizer, NIV is usually used when patients have a severe flare-up of their breathing problem.
For companies in the medical devices sector, this recent outburst in the incidence of COPD presents a good

opportunity to plan for market entry and take advantage of the emerging high demand for various treatment options. However, entering a market space that is rapidly becoming competitive is no simple feat due to the limited availability of statistical information and prevalence rate for COPD. Also, the lack of concrete information on the price-rate variation for COPD and NIV treatment will pose a significant challenge for most medical devices manufacturers looking to enter or expand their market share in this space.
The Business Challenge
To assess the changing demand-supply landscape of the COPD and NIV treatment market across Europe, a leading global respiratory device manufacturer approached Infiniti to obtain effective healthcare information mapping and insights on emerging and untapped market opportunities which they can target.
The primary goal of this market opportunity assessment and healthcare information mapping engagement was to evaluate the prevalence and magnitude of COPD and global initiative for chronic obstructive lung disease (GOLD) across 10 European countries. Additionally, the healthcare information mapping service also offered insights on popular treatment patterns to assess the potential for their devices across specific set of target countries such as the UK, France, Italy, Germany, Spain, Sweden, Norway, Switzerland, Denmark, Portugal, and Finland.
Infiniti's experienced healthcare information mapping and market opportunity assessment team tracked recent developments and innovations in the market through secondary journals and reached out to relevant stakeholders such as industry experts, KOLs, device users, procurement experts to understand their views on market. Our healthcare information mapping and market opportunity assessment research team also spoke to stakeholders responsible for sales and distribution of these devices to understand how the market would grow in short and long term and also to validate market size and opportunity model developed for this segment.
Why Infiniti Research is the preferred partner for more than 55 Fortune 500 Companies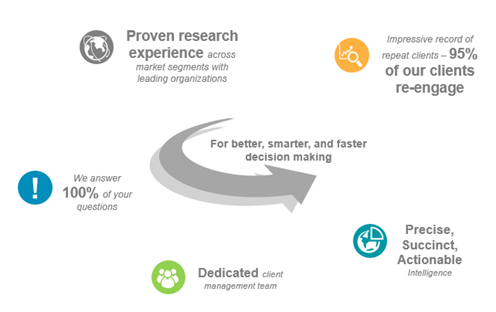 Solution Offered and Impact
By evaluating a wide array of published literature to develop an initial hypothesis, Infiniti's industry experts identified numerous market stakeholders and conducted in-depth primary and secondary research to determine the prevalence, prescription patterns, key treatment methods used, and new trends affecting the COPD treatment in Europe. The research team also conducted a large number of interviews and discussions with major market stakeholders to obtain information specific to the market.
In just eight weeks, our healthcare experts helped the client gain strategic insights into the prevalence of COPD and GOLD in Europe along with an analysis of latest developments and innovations in this space.
To assess the challenges specific to the healthcare medical devices sector, Infiniti's healthcare experts have developed an extensive proprietary database consisting of information on more than two million industry experts, doctors, physicians, key opinion leaders, medical technicians, payers, end-users, and patients. This database also includes high quality and accurate information obtained through quantitative and qualitative surveys with effective response rate. We also have a collection of the best-in-class global network of 3000+ payers influencers, and KOLs spread across multiple channels in 50+ countries.
What do the clients appreciate about our approach?
In a relatively short period of time, just eight weeks, the client saw clear benefits from our relationship. The benefit was not only in terms of revenue impact or analytics turnaround time but also in terms of the experience we were staging for them by exposing them to a new way of problem-solving.
Here are some of the key points appreciated by our clients
Dedicated Market Intelligence Portal. A centralized platform for the collection, storing, processing, reporting, and dissemination of information with the specific purpose of assisting the decision-making process and developing actionable insights. This portal includes comprehensive information on quantitative and qualitative aspects on target markets, competitors and end-users.
Collaborative learning. We leveraged experience of our healthcare team and our technical capabilities to enable report-sharing and other collaborative features appreciated by client teams.
Database Access. Access to a patient database containing information about 60+ medical diseases and conditions, such as patient undergoing treatment, untreated patients, and patients with chronic conditions.
Interactive Dashboard. Using our Portal based solution for healthcare professionals, we took a design-first approach to problem solving and helped break through previously held assertions.
Value for Money. Infiniti's dedicated client management team customizes reports to suit business requirements and offers the best insights for every dollar spent.
A must-read case study for strategy experts and decision makers looking for effective market opportunity assessment and healthcare information mapping services.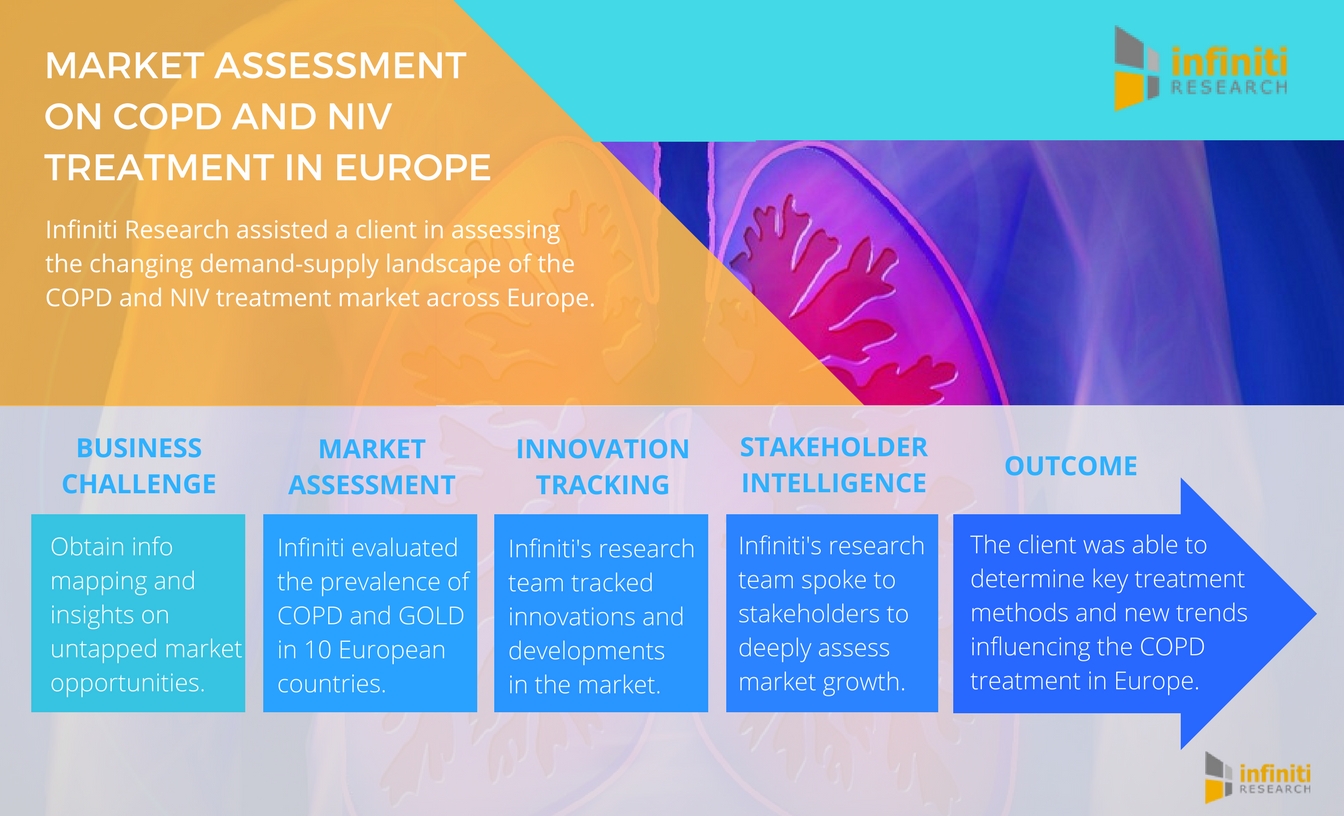 To read more about COPD, click here.