Filter plates are primarily used for applications requiring liquid-solid separation, such as mining and mineral processing, chemical manufacturing, paint and pigments, and wastewater treatment, among others. Quality, high

durability, and precise specifications are the key attributes of filter plates and filter membranes as they are mostly used in specific industrial applications. A comprehensive range of plate types and materials including recessed filter plates, membrane plates, vacuum membrane filter plates are available for different types of industrial applications. Filter membranes are used to reduce the cake moisture content or shorten the filtration cycle time. There are two types of membrane plate designs – fixed membranes and replaceable membranes.
Filter membranes are typically used for both liquid and air filtration as they offer precisely controlled pore size distribution with increased strength and flexibility. This makes them well-suited for a broad range of applications such as basic research, environmental testing, and pharmaceutical as well as food and beverage industries. Moreover, standard and custom filter plate designs and filter press plates help improve cake dryness and washing efficiency to help combat abrasive conditions.
The Business Challenge
To obtain a precise understanding of the current and future market scenario and assess the market shares of top

global players, the client – a leading manufacturer of extruded and pressed thermoplastic materials for various industries – approached Infiniti to carry out a competitive assessment study on filter plates and filter membranes across the target region. The primary focus of this competitive assessment was to assess the size and growth rate of the market and to offer an in-depth analysis of the market trends, growth drivers, and the key challenges and their impact on the market size.
The scope of this competitive assessment involved offering actionable insights to the client on the market segments and understand market attractiveness in the respective segment to strategize the company's growth plans across the target end-user segments – mining and minerals industry, chemical industry, food industry, and pharmaceutical industry. Additionally, our industry experts also offered an analysis of the key competitors to help the client gain a holistic overview of all the market-leading companies and their market size, product portfolio, target regions, and sales and marketing strategies. Infiniti's experienced competitive assessment team conducted interviews and discussions with market stakeholders across the business landscape and value chain of the industrial filtration products market to access relevant information and insights, and ensure accuracy of the data.
Why Infiniti Research is the preferred partner for more than 55 Fortune 500 Companies
Solution Offered and Business Impact
An experienced team of competitive assessment experts was assigned to this engagement to help clients gain an in-depth understanding of the overall filter plates and membranes market and analyze the various factors affecting the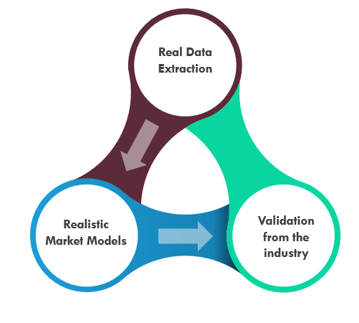 growth of the market. To address the client's specific category requirements, Infiniti's competitive assessment team followed a comprehensive data analysis methodology consisting of qualitative and quantitive analysis. The information gathered through this process was utilized to design an analysis framework using multiple data analysis tools and software packages and implement a framework to gather valuable insights. Furthermore, after a thorough assessment of the relevance, efficiency, and impact of the gathered information, valuable insights were derived on the market's growth prospects across the target region.
The experts also used a combination of multiple research methodologies of secondary research for building initial hypotheses and identifying key market stakeholders and business executives for primary research. Moreover, the research experts also referred to a broad range of public and proprietary databases through our network to obtain, organize, and analyze relevant published information, and develop contact details of market stakeholders. Secondary research also involved reviewing an extensive array of market research reports, white papers, magazines and publications, annual reports, websites of competitors, company publications, case studies, journals, news aggregators, and industry forums to obtain, organize, and analyze relevant published information. Additionally, to offer a detailed assessment of current and emerging market trends, our competitive assessment experts conducted interviews and discussions with market experts, business executives, and stakeholders from the filter plates and filter membranes market.
By the end of six weeks, the client was able to gain a clear understanding of the market across the target regions. Additionally, the client also derived numerous benefits in terms of understanding the target segment, the target regions, and the competitive landscape of the filter plates and filter membranes market.
Benefits of Our Integrated Approach
In a relatively short duration of six weeks, the client saw clear benefits from our relationship. The competitive assessment helped the client gain a complete overview of the current market scenario, including market size, trends, drivers, and challenges associated with filter plates and membranes. Additionally, with a better understanding of the competitors and their growth strategies, the client was able to devise a conducive strategy to benefit in terms of ROI.
Here are some of the key points appreciated by our clients
Dedicated Market Assessment Portal.

A centralized platform for the collection, storing, processing, reporting, and dissemination of information with the specific purpose of assisting the decision-making process and developing actionable insights. This portal offers competitive assessments on quantitative and qualitative aspects on target markets, competitors, and end-users.

Collaborative learning.

We leveraged the experience of our healthcare team and our technical capabilities to enable report-sharing and other collaborative features appreciated by client teams.

Database Access.

Access to a patient database containing information about 60+ medical diseases and conditions, such as patients undergoing treatment, untreated patients, and patients with chronic conditions.

Interactive Dashboard.

Using our portal-based solution for business professionals, we took a design-first approach to problem-solving and helped break through previously held assertions.

Value for Money.

Infiniti's dedicated competitive assessment team customizes reports to suit business requirements and offers the best insights for every dollar spent.
A must-read competitive assessment case study for strategy experts and decision makers looking to develop effective market entry strategies for filter plates and membranes.