Rapid

pace of industrial development and growing number of end-user industries to help the paints and coatings industry generate revenues in the near future.
A significant paradigm shift that has taken place in the paints and coatings industry during the past 40 years has been the adoption of new coating technologies that offer low volatile organic compounds (VOCs). Up until the early 1970s, most coatings and paints used were conventional low-solids, solvent-based formulations. Waterborne paints, which were used in architectural applications, accounted for a minor share of the total market. However, in the late 1970s, the implementation of stringent government regulations on air pollution control focusing on industrial coating operations spurred the development of low-solvent and solventless coatings that could reduce the emission of VOCs. Additionally, factors such as energy conservation and rising raw material costs also fostered the adoption of new coating technologies. These technologies include waterborne coatings, two-component systems, high-solids coatings, powder coatings, and radiation-curable coatings.
Primarily, most coatings provide two functions, decoration and protection, which are of considerable economic

importance. An analysis of the market shows that most of the coatings produced globally are used to decorate and protect new structures and maintain existing structures like public buildings, residential homes and apartments, and plants and factories. Similarly, special purpose coatings are used for miscellaneous applications such as traffic paints, high-performance coatings for industrial plants and equipment, vehicle refinishing, and protection of marine structures and vessels. They are usually applied outdoors in ambient conditions. Without coatings, a product's life might be shortened drastically, and many products would not even be marketable.
For companies looking to enter the paints and coatings industry, understanding the industry's value chain and developing an effective decision-making strategy pose significant challenges to market entry. However, the market intelligence services offered by Infiniti help companies keep a track of their competition and industry to improve their businesses' operating model. At its core, our market intelligence services utilize numerous sources of information to create a broader picture of the company's existing market space, customers, problems, competition, and growth potential for new products and services.
The Business Challenge
To understand how factors such as fluctuating cost of raw materials will affect the demand-supply landscape for this

market space, a leading chemical company from Asia, whose key products are chemicals and materials science, approached Infiniti to develop an effective market entry strategy for its solvent-soluble fluoropolymer in architectural markets across Europe and the Middle East.
The key focus of this market intelligence study was to map the value chain of the European and Middle Eastern markets, identify leading suppliers, key decision makers, their decision-making process and provide recommendations, which would help the client successfully launch its solvent-soluble fluoropolymer in architectural markets.
At Infiniti, our "market intelligence" team understands that to develop an effective market entry strategy, tracking recent developments and innovations in the market through secondary journals and reaching out to prominent stakeholders such as industry experts, KOLs, product users, and procurement experts to understand their views on the market are essential. Additionally, our team also spoke to prominent stakeholders responsible for the sales and distribution of similar products to understand how the industry would grow in the near future.
Why Infiniti Research is the preferred partner for more than 55 Fortune 500 Companies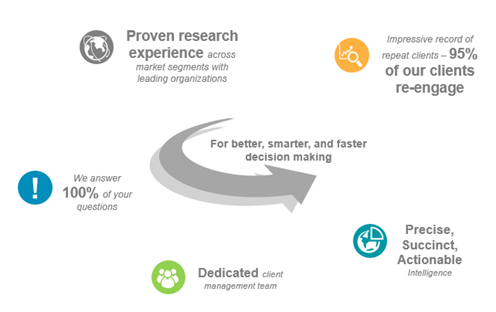 Solution Offered and Business Impact
By evaluating country-specific data on key decision makers and influencers in the value chain, our market intelligence team helped the client identify potential opportunities that would allow them to develop strategies for their products' promotion. Additionally, our market intelligence team helped the client leverage the information gathered to create new ROI calculations and business cases for their products.
To meet the client's business requirements, the team went through and analyzed secondary sources such as industry journals, directories, and databases to categorize and collect information useful for this extensive market intelligence study on the paints and coatings industry in Europe and the Middle East. Furthermore, the key influencers from related industries and suppliers were also interviewed to obtain and verify crucial information as well as to assess the product's prospects in the industry.
What do the clients appreciate about our market intelligence services?
In a span of eight weeks, the client – a leading Asian chemical company, whose key products are chemicals and materials science – was able to leverage the information gathered to map the value chain of the Middle Eastern and European market and understand the prospects for its solvent-soluble fluoropolymer in architectural markets across the target regions.
Here are some of the key points appreciated by our clients:
Dedicated Market Intelligence Portal.

A centralized platform for the collection, storing, processing, reporting, and dissemination of information with the specific purpose of assisting the decision-making process and developing actionable insights. This portal includes comprehensive information on quantitative and qualitative aspects on target markets, competitors and end-users.
Collaborative learning. We leveraged the experience of our healthcare team and our technical capabilities to enable report-sharing and other collaborative features appreciated by client teams.

Database Access.

Access to a patient database containing information about 60+ medical diseases and conditions, such as patients undergoing treatment, untreated patients, and patients with chronic conditions.

Interactive Dashboard.

Using our Portal based solution for healthcare professionals, we took a design-first approach to problem solving and helped break through previously held assertions.
Value for Money. Infiniti's dedicated client management team customizes reports to suit business requirements and offers the best insights for every dollar spent.
A must-read market intelligence case study for strategy experts and decision makers looking for insights on the paints and coatings industry.