In recent years, OEMs have been focusing extensively on enhancing operational performance and drivability and ensuring safe transportation of cargo and passengers. Moreover, the growing acceptance of electric and hybrid vehicles and incorporation of smart and connected technologies in automobiles have encouraged manufacturers to improve power and drivetrain systems that comprise of components such as a clutch, transmission, propeller shaft, propeller shaft yoke, and rear axle. While the axle serves different functions of steering and transmission, a propeller shaft and yoke transmits torque and ensures rotation of drive train components.
Globally, there has been a significant increase in vehicle production to meet the demands of the population. However, since the economic crisis in 2008, the automotive industry has been in a state of recovery. This is one of the critical factors affecting the revenue sales of the propeller shaft and propeller shaft yoke. Moreover, growing

concern for fuel efficiency and strict norms imposed by the international emission control authorities have encouraged the OEMs and automotive component suppliers to develop lightweight propeller shaft without compromising on the performance. Also, a booming aftermarket demand for automotive propeller shaft and yoke from emerging countries is anticipated to spur the production of lightweight propeller shaft and yoke for the automotive industry. However, several challenges including a changing demand-supply landscape and constant fluctuation in global oil prices are expected to have an impact on the automobile manufacturing market.
Stringent government regulations and increasing consumer demands have propelled OEMs and suppliers to improve the efficiency of vehicles by reducing the overall weight. Suppliers are presently focusing on using lightweight materials, such as aluminum, with high tensile strength and durability while designing drivetrain components, including propeller shafts and yoke.
The Business Challenge
To get a holistic outlook of the market and assess the market dynamics of the aluminum propeller shaft and yoke market, the client – a leading chemical engineering firm well-known for its high-quality products– approached Infiniti to engage in a market landscape and supply chain assessment across North America. The scope of this market assessment engagement was to assess the market size, trends, growth prospects, and identify and evaluate key players including OEMs, Tier 1, Tier 2, and Tier 3 companies in the target region.
This market assessment study was carried out to help the client gain objective insights on the market potential of

aluminum propeller shaft and aluminum propeller shaft yoke and to strategize the company's growth plans across the target segments. Additionally, this market assessment also aimed at helping the client gain a better understanding of the production location and current market shares, and identification and deep-dive assessment of the identified key players at different levels of the supply chain.
Infiniti's dedicated market assessment team ensured quick execution and smooth process flow as the study progressed. The market assessment team had prior experience in working with the client and were familiar with the requirements and expectations during the various stages of the engagement. Furthermore, recent developments and innovations in the market were tracked through white papers and annual reports. The market assessment specialists also reached out to key stakeholders, including channel partners, business executives, dealers, traders, and suppliers to understand their views on the market. Our market assessment experts also engaged in discussions with industry experts to develop an in-depth understanding of market dynamics in each region or country under focus.
Why Infiniti Research is the preferred partner for more than 55 Fortune 500 Companies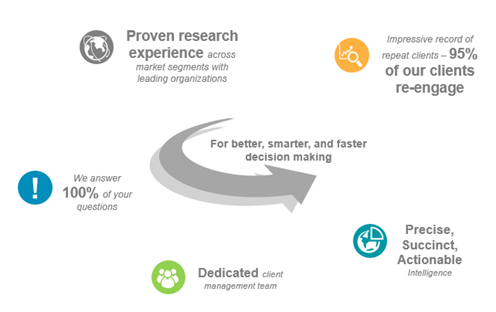 Solution Offered and Business Impact
A dedicated market assessment team with substantial experience in meeting the various information and analysis needs of leading global companies was assigned to this engagement to help the client understand the future growth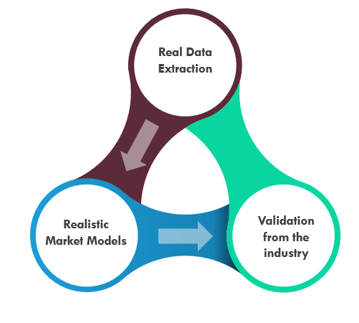 prospects of their products. To address the challenges faced by the client, Infiniti's market assessment team built market modeling methods for current and futuristic market forecasts after speaking to industry experts. The market sizing model was built on both top-down and bottom-up data to make robust estimations.
The market assessment experts also used a blend of multiple research methodologies to make initial hypotheses, develop an information and data points repository, and identify market stakeholders and business executives for primary research. Moreover, a scrupulous assessment was conducted through proprietary and open data sources, market research reports, white papers, magazines and publications, publications of traders and distributors, case-studies, journals/magazines, news aggregators, and industry forums. Additionally, to assess the current and emerging market trends and analyze the company's growth prospects, our experts engaged in semi-structured interviews and discussions with business executives, industry specialists, and stakeholders from the automotive sector.
By the end of 11 weeks, the client – a globally recognized engineering company – was able to gain a better understanding of the aluminum propeller shaft and yoke market across North America. Additionally, the client saw several benefits in terms of understanding the overall aluminum propeller shaft and aluminum propeller yoke market size, the key vendors, and the contact details of the key stakeholders of each Tier 1 and OEMs under focus across the target region.
Benefits of Our Integrated Approach
In a relatively short period of 11 weeks, the client saw clear advantages from this engagement. The client gained a complete overview of the current market trends, market size, and the key players operating in different levels of the supply chain – OEMs, Tier 1, Tier2, and Tier 3 players. Additionally, an account intelligence study conducted by the experts also provided the client with the contact details of the key stakeholders of the Tier 1 operators and OEMs under focus, which benefitted the clients in terms of ROI.
Here are some of the key points appreciated by our clients
Dedicated Market Assessment Portal. A centralized platform for the collection, storing, processing, reporting, and dissemination of information with the specific purpose of assisting the decision-making process and developing actionable insights. This portal includes comprehensive information on quantitative and qualitative aspects on target markets, competitors and end-users.

Collaborative learning.

We leveraged the experience of our healthcare team and our technical capabilities to enable report-sharing and other collaborative features appreciated by client teams.

Database Access.

Access to a patient database containing information about 60+ medical diseases and conditions, such as patients undergoing treatment, untreated patients, and patients with chronic conditions.

Interactive Dashboard.

Using our portal based solution for healthcare professionals, we took a design-first approach to problem-solving and helped break through previously held assertions.

Value for Money.

Infiniti's dedicated client management team customizes reports to suit business requirements and offers the best insights for every dollar spent.
A must-read market assessment study for strategy experts and decision makers looking to develop effective market entry strategies for the aluminum propeller shaft and aluminum propeller yoke market.