Since the turn of the decade, online learning has become a ubiquitous phenomenon. As technology and connectivity continued to develop and grow, so did the online learning industry. Over recent years, online learning has become more popular, widely adopted, and has proven that it is effective. Starting with televisions, and other audio-visual units in classrooms, then to smartboards, projectors, and laptops, traditional education was making a slow transition from paper to digital. While this transition process was inevitable, the COVID-19 pandemic substantially hastened the process.
As COVID-19 caused nationwide lockdowns and forced governments to keep schools, colleges, and other educational institutions closed, the education systems were forced to adapt. Moving from large, interactive classrooms to laptop screens and muted microphones, the e-learning industry is set to change the education system significantly.
There are many benefits of online learning for consumers and companies. For consumers, it offers them the opportunity to receive immediate feedback and improve. It also allows them to learn at their convenience. Additionally, this industry enables consumers to study a variety of subjects and create their preferred course structures. Infiniti's research experts evaluated the benefits for consumers and businesses and compiled four significant reasons to adopt it.
Additionally, this sudden transition to eLearning has propelled the already growing industry further. Infiniti's market research experts studied the market trends in online learning that are affecting and driving this growth. This article details the benefits of online learning, and four significant current market trends that are changing the industry, as discussed by Infiniti's market research experts.
As the online learning industry grows, so will the competition. To stay ahead of the competition with unparalleled market insights, request a free proposal.
The Benefits of Online Learning
Online learning has changed education, entrepreneurship, and employment over recent years. Businesses and consumers across the globe have witnessed the benefits of online learning and are attempting to incorporate it into their daily operations. There are various reasons for this change, four of which have been detailed below by Infiniti's industry experts:
Increased Revenue Per Employee: Training programs and courses can help employees stay up to date on industry best practices, and help businesses evolve. These programs enhance the revenue per employee substantially, making this investment highly feasible for companies in every industry.
Reduced Energy Consumption: As the environmental crisis becomes a significant concern, energy consumption and reduced production of CO2 are extremely important. By removing the use of energy in classrooms, or the need for travel, the eLearning industry allows for precisely that.
Convenience and Time: Online learning platforms allow individuals and businesses to choose convenient times to schedule a course. For instance, if the class is a pre-recorded video, an individual can schedule it for weekends, or post-office hours, so they may learn without the struggle of traveling, missing out on work, or overloading their calendar. This also enables consumers to choose various courses that they can study, in the travel time that is no longer required.
Affordability: This form of learning is extremely affordable and, in some cases, more effective than traditional learning. With the ability to learn, research, interact, and get feedback on one platform, students can save time and gain more at a notably lesser cost. For businesses, this investment is substantially lower than potentially hosting or hiring a trainer in their office location.
To further understand the benefits of online learning to consumers, and efficiently personalize and improve offerings, get more information.
Significant Market Trends in Online Learning
It is crucial to understand the benefits of online learning, and the reason it is being adopted across the globe. Similarly, it is vital to understand the market trends in online learning and how they are affecting this industry. In this and coming years, these four trends have been forecasted to contribute to market growth: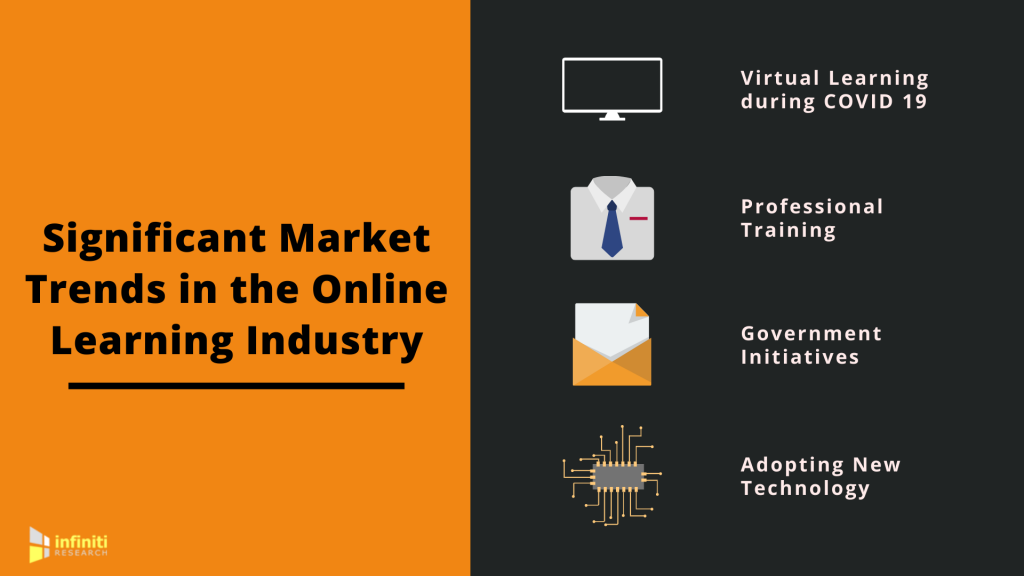 Virtual Learning through COVID 19
With the COVID 19 pandemic, educational institutes across the world were closed for an indefinite amount of time. Through this crisis, coursework has been interrupted, countless individuals are now unemployed, and consumers have access to unusual amounts of time. This has led to an upsurge in online learning, as students prepare for their examinations, or professionals work towards improving their skills and applying for jobs. Virtual learning is a significant trend, advanced by the COVID 19 crisis. However, the post-COVID era is expected to see a "new normal" that encourages technological dependency and digital interactions. Online and virtual learning has been promoted, improved, and molded to consumer preference, and is expected to continue growing even in the post-COVID era. This, in turn, will increase student enrollments, and the demand for online education service providers significantly.
Professional Training
As discussed earlier, the eLearning industry is highly beneficial for businesses across industries. This has become a common trend, and the adoption of training courses for employees is growing. Our market research experts have observed that this increase in online training courses for employees is a significant market growth driver for the online learning industry. With their expertise in market forecasting analysis, our experts have found that businesses that invest in the training of their employees can help companies to increase productivity, enhance profit margins, and improve overall revenue. Enterprises investing in knowledge capital have a significant competitive advantage over their counterparts, and their employees have access to industry best practices, making them more efficient. As companies continue to invest in their knowledge capital, online education service providers are witnessing growth and development.
Government Initiatives
Through the COVID 19 pandemic, governments across the world, particularly in the United States have utilized the high levels of digitization to spread awareness, interact with citizens, and to reach out to the masses. In recent years, governments have started promoting eLearning as an addition to traditional courses so that students may have access to a wider variety of subjects. Additionally, Ministries of Education and Health across the world are conducting online courses and seminars to train workers on the requirements during the COVID 19 crisis. This is yet another trend in online learning that is forecasted to help the industry grow in the coming years. Infiniti's market research experts observed that adopting online learning allows governments to reduce costs, invest more in their workforce, and improve value for money of taxpayers. As this trend continues to grow, so will the industry.
Adopting New Technology
Telecom infrastructure and digital innovations have continued to develop and improve over recent years. As the industry continues to have viable platforms for delivering online courses, it will continue to grow. Additionally, businesses, institutes, large organizations, and individuals will continue to explore and adopt newer technologies, and the online learning industry will continue to grow. This industry has grown from objective tests on desktops, to interactive classes on smartphones. With the development of augmented reality, virtual reality, artificial intelligence, and more, this form of learning is presented with endless growth opportunities. It is also expected to help online education service providers improve marketing initiatives, develop newer courses and products for students, and increase enrollment. Infiniti's market research experts have identified the development and adoption of new technology in the coming years as another significant trend and growth driver in this industry.
Online Learning and the Importance of Market Research
Infiniti's market research services help businesses understand the market size, efficiently forecast upcoming trends and risks. As the online learning industry continues to grow, industry players will need a competitive advantage; accompanied by well-informed strategies to mitigate risk, in-depth insights into dynamic market trends, and, most importantly, efficiently planned and developed products. Market research services enable companies to create and execute ideal strategic initiatives for their growth in a highly competitive market.
Simply understanding significant market trends is not enough. Take the extra step to be an industry leader and speak to our industry experts.