Customer experience is the new building block of success, irrespective of the industry that you operate in. Companies in different sectors are investing their time, money, and efforts into improving their customer experience management. Building an excellent customer experience is not a one-step process but involves small elements that you create to enhance the customer journey. Everything a company does contributes to the customer's perception of the brand. Hence, customer experience management includes everything from the products you sell, the messaging you use, the sales process, and after-sale services.
What are the key elements that go into building a strong customer experience management, you ask? Here are four fundamental principles that can help every company to create a strong foundation to step-up their customer journey:
Fundamental principles of customer experience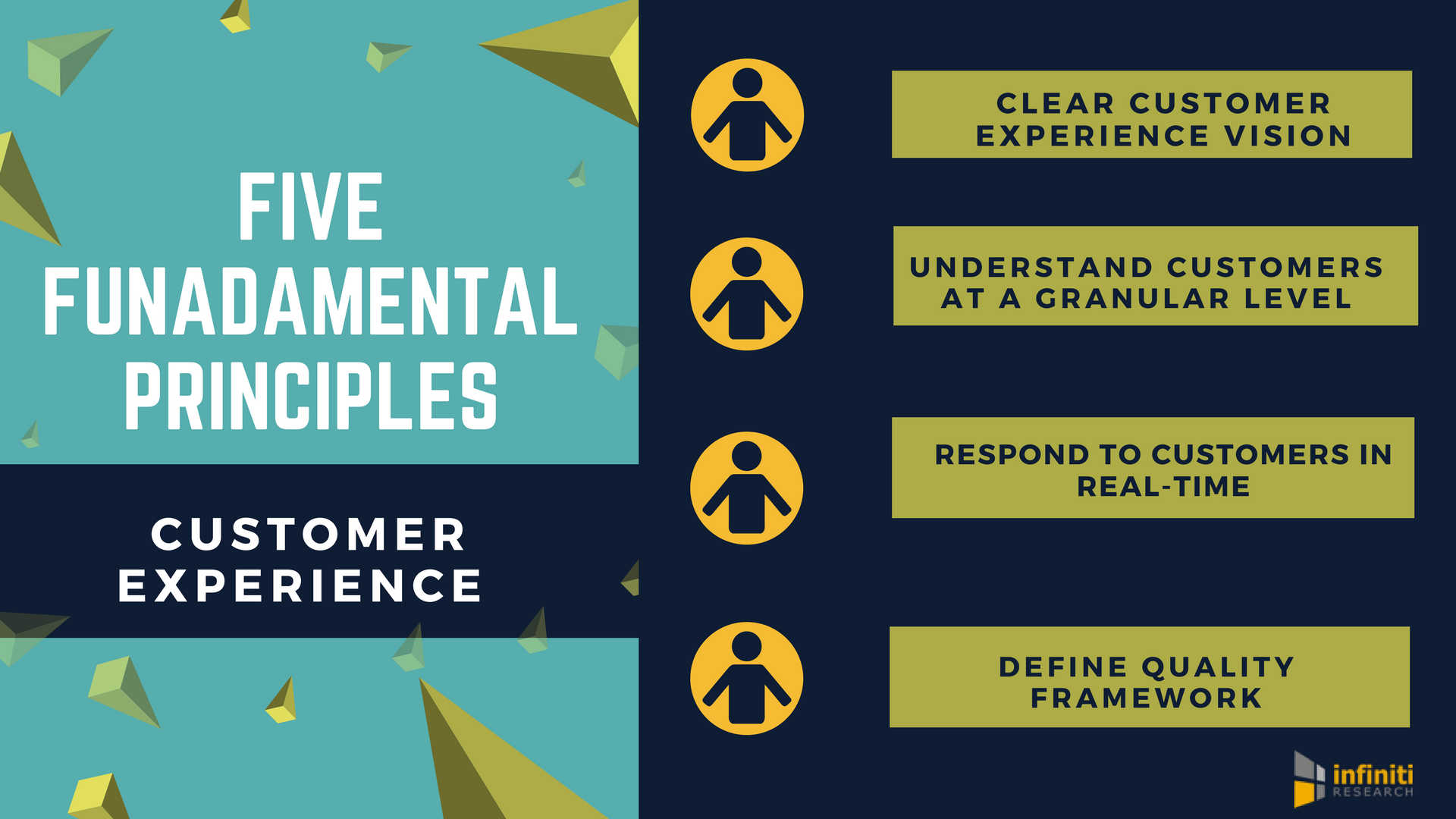 Clear-cut customer experience vision
Customer experience management starts with having a clear view of what you want your customer journey to be like. Communicating the customer-focused vision across the organization gives the employees an idea of what is expected of them to deliver. Once the vision is in place, it will play an important role in driving the behavior of your organization. Every member of your team should know the vision of the company at the back of their hand. It should also be embedded into all areas of training and development as well.
Understand your customer base at a granular level
Customer expectations are continuously changing, not just in response to the actions taken by you, but also with respect to the actions of your competitors. Having a clear understanding of what your customers think and how their thought evolves is key to formulating strategies for customer experience management. Knowing your customers include your entire customer base rather than just a small sample of the customer base. Companies must put in efforts to quickly identify the changes and trends in customer need so that they can get the first-mover advantage.
Respond in real-time
With the development of the internet and technology, it is now easier for brands to reach out to their customers and vice-versa. In the case of the latter, customers tend to reach out to brands mostly when they have a complaint or a grievance concerning the products or services offered. And in this case, ignorance will not prove to be bliss for companies, because it could end up tarnishing the brand image. Catering to customer queries and grievances gives businesses the opportunity to convert detractors into promoters. Thus, helping in improving the overall customer experience management of the company.
Define quality framework
When your brand fails to make a customer feel valued, and their feedback taken seriously, it leads to immense dissatisfaction. What is worse? It could be a black mark in your customer experience management. The feedback that you get from customers talks volumes about the quality of service; the next step for companies is to evaluate each negative feedback and take corrective action. The corrective action to be taken involves defining the quality framework for your workforce and customer support team. With the help of a quality framework, firms can schedule and track team development through coaching, eLearning, and group training.
---
To know more about the techniques to enhance your customer experience management

---