Pharmaceutical and medical device companies in Germany have shifted into overdrive to help combat the coronavirus outbreak. While the pandemic continues to wreak havoc across the country, large and small corporations alike are engaged in developing strategic solutions to curb the spread of the virus. One of the key concerns that remain to be addressed is will COVID-19 exacerbate the existing drug shortage in Germany? In Germany, the supply chain for drugs is highly vulnerable. The situation has been such even before the breakout of the pandemic. Apart from this, Germany's pharma and medical device industries are also battling with other major roadblocks including delays in clinical trials, barriers to accelerated digital transformation, and lengthy procedures for market access.  
 In this article, industry experts at Infiniti Research address a number of key issues that could specifically impact the pharmaceutical and medical device companies in Germany.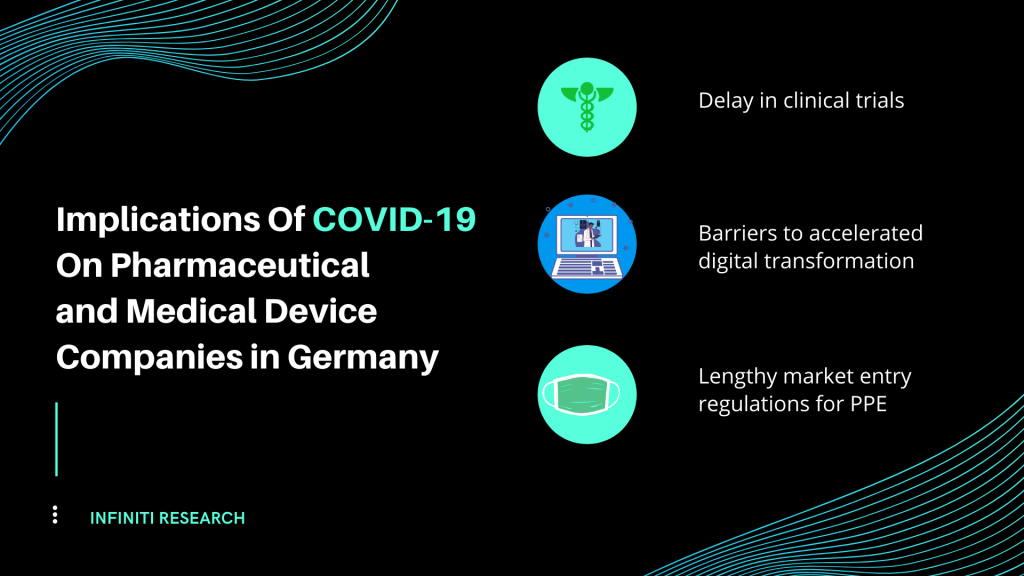 Delay in clinical trials
Ongoing clinical trials and studies in Germany are undergoing considerable delays due to the coronavirus outbreak. This could eventually result in deviations from the existing study plan. The German Federal Institute for Drugs and Medical Devices is expected to soon publish harmonized recommendations pan EU. According to the initial guidance on the management of clinical trials during the COVID-19 pandemic that was published during mid-March by the European Medicines Agency (EMA) and European Commission and the Heads of Medicines Agencies (HMA), sponsors must critically evaluate their need to start a new clinical study or include new study participants in an ongoing study. In the case of ongoing clinical studies, sponsors are expected to consider the extent to which they can temporarily suspend the study in certain facilities and/or extend the intended overall duration of the study. Pharmaceutical companies must analyze the probable impact of the pandemic on their upcoming or ongoing clinical trials and notify BfArM or EMA at an early stage to submit amendments or clarify uncertainties.
Barriers to accelerated digital transformation
Pharmaceutical and medical device companies in Germany are being expected to expedite their digital transformation process. This comes in the wake of the increasing need to enable remote consultations for medical professionals and also to enable sales and advertising outside healthcare premises. However, the digital approach raises several concerns, especially related to data protection. As pharmaceutical and medical device companies in Germany adopt new digital approaches that relate to cooperation with healthcare professionals, they must also be checked for compliance with existing applicable drug advertising, social, and professional laws and regulations.
Lengthy market entry regulations for PPE
Personal protective equipment (PPE) includes medical equipment such as protective goggles, masks, gloves, and protective clothing. Products that qualify in this category often require lengthy conformity assessment before their medical device market entry. In an attempt to adapt the supply of these products to the rising market demand, the EU has now sought to simplify the market entry process for PPE to a considerable extent. They have also requested market surveillance authorities and notified bodies to take all available measures to provide immediate access to PPE and medical devices for healthcare professionals during the prevailing healthcare crisis. As such, medical device companies in Germany must carefully evaluate and coordinate with the competent supervisory authorities and notified bodies to determine whether their products are eligible for healthcare market access facilitation in line with the commission's recommendation.
Gain more insights on how our market intelligence solutions can help pharmaceutical and medical device companies in Germany can measure the impact of coronavirus on their business and strategize to meet the changing market needs.