Recently, the world has watched the US IT & Telecom industry proliferate. The most prominent growth has been in demand for mobile application development services. As mobile phones, handheld devices, and convenience take over the preferences of consumers, the mobile application development market continually faces new challenges. Understanding customers' changing needs and preferences has become a crucial component of developing, launching and succeeding in any way.
For companies that offer mobile application development services, it has become crucial to identify, analyze, and segment target customers. The benefits of customer segmentation analysis are limitless; most importantly, they help to understand continually changing preferences and consumer issues. Additionally, it helps overcome critical market challenges as well.
As consumers' lives become more hectic, demanding, and technology-driven, smartphones have become a necessity. Digital transactions, eCommerce shopping, streaming entertainment, and online medical consultations are some of the many functions that smartphones hold within them. Mobile application development services help companies develop these apps and provide consumers with the various functionalities they request or need.
However, with changing times, there are different challenges faced by all mobile application development market players. Infiniti's research experts identified and analyzed consumers' needs, preferences, and challenges, as well as the challenges faced by companies that offer mobile application development services. In this article, they provide in-depth insights while also discussing the best possible solution in the future, i.e., customer segmentation analysis.
To be an industry leader in the highly competitive mobile application development services market, request a free proposal.
Understanding End-User Preferences and Complaints
Before discussing the challenges of the industry, and the changes that mobile application development market players need to incorporate in their operations, it is crucial to understand the consumers. Infiniti's industry experts have studied and discussed some of the critical needs and complaints of consumers:
Intuitive User-Interface: As all functions become fast-paced and transactions become easy and quick, consumers prefer to have similar experiences when interacting with a mobile app. When developing an app, mobile app development services providers need to plan for a user interface and user experience that is intuitive, easy to access, and functional. While aesthetics are important, practicality is a more significant focus. When it comes to in-app purchases or eCommerce shopping, a complicated transaction process can lead to customer attrition.
Personalization: Consumers highly prefer mobile applications that offer personalized experiences and targeted content. For instance, the high personalization of music playlists on music streaming applications helps consumers find more artists they enjoy. In various apps, information such as location, search histories within the app, and mutual connections help establish a personalized experience and provide further convenience for customers. This also helps provide personalized offers, and therefore, increases chances of conversion. To gain exclusive insights into the mobile application development market dynamics and end-user perspective from industry experts, gain limited period free access to our resource here.
Battery and Storage issues: While customers prefer mobile applications that serve various functionalities, and create an ideal experience, a common complaint is battery drainage. Losing battery life can be a personal or professional crisis for customers. Additionally, customers often complain about storage and memory issues due to file size. Due to these complaints, mobile application development service providers are tasked with creating highly functional and small mobile applications that do not drive down battery life. However, this is easier said than done.
Mobile Application Development Services Market: The Challenges
There are many challenges currently plaguing companies that offer mobile application development services. The process of mobile application development is long-drawn, highly complex, and some challenges the market faces due to this are discussed below:
Rising Competition
With the rising demand for smartphones, tablets, and other handheld devices, the need for various mobile applications has grown substantially. This change has led to constant innovation and development in the market. There has recently been an upsurge in the number of companies and individuals offering mobile application development services. The increasing new market entries, rising demand, and constant innovation have made the mobile application development services market highly competitive and challenging. However, developing a mobile application requires more than simple coding abilities. Some of the top mobile application development service providers have turned their focus on identifying and understanding their target customers. Further, leveraging customer segmentation analysis, allows companies to improve their marketing, and reach a broader, more appropriate audience for their application.
Identifying Target Markets
Identifying target markets is highly crucial in the mobile app development process. Not solely for marketing, but more importantly, to understand the need for the mobile application being developed. For instance, once a mobile application developer identifies the target market, the next step would be establishing if the market is substantial enough to provide revenue. Additionally, different target markets require the functionality of varying kinds. An eCommerce application for homemakers would require different functionality, as compared to travel apps for young adults and college students. Developing an app that considers, and efficiently incorporates these needs helps increase downloads, active users, and the chances of conversion to premium or other paid services if applicable. Customer segmentation allows companies to accurately identify and categorize target customer groups, with an understanding of customers' preferences, complaints, and requirements.
Variety of Devices
Another challenge created by the increasing demand for handheld devices is the variety that has been developed over the years. Varying screen sizes, operating systems, service carriers, and configurations have made mobile application development an even more complicated task. Screen sizes for phones range tremendously, in pixels and inches. Screen resolutions differ between brands, companies, and phone models. Creating a mobile application that is conducive to all resolutions and sizes is a challenging prospect.
Additionally, though Apple monopolizes the iOS market, android phones are produced by many companies, and Windows is the third operating system. Mobile application development service providers must offer mobile applications that are applicable and viable for smartphones and handheld devices across operating systems and companies. These two factors are among the most challenging issues in the process of developing an app.
Safety and Security
In a world where personal data needs to be protected at high costs, and customers' smartphones hold high levels of personal data, mobile application development service providers need to create secure and safe applications. Guaranteeing the safety and security of personal data is one of the most attractive factors for specific applications. For instance, banking apps, password storing apps, and even regular eCommerce sites, often hold crucial passwords and information that can cause substantial damage if leaked. While iOS has a specific set of security guidelines, android and windows do not, and failing to provide security can cause misuse and manipulation, customer attrition, and significant monetary losses.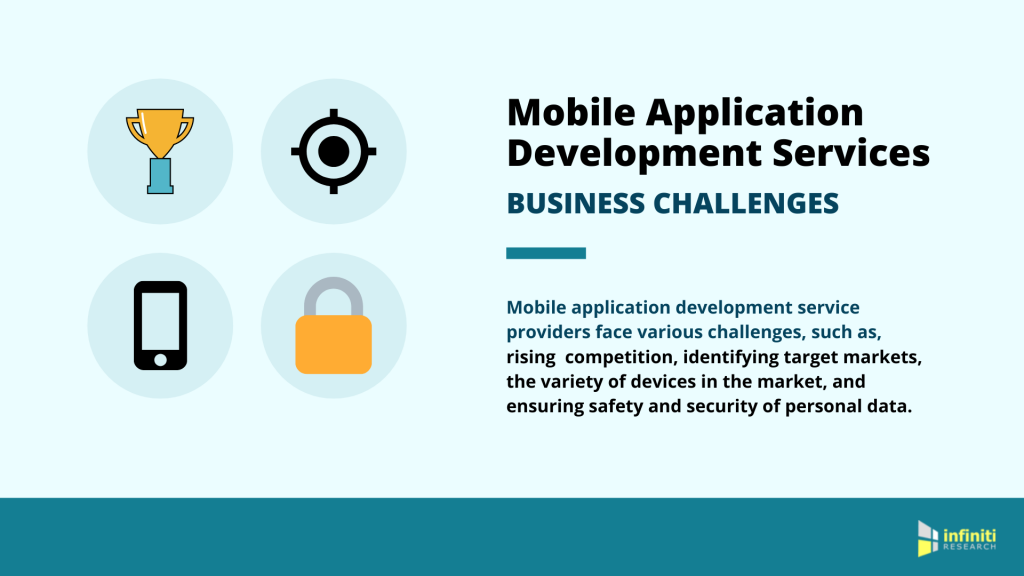 Understand how Infiniti Research helps companies strategically overcome these challenges by speaking to our experts.
Customer Segmentation Analysis: Why is it the best way forward?
Customer segmentation analysis allows companies to identify, categorize, and analyze the most profitable and effective customer segments in the market. For mobile application development service providers, this directly translates into developing and launching highly efficient and popular mobile applications. Customer segmentation further allows mobile application development market players to overcome the market challenges by providing critical insights into their target customer segments, and customers' needs and preferences. This further gives companies a competitive edge, and helps them gain a larger market share, and substantially enhance sales.
To further learn the importance and benefits of customer segmentation analysis in the mobile application development services market, request more information.