Tracking and monitoring market shifts and the changes in consumer trends is crucial to identifying commercial advantages. At Infiniti Research, we leverage sophisticated market research methodologies and customer intelligence to distinguish short-term fads from cultural shifts to help your brand make strategic choices. By leveraging market trend analysis, businesses can analyze past and current market behavior and dominant consumer trends. An essential aspect of conducting trend analysis for an organization is to obtain insights on the market scenario, consumer preferences, and the macroeconomic environment. Here are a few ways our solutions have helped our clients-
Identify and understand potential market opportunities
Analyze fluctuations in market conditions and their impact on your business
Create robust business plans and redefine the business strategy
Keep tabs on emerging trends and fluctuations in market dynamics
Consider different perspectives when formulating new business strategies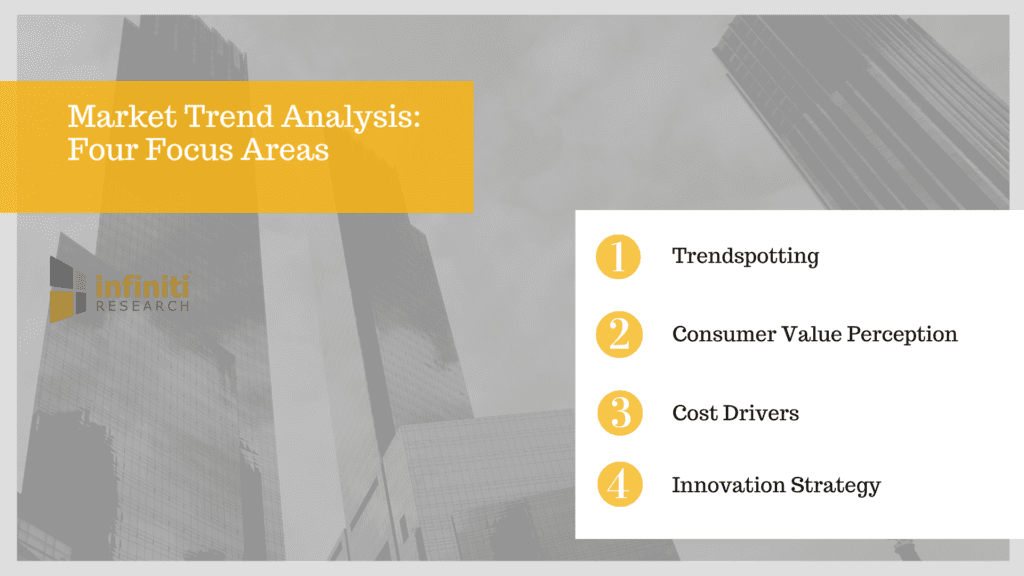 Interested to learn how Infiniti Research can help your brand succeed in the long term? Contact us (now!)
Understanding market trend analysis
Market trend analysis focuses on several factors apart from analyzing the overall demand fluctuation. By conducting an in-depth market trends analysis, you will gain a deep understanding of consumer behavior, its impact on the market, and your business. A thorough analysis examines all aspects of your market and helps identify potential areas for business success. However, different types of market trend analysis offer unique insights that can help drive business growth.
Consumer analysis: This approach focuses on understanding consumer needs and behavior by examining the factors that drive product consumption. It is generally leveraged by companies looking to gauge how trends escalate over time or how new product launches impact the market. Request more info to learn more.
Temporal market trend analysis: As the name suggests, temporal trend analysis focuses on analyzing factors related to external, recurring aspects such as climatic shifts and holidays. For example, consumers ramp up their purchases during the holiday season. As a result, retail & CPG companies witness an increase in demand, making the holiday season the most critical time for increasing revenues.
Historical market trend analysis: Analyzing how trends evolve is a crucial aspect of historical trend analysis. The time frame generally varies depending on the requirement. It could be a few hours, the previous week, or several years, but it typically involves current market period-over-period analysis.
Geographical market trend analysis: Geographic market trend analysis focuses on analyzing market trends based on the geographic aspects of the target market. Comparing different market trends in geographical areas can help identify and understand how they impact business growth in each region.
Social media trend analysis: Analyzing social media trends is crucial for business development. It involves monitoring consumer behavior across social media platforms to stay on top of conversations and discussions surrounding customer sentiment, ultimately enabling you to improve your brand's health.
Market trends are dynamic, and changes that seem like a minor shift today can turn into more significant structural shifts in the future. Whether it is an industry in which your company operates or a potential new market, Infiniti Research's Market Intelligence experts will ensure you stay informed by offering custom-built solutions for your every business requirement – Request a free proposal to know more about our services.
Market trend analysis: Key focus areas
Trend analysis is crucial for analyzing future market projections while determining the objectives of a new product or service. It involves analyzing the following focus areas:
Trendspotting
Businesses that can successfully examine consumer behavioral patterns and identify emerging trends can build products and services around those needs and project higher growth rates.
Consumer Value Perception
Timely analysis of consumer needs and value perception is essential because an aspect of a product or service, which would have contributed to the consumer's perception at some point in time, may later lose value due to the growing competition.
Cost Drivers
Companies that can find better alternatives can gain a competitive advantage and achieve rapid business growth. Hence, businesses must keep abreast of changes in the composition of cost drivers and innovations that lead to the development of alternatives.
Innovation Strategy
Focusing on product innovations, new operations, and delivery methods can help businesses understand changing market trends and project objectives accordingly.
Trend analysis acts as a strategic tool for understanding market maturity and future market potential. Since it involves understanding past market behavior and future market potential, an essential aspect of conducting trend analysis is collecting and analyzing relevant market data, which subsequently impacts an organization's growth objectives. Request a brochure to learn how we can support your organization with relevant, timely insights on market trends.