Luxury brands are no more a thing limited to the elites. With the growing fondness of people towards premium lifestyle trends, owning products of luxury brands have become an essential part of everybody's checklist. The luxury brands are slowly taking advantage of this changing lifestyle and are formulating innovations into their offerings to lure more customers and enhance their experience to a superlative level. Product quality is an age-old attribute that luxury brands have explored and have sworn by the idea of premium quality. Therefore, most of the companies in the luxury industry are looking at other factors such as product packaging to improve on, and enhance the level of customer experience.

Let us take a look at some of the key reasons why the luxury packaging market has been predicted to have a promising future: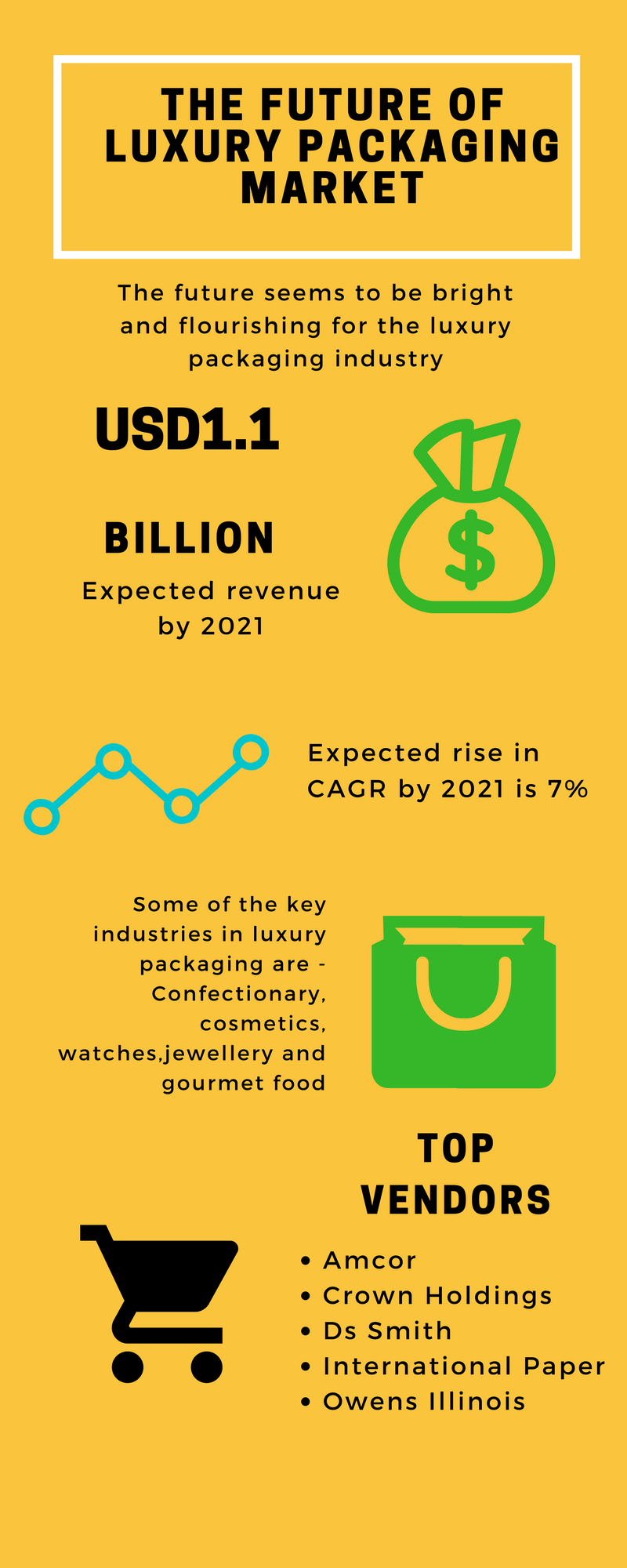 New Industries Exploring Luxury Market
During earlier times, only a few industries such as clothing, bags, shoes, etc. have been the key players in the luxury market. However, according to a recent report on the global luxury packaging market, the last few decades have changed the dynamics of the luxury industry. With new players dealing in products such as confectionary, cosmetics and fragrances, gourmet food, tobacco, watches, etc.  venturing into this market, the luxury industry is rapidly expanding. The brands in the luxury market are known to keep up a  premium quality for materials used – including packaging. As the demand for luxury brands expand, the packaging industries for premium brands are expected to bloom. Also, factors such as packaging margins being higher among luxury brands (due to a higher perception of value) are also expected to hike the profit margin of luxury packaging companies.
Brands Becoming Technologically Equipped
Luxury brands are keen to maintain their brand name and polish their brand identity wherever possible on a global scale. Some of the key technologies being  implemented by the luxury packaging market are:
Digital printing
Better embellishment and tactile effects
Setting up big data stores and staying connected to the online world
Anti-counterfeiting and brand protection
Using these enhanced packing technologies will help luxury brands to improve their overall customer experience. These measures of premium packaging will also help luxury brands to retain and garner new brand loyal customers.
Innovative Materials In Packaging
As per the recent trend analysis, paperboard is the most popularly used material in packaging. Some of the other popularly used materials include glass, metal, plastic, wood, textiles, and leather. Most of these materials used are easily sourceable and at the same time help to establish a sense of premium quality in the minds of customers.
To know more about the global packaging trends.