Rising competition, changing market dynamics, and the constantly increasing population has made every industry a challenging and competitive space. Previously demanding sectors, such as healthcare, manufacturing, and telecommunications, have become increasingly competitive, and companies struggle to establish themselves. Staying ahead of the curve, keeping track of competitors' strategies, identifying and meeting a certain standard – these are necessities in a competitive world.
Tracking competitors' strategies and keeping abreast of new initiatives in the market is difficult and requires a specific set of skills. Therefore, many industry leaders have turned to research firms to leverage competitive intelligence solutions and gain an unparalleled strategic edge. Competitive intelligence solutions include company profiling, developing competitive pricing strategies, understanding customers' responses to pricing, and competitive benchmarking.
Overcoming industry challenges and staying ahead of competitors requires unparalleled strategies and a comprehensive understanding of your market. To learn how our competitive benchmarking solutions provide in-depth insights into your industry, request a free proposal.
What is Competitive Benchmarking?
Competitive benchmarking involves analyzing a company's performance as per various metrics and comparing it with key competitors' performance. This helps businesses and professionals understand their standing in the market, gain insight into competitors' strategies and market share, and keep abreast of performance gaps or weaknesses within the market. Additionally, with these insights, companies in all industries can identify successful strategies and recent technological advancements used by industry leaders, adopt them, and improve the position of their business in a competitive market.
Infiniti's competitive benchmarking solutions have helped companies overcome various industry challenges, reduce costs, and improve profit margins. Our experts assist businesses in varying industries and help professionals develop data-driven strategic decisions, innovative initiatives, and leading marketing approaches. In this article, Infiniti's competitive intelligence experts discuss the value of competitive benchmarking in various industries using our recent successes as examples.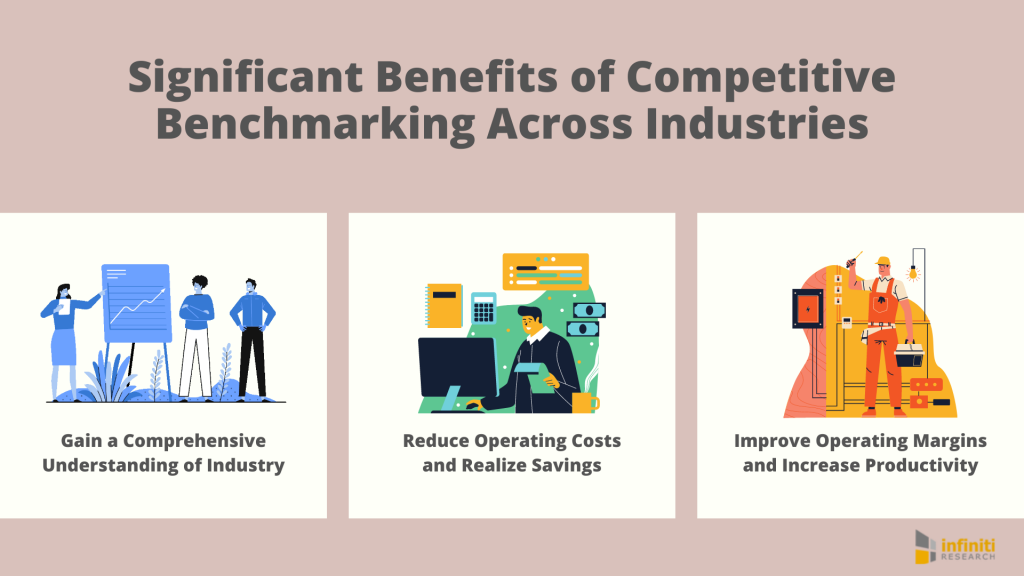 Learn how competitive benchmarking can propel your company forward, expand business operations, and overcome potential risks, by speaking to our experts.
Internet of Things (IoT) has taken the world by storm and created niche markets within various industries, including industrial manufacturing. An industrial manufacturer based in the United States sought to enter the IoT services market, optimize production, and increase customer satisfaction. To ensure this initiative was successful, the manufacturer required a comprehensive understanding of current suppliers in the IoT services market. This included understanding pricing strategies, changing market dynamics, and product offerings. Infiniti's competitive benchmarking experts developed a four-phased approach to help the industrial manufacturer, including planning, data aggregation, data analysis, and reporting. The insights procured from this helped the manufacturer understand the IoT services market, route investment in profitable segments, and leverage predictive maintenance and planning. Lastly, Infiniti's competitive benchmarking solution helped the client launch a cloud-based IoT platform that provided various benefits, including reduced costs and improved visibility into operations.
The automotive industry is highly competitive and requires data-driven decision-making. Infiniti's competitive benchmarking solution helped an automotive manufacturer tackle challenges such as the demand for new technologies, supply chain shortcomings, and financial issues. The competitive benchmarking engagement involved process benchmarking, strategic benchmarking, and performance benchmarking. The insights procured from the varying types of benchmarking helped the automotive manufacturer successfully understood their current market position. With our engagement, the client gained a comprehensive understanding of how industry leaders addressed similar challenges and gained perspective regarding where their business stands in the market. With the insights from our competitive benchmarking engagement, the automotive manufacturer identified and adopted improved business models, reduced operating costs by 20%, and realized $7.8 million.
A US shipbuilding company sought to gain a comprehensive understanding of key players in their industry, competitors' strategies, and industry leaders' decision-making processes. The shipbuilding industry player witnessed a steady decline in productivity, difficulties with cost growth, and high operating margins. With Infiniti's competitive benchmarking engagement, our experts assisted the client by providing them with in-depth information regarding the market. Our experts conducted in-depth market research, an industry best practice assessment, and a market opportunity analysis during the engagement. With these three phases, the insights procured enabled crucial changes within the shipbuilding company and propelled its growth. Our solution helped the client improve their operating margins by 10%, increase productivity by 31%, understand and replicate efficient cost-cutting strategies, and identify unmet needs in the market.
Identifying and adopting the best strategies for your business can be a highly challenging prospect. Request more information to learn how our competitive benchmarking solutions can tackle these challenges efficiently.