Technology is developing at exponential rates, and every other industry is developing simultaneously. The latest development in the technological world is additive manufacturing at a large scale. More commonly known as 3-D printing, the young concept has grown to a mass production level rather quickly. However, 3-D printing and rapid prototyping, while used interchangeably with additive manufacturing, are subsets of the same. The role it plays in the manufacturing industry now is highly impactful and is bringing about change that is long overdue.
There is no limit to the positive impact of additive manufacturing. It is a sustainable, durable, more efficient, and the extent of manufacturing design it allows is incomparable. Additionally, it is reforming traditional supply chains across industries, allowing companies to reduce losses, save time, optimize products, and increase automation, also in-turn reducing risks substantially.
However, as the manufacturing industry grows, it is faced with challenges relating to changing demands, on-demand needs, wide range designing and execution, major investment, and maintenance. Experts suggest leveraging demand management solutions for efficient growth. Demand management helps additive manufacturers strategize according to customer demand and benefit from all the advantages it offers. In this article, Infiniti's industry experts discuss additive manufacturing and the advantages, impact on businesses, and need for demand management.
Speak to our exerts to learn more about the role of demand management in the growing manufacturing industry and stay ahead of the curve.
The Advantages of Additive Manufacturing
As an industry grows, so do the technologies it employs. Additive manufacturing is a crucial indicator of the growth of the manufacturing industry. To help understand how it is beneficial, experts at Infiniti have highlighted the following four key advantages:
Design Freedom: Additive manufacturing uses materials that can be printed in the preferred design, removing the limitations of rigid and unyielding materials. This allow for a wider range of designs. Reducing the need to design and construct in limited capacities. Parts that previously required welding or brazing, can now be singularly designed and manufactured. This also allows to create designs that could previously not be attached due to various material issues.
Sustainability: Additive manufacturers can now use solely the materials required, bringing down waste by a substantial amount. Without the need to cut parts or supply from a larger material, such as rigid flex, there is no excess material that would most commonly need to be disposed of. This in-turn reduces energy consumption and lowers carbon footprints.
Faster Manufacturing Cycles: Since the process is initiated through efficient software, a large amount of time is saved in the transfer of information process. This allows for faster prototype production, and therefore, faster testing. Additionally, changes can be made immediately, reducing time and material wasted in the testing or optimizing process.
Accuracy and Efficiency: The high level of automation, design freedom, and control through software in additive manufacturing provides high levels of accuracy that would not be possible with an assembly line. Additionally, as previously mentioned, the changes required can be immediately made, and efficiency will remain uncompromised.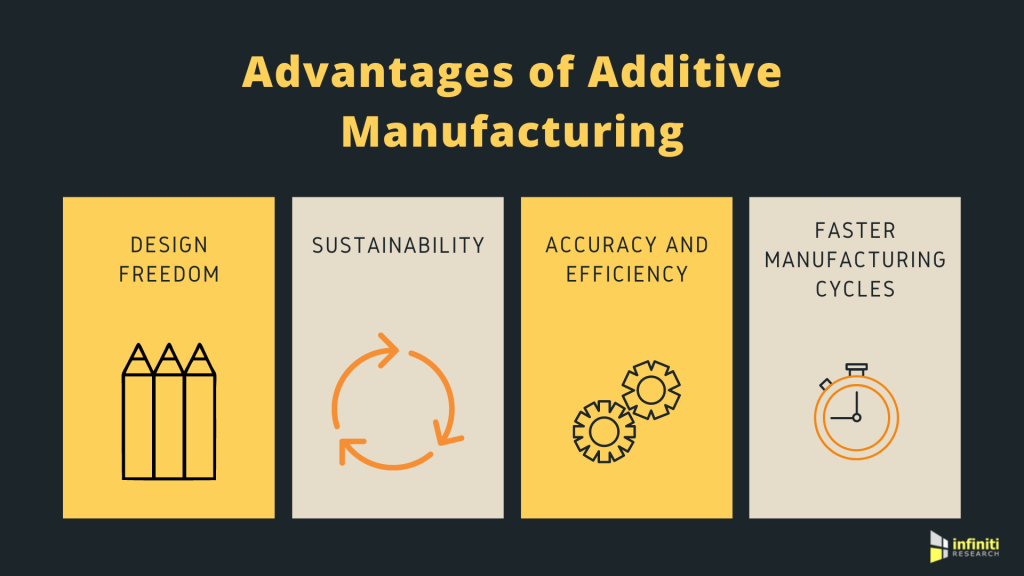 The Business Impact of Additive Manufacturing
While knowing the wide span of advantages of additive manufacturing is crucial, it is also important to understand how exactly they impact businesses. Additive manufacturing has had a highly positive impact on the manufacturing industry, and all other industries associated with it. The following five points explain the business impact as well:
On-Demand Supply:
Additive manufacturing allows for goods and products to be produced as and when required, as opposed to the mass manufacturing approach of the traditional method. This allows for customers to acquire products, spare parts, and goods as per their need, and businesses to only produce as per current or accurately forecasted demand. For businesses, this translates to reduced waste, higher demand, higher customer satisfaction, and reduced costs.
Faster Supply Chain:
Additive manufacturing majorly reduces the impact of various physical material issues. An additional impact reduced by this form of manufacturing is that of trade issues. The materials used are readily and locally available, reducing the risk of changing policies. Additionally, with the reduced need for assembling various parts, since products can be printed in various geometric shapes, there is need for a singular raw material.
Increased Automation:
Since a single unit can produce a complete part without the need for tooling, reducing dependence on fixtures and production time. Further, there is a reduced need for manual intervention during the manufacturing process, seeing as most of the process is automated. This requires a lower amount of labor, also requiring less-skilled operators.
Product Optimization:
The most prominent issue in mass production, is the inability to make immediate changes to the product or process. For instance, a flaw in a certain manufactured product, would require various major adjustments in the manufacturing process to change. Since additive manufacturing uses one raw material, and can be digitally controlled, change is easier, which in turn makes product optimization easier. Reducing the costs of procuring more raw material, the need to acquire more skilled labor, and the loss of large sums due to a flaw.
Understanding the advantages and business outcomes of additive manufacturing is crucial to propelling the growth of the manufacturing industry. Get more information to gain more in-depth insights from our experts.
The Role of Demand Management Solutions
While additive manufacturing has innumerable advantages, it also has certain challenges that make it difficult for industries and companies to easily grow with the fast propelling industry. While these units conserve time by reducing transport of raw materials, allowing automation, and allowing faster testing cycles, their limitation is that they print one layer at a time. Similarly, other challenges such as the lack of expertise in this field, the large initial investment and maintenance costs, and the lack of digital infrastructure required in many cases.
However, these are challenges that can be efficiently dealt with as the system begins to grow. More importantly, companies now faced with high demand, and issues with delivering accordingly. The future of additive manufacturing is highly dependent on its interaction with demand management solutions in the coming years of forecasted growth. Infiniti Research's demand management experts are equipped to approach and tackle this exact challenge. By efficiently forecasting demand, preparing for market trends, and estimating consumers' demands, the demand management process can significantly reduce risks and increase supply chain agility.
The demand management process is crucial to the efficient growth of additive manufacturing. Request a free proposal to learn how Infiniti's demand management solutions experts help additive manufacturers grow strategically.