The telecom industry is witnessing a positive growth and will continue to grow further in the future. The wave of changes relating to smart cities, IoT, and 5G connectivity are creating new and better opportunities for companies operating in the telecom industry as well as other related market segments. The challenge here lies in identifying telecommunications industry trends and capitalizing on opportunities to stay relevant in the future.
Business Challenge
The client is a multinational telecommunication service provider based out of Ireland. Owing to the intense telecom market competition, the client was looking at partnering with a market research firm like Infiniti Research to leverage our expertise in offering market trend analysis solution. The client wanted to analyze new growth opportunities in 2019, by performing an analysis of past and current market behaviors.
Other challenges faced by the client were:
The client was facing predicaments in gathering relevant data relating to telecommunications industry trends and adopting the latest technology. Due to this, they were lagging when compared to their peers.

The saturation of revenues for voice services along with the developments in mobile communication in the past decade necessitated the client to develop robust broadband services while tackling the challenges of cost and traffic. With this, the client realized the need to understand the trends in the telecommunication industry to achieve sustainable growth by focusing on developing trending services rather than traditional services.

Struggling with decreasing revenues, the client was forced to make tough business decisions. With Infiniti's trend analysis solution, they needed to be flexible enough to quickly adapt to the market changes.
Solutions Offered and Value Delivered
The market trend analysis engagement followed these phases:
The initial phase of the trend analysis engagement i

nvolved

the process of comparing the client's current market behavior and dominant patterns of the market over time to identify consistent results.

The next phase of the engagement involved conducting a detailed assessment of target customer behavior to develop the best possible strategy for communicating with customers.

The third phase of the trend analysis engagement involved analyzing competitor weaknesses to help the client differentiate themselves by offering products and services to fill gaps that their competitors have not addressed.

In the final phase, by monitoring the client's business performance over an extended period, our experts were successful in gathering useful information on market trends. This data was then used to refine their business decisions and strategies.
With insights gained from trend analysis engagement, the experts in Infiniti Research developed a strategy to respond to the rapid changes in the market in line with the client's business goals. With Infiniti's trend analysis engagement, the client also gained in-depth insights into the telecommunications market scenario, consumer preferences, and the macroeconomic environment of the company. Market trend analysis turned out to be a strategic solution for understanding the market maturity and gauging the future market potential along with the client's overall market position.
By leveraging Infiniti's trend analysis solution, the client was able to cut down costs and implement a flexible resource ramp-up or ramp-down plan based on future business projections. Infiniti's trend analysis engagement also helped the client to identify key business areas where they were underperforming and areas where their business was performing well. With this, they were able to leverage effective strategies and achieve business success. The solutions also provided sufficient evidence to make well-informed business decisions.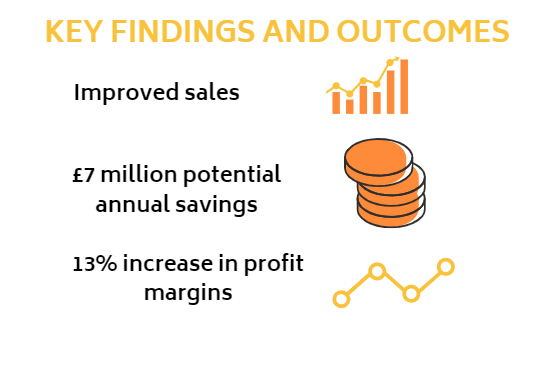 With Infiniti's trend analysis engagement, the client was able to quickly adapt to the market changes and improve their profit margins by 13%, which subsequently resulted in £7 million potential annual savings.
Importance of Trend Analysis
Market trend analysis helps businesses understand how well their business has performed and predict where current business operations and practices will take the company in the near future. If done well, a trend analysis solution will help companies develop ideas about how they can mitigate challenges and develop strategies to move their business in the right direction. With insights gained from trend analysis engagement, companies can make well-informed decisions around their long-term business strategies. By evaluating the financial performance trends, companies can determine whether they are managing their investments wisely.
Telecommunications Industry Trends
Why partner with Infiniti Research?
Established in 2003, Infiniti Research is a leading market intelligence solutions provider, specializing in offering smart solutions to address your business challenges. With 15+ years of expertise, Infiniti Research has been instrumental in presenting a complete range of competitive intelligence, strategy, and research services for over 550 businesses across the globe.
Infiniti's trend analysis solutions have helped many companies not only identify the market changes but to stay ahead of them. Also, Infiniti's market trend analysis engagement has helped firms stay abreast of market changes and fluctuations and adapt to them quickly.