For the sustenance of any organization, an in-depth investigation and analysis of the competition becomes indispensable. To identify the prominent competitors and stay ahead in the product packaging space, companies are relying on competitor analysis studies. In the product packaging space, an effective competitor analysis study will help companies assess competitors' strengths and weaknesses and implement effective strategies to improve their competitive advantage. Furthermore, with the presence of numerous competitors in the product packaging space, competitor analysis can assist packaging companies to identify the prevailing competition, determine and weigh their attributes, and further uncover their objectives. In addition, with the help of competitor analysis, leading product packaging suppliers can determine the right distribution channel and sneak in through different market segments.

To increase the competitive advantage, leading companies in the product packaging space are approaching companies like Infiniti. Infiniti's competitor analysis experts help companies in the product packaging space understand the existing and potential customers and devise aggressive advertising campaigns to bolster returns on investment.
The Business Challenge
A renowned product packaging company was facing predicaments gathering and analyzing competitive information about the market space. The client wanted to determine their competitive position and identify the range of products and services to understand the profitable customer segments. Furthermore, the client wanted to profile the key competitors and devise an effective promotional strategy to stay ahead in the competition. The client further wanted to evaluate the strategies to determine their strengths and weaknesses and assess products' profitability, growth pattern, and marketing objectives.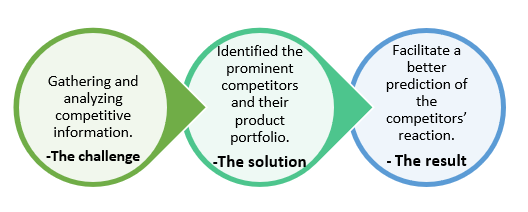 Want more information about our competitor analysis study?

Our Approach
To compare the products and services with that of the competitors, our competitor analysis experts carried out extensive research comprising of interviews and discussions with leading stakeholders in the product packaging space. Furthermore, to identify the potential opportunities, Infiniti's competitor analysis experts also offered strategic insights by compiling information from various proprietary sources such as paid industry databases, company presentations, and media platforms.
Competitor Analysis Solution Benefits
Identified the prominent competitors and their product portfolios
Studied the market trends and patterns and developed an effective strategy for organizational growth
Understood the current strategy strengths and weaknesses of the competitor
Effectively leveraged information to predict competitor behavior, objectives, and capabilities
Devised effective promotional campaigns and increased capital investments
Benefits of Our Integrated Approach
With the help of Infiniti's competitor analysis study, the product packaging client was able to assess the competitors' reaction to new product launches. Furthermore, the client was able to further predict the growth rate, market share, and technologies influencing the product packaging space. Also, the client was able to craft a robust SWOT analysis and mobilize these resources adequately to meet the customer's requirements.
A must-read case study for strategy experts and decision makers looking to develop an understanding of the packaging industry.