Importance of Target Market Segmentation
In today's competitive business scenario, market segmentation is the key to effective marketing. It deals with the detailed analysis of target markets to study the demographic, psychographic, and geographic variables of the end-users of your product. Target market segmentation is important in every industrial segment as it outlines business plans; thereby, enabling business organizations to reach their intended customer segments.
Contact us to find out how our solutions can help you drive business growth and success.
Market Segmentation Steps for Business Success[spacer height="10px"]
Market segmentation is the process of detecting sub-segments within a market to identify the right target market for different brands. Also, market segmentation enables companies to develop and implement relevant strategies to promote offerings in the target market segments. A particular target market consists of end-users with similar preferences, interests, and choices. This makes them think on the same lines while being inclined towards similar products. However, once an organization identifies their ideal target market, they can easily establish themselves by formulating effective strategies to make their brands gain that competitive edge. Here are the six essential market segmentation steps:
Step 1: Identify the target market
Step 2: Analyze the needs of the target audience
Step 3: Create sub-groups
Step 4: Review the behavior of each target market
Step 5: Study the target market size
Step 6: Develop precise marketing strategies
Engagement Summary:[spacer height="10px"]
As a part of their market expansion process, a leading pet supermarket in the US was looking at devising a heterogeneous approach to target market segmentation strategy development. By doing so they wanted to outline business plans and ensure long-term success.
Engagement Outcome:[spacer height="10px"]
Our solutions enabled the client to gain a holistic view of each target market by adopting the precise market segmentation steps as outlined above. The recommendations offered by our experts were based on extensive research of the demographics and psychographics of each market segment.
Continue reading to know about the scope of this engagement or request a free proposal.
Client's Background:[spacer height="10px"]
The client is a leading retailer of pet care supplies in the United States.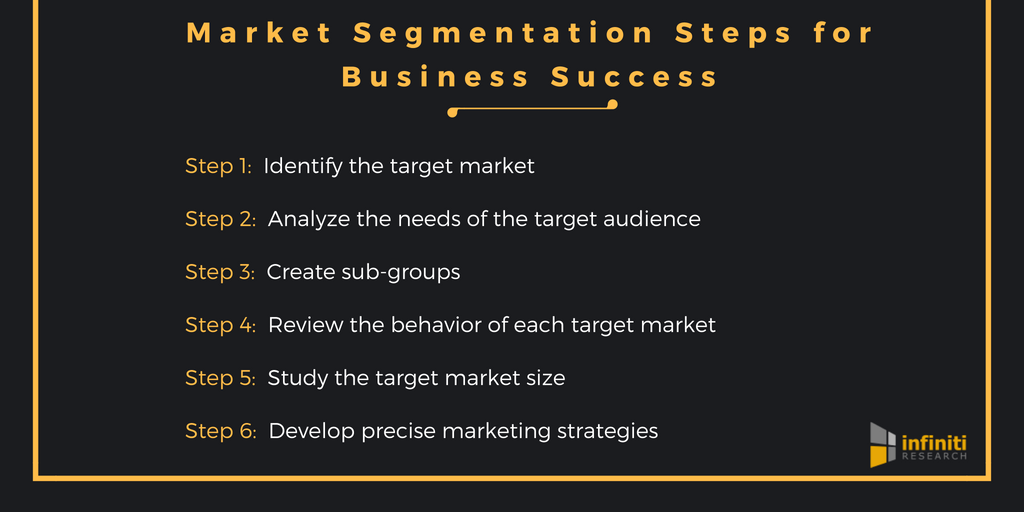 Client's Challenge:[spacer height="10px"]
The client from the pet supermarket segment faced several challenges in devising effective strategies that respond to the fluctuating market demand. Hence, they approached Infiniti Research to devise an effective target market segmentation strategy that would outline their business plan and help them deliver high-quality end products coupled with solid customer service across all their pet supermarket chains.
Impact on Business Growth:[spacer height="10px"]
The devised strategy enabled the pet supermarket client to optimize their marketing ROI and improve marketing success. Also, by adopting the recommended market segmentation steps, the client was able to analyze the needs of each segment and take necessary actions to fulfill them. Request a free brochure to know more about the business benefits of optimizing marketing ROI.
Future Scope of Target Market Segmentation:[spacer height="10px"]
While defining the future scope of a target market seems to be a daunting task, it generally boils down to two steps – developing your market segmentation strategy and employing the appropriate market segmentation steps. However, the aim is to maximize ROI by dividing users into logical subgroups. This is based on an assumption that by diving a large unformulated user segment into subgroups you can fine-tune your product, marketing, and distribution channels to meet the specific needs of each target market.
To know more about the benefits of leveraging market intelligence, request more information from our experts.