Protective coatings provide surfaces with the highest form of protection from deterioration. Such coatings are used across multiple industries including heavy machinery, marine, automotive, and oil and gas. Besides protecting the surface of materials from the external environment and biological agents, these coatings provide additional benefits, such as resistance to abrasion, corrosion, fire and chemicals, along with waterproofing and thermal insulation. With active investments in infrastructural development in developing economies, the global market for protective coatings is witnessing an accelerated demand for eco-friendly protective coatings. However, the increasing cost of raw materials and implementation of stringent environmental regulations are some of the major factors restricting this market's growth.
The market is eyeing sharp growth with the development of new technologies for protective coatings, along with eco-friendly and cost-effective coatings. To make the most of the high demand and sustain themselves in this competition, protective coatings companies have considerably increased their R&D budgets and are focusing on developing innovative, environmentally friendly products that are less toxic and have fewer health hazards compared to conventional paints and coatings. This development is mainly driven by the emergence of green buildings and nano coatings, which is aimed at reducing the carbon footprint associated with paints and coatings.
Over the last decade, a change that has had a significantly impacted the coatings industry is the adoption of new coating technologies. Initially, most of the coatings were conventional low-solids, and solvent-based formulations; however, impending government regulations on air pollution control, led to the development of solventless coatings that reduced the release of volatile organic compounds (VOCs). The new coating technologies primarily comprise of waterborne coatings, high-solids coatings, two-component systems, powder coatings, and radiation-curable coatings. By understanding the regulatory norms and change in consumer preferences, our market intelligence studies help market leading conglomerates in the paints and coatings industry develop effective strategies to enter potential markets.
The Business Challenge
To obtain a deeper understanding of the market and assess the market attractiveness of protective coatings, the client – a leading paint industry professional well-known for its strong brands and high-quality surface treatment products – approached Infiniti to carry out a market and competitive landscape assessment of the protective coatings market across the Central European region. The primary focus of this market intelligence engagement was to assess the market and competitive dynamics, including market size, trends, growth prospects, and competitive offerings for protective coatings market in the target region.
The key aspect of this market intelligence engagement was to help the client gain actionable insights on market segments and understand market attractiveness in the respective segment to strategize the company's growth plans across the target segments. Additionally, this market intelligence engagement also helped the client gain a better understanding of the key marketing strategies, which are followed by the major competitors and their pricing policies for a range of products and services.
Infiniti's experienced market intelligence team tracked recent developments and innovations in the market through journals and reached out to key stakeholders, including channel partners, business executives, dealers, traders, and suppliers to understand their views on the market. Our research specialists also engaged with regulatory bodies to obtain a clear understanding of the regulatory mandates, which influence the short and long-term growth prospects of this market.
Why Infiniti Research is the preferred partner for more than 55 Fortune 500 Companies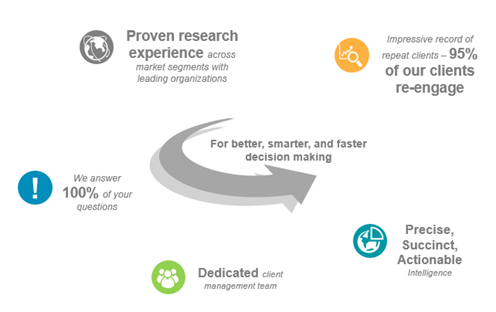 Solution Offered and Business Impact
A dedicated project management team with extensive experience in meeting the various information needs of leading global companies was assigned to this engagement to help clients understand the acceptability of their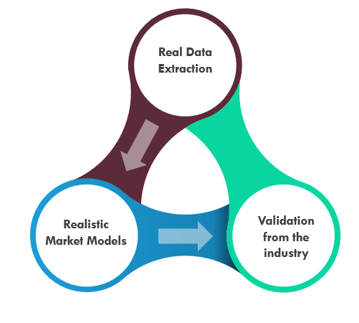 products. To address the pain points specific to clients' requirements, Infiniti's market intelligence team recommended a comprehensive and systematic approach for this engagement. Furthermore, the experts also followed a blended research methodology consisting of in-depth qualitative and quantitative analysis followed by data validation, cleaning, and structuring to offer strategic insights on the market's growth prospects across the target region.
The market intelligence experts also followed a blend of multiple research methodologies of secondary research for building initial hypotheses, developing data points repository, and identifying market stakeholders and business executives for primary research. Moreover, a scrupulous secondary research was also carried out to obtain, organize, and analyze relevant published information, an extensive array of market research reports, white papers, magazines and publications, annual reports, websites of competitors, company publications, case studies, journals, news aggregators, and industry forums. Additionally, for a thorough assessment of current and emerging market trends and analyzing the company's growth prospects, our market intelligence experts conducted interviews and discussions with market experts, business executives, and stakeholders from the protective coatings market. Furthermore, the client also gained insights on the segments to focus upon and invest in R&D and capabilities for future growth.
By the end of the eight week, the client – a globally recognized paints and coatings company – was able to gain a clear understanding of the market across the target region. Additionally, the client saw numerous benefits in terms of understanding the target segment, the target regions, and the competitive landscape of the protective coatings market across the Central European region.
Benefits of Our Integrated Market Intelligence Approach
In a relatively short period of eight weeks, the client saw clear benefits from our relationship. The client gained a holistic overview of the current market trends, drivers, and challenges associated with protective coatings. Additionally, with a better understanding of the focus segments and scope of R&D in the market, the client benefitted in terms of ROI.
Here are some of the key points appreciated by our clients
Dedicated Market Intelligence Portal. A centralized platform for the collection, storing, processing, reporting, and dissemination of information with the specific purpose of assisting the decision-making process and developing actionable insights. This portal includes comprehensive information on quantitative and qualitative aspects on target markets, competitors and end-users.
Collaborative learning. We leveraged experience of our healthcare team and our technical capabilities to enable report-sharing and other collaborative features appreciated by client teams.
Database Access. Access to a patient database containing information about 60+ medical diseases and conditions, such as a patient undergoing treatment, untreated patients, and patients with chronic conditions.
Interactive Dashboard. Using our portal-based solution for healthcare professionals, we took a design-first approach to problem-solving and helped break through previously held assertions.
Value for Money. Infiniti's dedicated client management team customizes reports to suit business requirements and offers the best insights for every dollar spent.
A must-read market intelligence case study for strategy experts and decision makers looking to develop effective market entry strategies for protective coatings.