In recent years, healthcare has become more consumer-focused, and there is a significant demand for the development and adoption of convenient screen tests for disease diagnosis. 
Despite unfavorable economic conditions, governments across the globe are focusing on improving the healthcare infrastructure, and this is mainly due to the aging population and the extended life expectancy. As a result, the recent years witnessed an increased demand for various medical devices from ultrasound equipment and MRI systems to ablation catheters and pacemakers. This trend is expected to continue over the next few years as well, with the market space remaining highly competitive. To obtain the most from this growing demand and sustain themselves in this competition, medical device companies are increasing their R&D budgets and are focusing on developing innovative products that will reduce the complexity in disease diagnosis such as point-of-care testing equipment.
Point of care testing (POCT) is a type of diagnostic test that can be performed near the site of clinical care and provides relatively quicker test results, facilitating faster treatment for patients. POCT equipment do not have the need for a permanent physical space and can be used whenever required near the patient site. Such advantages are

envisaged to increase the demand for this medical device over the next few years, especially during emergency and disaster situations that prevent access to laboratories. Additionally, investments from POC testing equipment manufacturers towards the development of new healthcare devices and initiatives from the governments to promote their adoption and R&D are also predicted to spur the demand for POC testing equipment. Dry chemistry analyzers (DCA) are a type of POCT equipment that is available either as a handheld device or benchtop device and can be conveniently used beside a patient's bed, in clinical laboratories, hospitals, and even for self-tests. These devices eliminate the need for liquid reagents and also provide faster results, improving laboratory efficiencies.
Though product innovations and export opportunities are compelling medical device manufacturers to enter emerging markets, stringent regulations by several countries for manufacturing medical devices outside their region, the presence of price-sensitive customers who demand innovative equipment at lower prices, and intense competition reduces manufacturers' profit margins. By identifying the key competitors and understanding the change in consumers' preferences, our market intelligence study would help market leading conglomerates in the medical devices industry develop effective strategies to enter potential markets.
The Business Challenge
To understand the market behavior and opportunities of DCA for POCT, the client – a global company that provides a wide variety of point-of-care testing solutions in the clinical chemistry field – approached Infiniti to engage in a

market intelligence study that would help the company understand the future market space for DCA for POCT. The scope of this market intelligence engagement was to offer insights that would help the client gain a better understanding of the competitors, the various sales channels, and pricing practices across the target region.
The primary objective of this market intelligence study was to provide the client insights on the market size and technological advancements, realize growth opportunities, and identify potential factors that would influence and challenge the sales of their products across the Eastern European region. Additionally, this market intelligence assignment also helped the client gain a clear understanding of the marketing strategies followed by the major competitors and their pricing policies for a wide array of products.
Why Infiniti Research is the preferred partner for more than 55 Fortune 500 Companies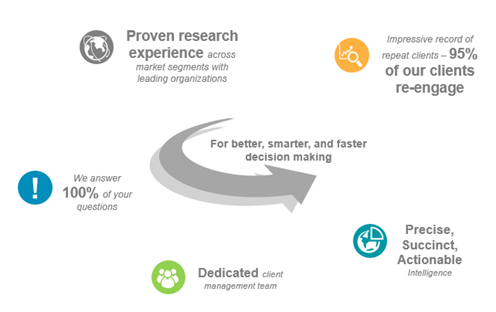 Solution Offered and Impact
By following a proven approach of acquiring information from primary and secondary sources such as key business experts, industry experts, analysts, and market research reports, our market intelligence experts offered the client a detailed analysis of the current market in Eastern Europe and its future growth prospects. Additionally, the solution offered by our experts also encompassed information on the major stakeholders of the healthcare industry in the region including pharmaceutical companies, clinical labs, medical equipment suppliers, IT service providers, and insurance companies. Furthermore, the client also gained insights on the major suppliers and the best practices on forming partnerships with the existing medical equipment suppliers who have an established network in the region.
Towards the end of the project, the client – a recognized provider of point-of-care testing solutions in the clinical chemistry field – was able to gain a clear understanding of the market across the target region. Additionally, the market intelligence study also recommended the client to follow strategies such as ensuring good after-sales service, training employees to use their products, and leasing medical equipment to maximize their revenue potential.
To assess the challenges specific to the healthcare industry, Infiniti's market intelligence experts have developed an extensive proprietary database that consists of information on more than two million industry experts, key opinion leaders, payers, end-users, and distribution channels.
Benefits of Our Integrated Approach
The client – a global leader in photographic technologies – saw numerous benefits in terms of understanding the registration process for starting a business in the country, the target segments and the target regions, the purchase criteria, and the most commonly used equipment model.
Here are some of the key points appreciated by our clients
Dedicated Market Intelligence Portal. A centralized platform for the collection, storing, processing, reporting, and dissemination of information with the specific purpose of assisting the decision-making process and developing actionable insights. This portal includes comprehensive information on quantitative and qualitative aspects on target markets, competitors and end-users.

Collaborative Learning.

We leveraged the experience of our healthcare team and our technical capabilities to enable report-sharing and other collaborative features appreciated by client teams.

Database Access.

Access to a patient database containing information about 60+ medical diseases and conditions, such as patients undergoing treatment, untreated patients, and patients with chronic conditions.

Interactive Dashboard.

Using our Portal based solution for healthcare professionals, we took a design-first approach to problem-solving and helped break through previously held assertions.

Value for Money.

Infiniti's dedicated client management team customizes reports to suit business requirements and offers the best insights for every dollar spent.
A must-read market intelligence case study for strategy experts and decision makers looking to develop effective market entry strategies for their medical devices.