Fluid management refers to the process of maintaining the optimum fluid level with an aim to prevent problems that arise due to abnormal fluid levels. Devices used to control saline, blood, and other fluids that enter and leave the body during a procedure are called fluid management devices. The growing demand for minimally invasive surgeries, the rising geriatric population, chronic disorders, and technical developments in nonsurgical procedures are major factors contributing to the high demand for fluid management devices. Moreover, fluid management systems are divided into fluid management disposables and standalone fluid management systems. Fluid management disposables include pressure monitoring lines, catheters, suction canisters, and other fluid management accessories; whereas, standalone systems include insufflators, dialyzers, and fluid waste management systems.

Additionally, the adoption and development of standalone fluid management devices along with the proactive government initiatives to spread awareness about fluid management devices are expected to fuel the growth of this market.
The Business Challenge
The client– A prominent fluid management devices manufacturer
Objective– To identify new segments and gain knowledge of the competitive medical devices sector.
A leading medical devices manufacturer wanted to leverage Infiniti's competitor mapping strategy to develop a better understanding of the competitive landscape. They also wanted to create a new business model by implementing features that their competitors were likely to offer in an attempt to drive customers away from their typical company. The client also wanted a detailed report on the market entry barriers, new opportunities, threats, and competition in the medical devices market.
Results– Devised an effective strategy using competitor mapping-based solution. It also helped the client gain detailed insights into the competitive landscape. Also, it helped them identify future growth areas in the medical devices segment by drawing conclusions on the competitor's data and market opportunities.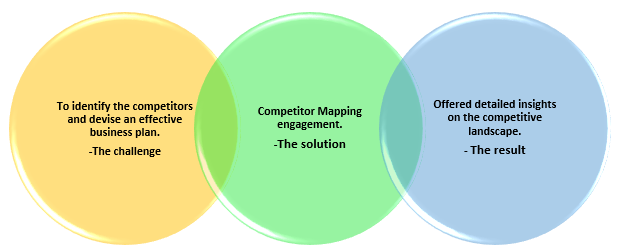 Want more information about our competitor mapping engagement?

---
The Journey
The team of experts at Infiniti carried out extensive research comprising of interviews and discussions with leading stakeholders in the market space to help the manufacturer improve business efficiency. The experts at Infiniti further compiled information from a wide array of secondary sources such as paid industry databases, company presentations, and industry forums to help the client understand the competitive scenario.
The Solution and the Business Impact
Our competitor mapping solution offered several benefits that helped the manufacturer to gain detailed insights on their competitors, their products, and services. This enabled them to devise enhanced strategies to position and market their products in a profitable manner.
Also, this competitor mapping engagement assisted the client in developing a unique business model that combined strategic marketing initiatives, business development, and business strategy expertise. Moreover, competitor mapping also helped them in identifying and assessing the strengths and weaknesses of current and potential competitors.
---
Future Trends
Rise in the shift toward integrated devices

: Standalone systems offer benefits in the terms of mobility and operability but fail when it comes to performing multiple processes during surgeries. This has increased the preference for integrated systems that offer better productivity with multiple surgical procedures.

Growing demand for disposables

: The demand for disposables or single-use devices is expected to increase. This can be attributed to their ease of use and the increasing health awareness of the global population. Also, they are cost-effective when compared to standalone fluid management devices.

Increase in product bundling strategies

: This trend is expected to increase the ROI. It also enables medical device retailers to sell more products with an increase in overall profits. Hence, leading retailers in this sector are focusing on implementing product bundling strategies.

A must-read case study for strategy specialists and decision-makers looking to develop an understanding of the medical devices market.

---