The rising costs and growing complexities associated with developing and bringing products to the market are compelling life sciences industry players to reexamine their business operations.
Breakthrough developments in drug manufacturing processes have resulted in groundbreaking results that are set to bring in a major transformation in the life sciences industry. However, players will have to tackle major challenges to innovate and evolve in a complex market. Factors such as the need to improve time-to-market and siloed legacy systems are persistent challenges for players in the life sciences industry. Also, the life sciences industry players must possess the ability to quickly gauge the market to meet operational, infrastructure requirements, and devise appropriate market entry startegies.
The Business Challenge[spacer height="10px"]

The Client: A life sciences industry major
One of the leading life sciences industry player operating in India wanted to devise an effective strategy to enter the international market. Their decision to enter the overseas market opened distinct new opportunities; thereby, making it difficult for the client to prioritize and gauge the risks in every new market. Hence to develop a precise strategy the client approached Infiniti Research to leverage its expertise in market entry strategy development.
---
Market Entry Strategy Benefits[spacer height="10px"]
The foremost step in launching a product or service deals with the selection of a potential market segment. Though this seems obvious, organizations generally fail to do their due diligence as far as pre-market entry strategies are considered. Moreover, with research on the market size, growth prospects, competitive landscape, and technological adoption, it is essential not to disregard other essential factors that affect market growth including- economic landscape, business environment, and consumer groups.  Seemingly similar economies can present stark differences in such indicators leading to sharply divergent market prospects.

Hence, a systematic and comprehensive approach to analyzing the factors that affect market potential is a good starting point for any organization and that is what Infiniti's Market Entry Strategy Solutions are all about. Though the strategy is developed with regards to developing market segments it is equally valid for developed economies.
---
Summary of Our Market Entry Strategy Engagement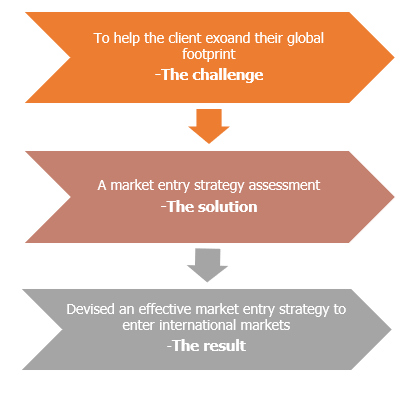 ---
Client's Journey[spacer height="10px"]
To help the life sciences industry player venture into international markets– the experts at Infiniti conducted a detailed market survey to help them gain a better understanding of the potential factors affecting growth in the life sciences industry.
Solution Benefits and the Business Impact[spacer height="10px"]
The market entry strategy solution enabled the client to identify the potential beachhead segment to focus and leverage market entry efforts. It also enabled them to select the appropriate business model to maximize profitability.
---
The Future[spacer height="10px"]
The are several reasons why businesses focus on expanding their reach by entering international markets. As far as the life sciences market is considered; lower costs, greater profits, and technological advancements are factors that compel them to enter new market segments. However, prior to undertaking a market entry strategy, it is essential to gain a comprehensive insight into the organizations' readiness to enter the new segment. Moreover, the life sciences industry is on the verge of a major industrial transformation which is why leading players are looking at devising an effective market entry strategy to expand their reach. This requires answers to key questions such as- What are the business goals? What measures have been devised to cope with the repercussions of market entry?
---
A must-read case study for life sciences industry players looking to develop an understanding of the importance of a market entry strategy

---