Demand Management for a Chemical Company
About the Client
The client is a global chemical manufacturer and distributor. Based out of the United States, the client fulfills the needs of various end-users from composites, and the specialty chemical sector.
The Business Challenge
The US chemical industry is one of the world's largest industries and is constantly driven by the emergence of new technologies and innovative manufacturing methods. Even though chemical manufacturers have witnessed unprecedented growth in innovative and improved technologies in the last decade, these dramatic advancements have also given way to several challenges. Moreover, chemical companies are facing constant changes in global markets, feedstock supply, corporate mergers, and other areas. Owing to the fluctuations in market demand, chemical manufacturers are increasingly leveraging demand management techniques to increase efficiencies and tackle challenges that affect market growth. With an appropriate demand management process in place, companies can match supply with demand proactively.
Did you know that 69% of companies with high-performing supply chain processes recorded above-average yearly revenue growth? Want to be one of them? If yes, request a FREE brochure to know more about our demand management solutions!
Top Challenges Faced by Chemical Manufacturer
Problem Statement 1
Out-of-stock of chemical products delivered an unsatisfactory customer experience, which in turn led to further loss of sales down the line. By employing an effective demand management process, the client wanted to effectively manage the demand-supply shortages.
Problem Statement 2
The delay in payment to vendors and suppliers put the production process at risk. This further affected the company's capability to fulfill customers' orders. Hence, with Infiniti's demand management strategy, they wanted to accurately forecast demand to predict the shortfalls in sales. Furthermore, with this data, the company wanted to plan to stockpile cash or negotiate for loans in advance to meet their financial needs.
Problem Statement 3
The client realized that successfully predicting the peaks in demand will allow them to plan their staffing needs more accurately during periods of high product demands. With Infiniti's demand management process, the client wanted to optimize labor management.
Problem Statement 4
By predicting and analyzing when sales are likely to happen, the client wanted to better plan their production, warehousing, and shipping schedules.
Solutions Offered and Value Delivered
To help the client tackle the industry challenges, the experts at Infiniti Research developed a demand management strategy. The demand management process involved the following phases:
Phase 1
The initial phase of the demand management process was segmenting the market based on sales and marketing outcomes to analyze and anticipate different customer needs and long-term market trends. This turned out to be a fundamental aspect that helped the client align their business model and supply chain functions accordingly.
Phase 2
Phase two of this demand management engagement focused on understanding customer needs in order to connect and empathize with the situations that they face. By creating different customer personas we helped the client to gauge the efficiency of their strategy and limit over-stock of the products.
Phase 3
The development of a robust demand management framework in phase three took this engagement one step further by helping the client better plan their production, warehousing, and shipping schedules.
Phase 4
Understand the supply-demand curve was the final phase of the demand management process. This helped the client accurately predict product demand and fulfill customer orders.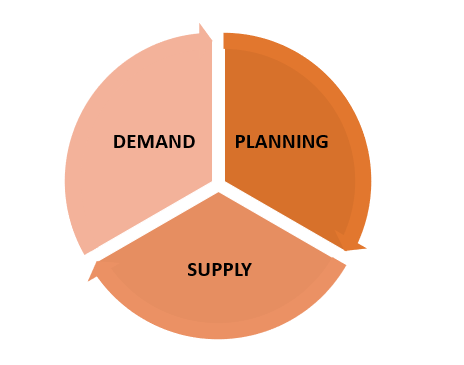 The demand management process delivered tangible benefits in their supply chain, most notably the cost savings obtained from inventory management and demand planning. The process further helped the chemical manufacturer prepare their budget accordingly, which resulted in better planning of costs. By analyzing the market demand, the firm was able to make predictions about sales and allocate resources accordingly. Moreover, demand management allowed the organization to identify how far its demand forecast is off from actual demand and adjust its business models accordingly.
Inadequate demand management can hinder the growth of your business and result in increased expenditures! To know how you can reduce costs while improving efficiency, Request a free proposal.
What is demand management process?
Demand management is a type of supply chain management process that analyzes customers' needs to determine the capabilities of the supply chain. With the right process in place, management can match supply with demand proactively and execute the plan with minimal disruptions. The process is not limited to forecasting. It includes synchronizing supply and demand, increasing flexibility, and reducing variability. If the demand outstrips resources, businesses can improve production or alert consumers about the revised shipment times. If demand seems low, the sales and marketing team might develop promotions or push for a product launch.
Why Partner with Infiniti Research?
Established in 2003, Infiniti Research is a leading market intelligence solutions provider, specializing in offering smart solutions to address your business challenges. With 15+ years of expertise, Infiniti Research has been instrumental in presenting a complete range of competitive intelligence, strategy, and research services for over 550 businesses across the globe.
Wonder how the chemical companies can adapt to customers' demand? Well, our experts say chemical manufacturers can continue to achieve high growth through demand management solutions – Contact us.