Engagement summary
Digital transformations in the ATM (Automated Teller Machine) managed services is a highly challenging milestone. However, it is paramount to embrace advanced digital technologies in ATMs to enhance user experience, increase usage, and ultimately survive amid cut-throat market competition. To analyze the market and adapt to such changing trends, a prominent player in the ATM managed services sector approached Infiniti to leverage its expertise in custom market intelligence. They primarily wanted to understand the key technological developments in the ATM managed services market across different regions, gauge customer expectations, and analyze how their key competitors are responding to the dynamic customer demands. Additionally, our industry experts were tasked with helping the client understand and strategize for the impact of COVID-19 on the use of ATMs and banking as a whole. The engagement was carried out in three phases over 12 weeks and resulted in the successful redesigning of the client's existing operations to align with customer expectations, ultimately giving them a competitive advantage in the market.
Client profile
The client is a multinational financial and retail technology company based in the EMEA region. The company specializes in the sale, manufacture, installation, and service of self-service transaction systems, POS terminals, and physical security products for global markets.
ATM Managed Services Market: Business Challenges Faced by The Client
Technological advancements are enabling ATMs to transform from being a mere cash dispensing machine to a highly personalized and improved communication channel between banks and customers. Financial institutions can gain big from these channel transformations as deploying more integrated, and value-added services can reinforce operational efficiencies and improve customer loyalty. But in most cases, adapting to digital transformations is easier said than done.
The client faced challenges in staying updated with the latest trends in the ATM managed services market and incorporating them into its business. However, additional investments into technology meant added costs on the financial institutions and for the maintenance of ATMs. This was especially a challenge for their business in the APAC region with several regional competitors in the market offering services at low profit margins. As such, the client wanted to identify cost-effective technology trends in the market that they can capitalize on. They also aimed to deliver greater value propositions through enhanced customer experience and reduced ATM fraud.
Another key challenge faced by the client was the increasing competition from digital payment channels. Notably, easy access to the internet, increased smartphone use, and the introduction of multiple e-wallets coupled with supportive government initiatives around digitalization and the COVID-19 crisis have compelled users to adopt digital payment channels to carry out transactions. This increasing adoption of digital payment channels was reducing the usage of cash which in turn affected the usage of ATMs and ultimately ATM managed services.
Infiniti's Approach
The engagement took the course of a sequential approach that involves three key phases: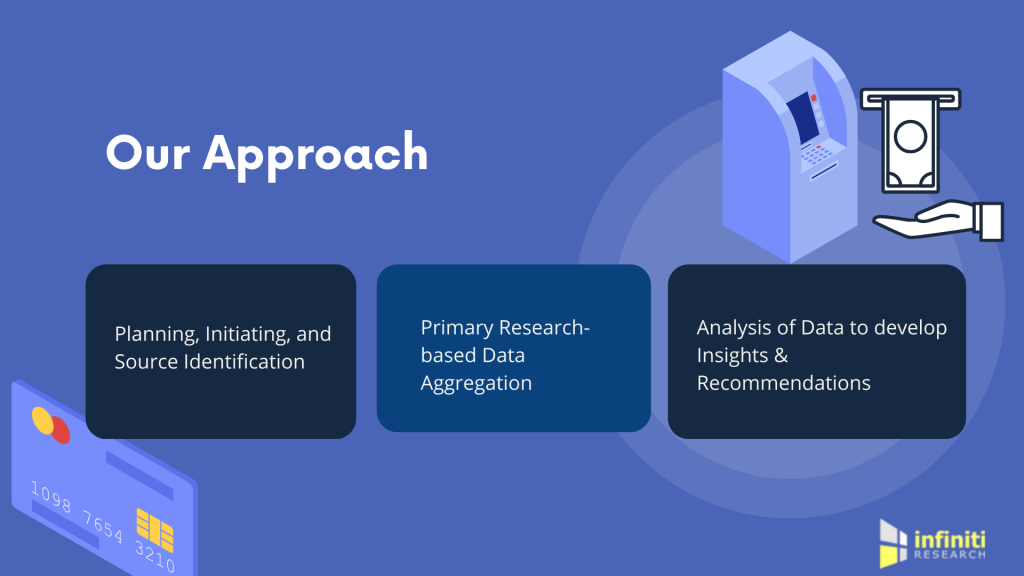 Infiniti's custom market intelligence experts addressed the client key concerns through a thorough analysis of market factors and trends that had a direct impact on the client's business, enabling the client to understand the gaps to be covered. A market segmentation study was undertaken for a region-wise study of the ATM managed services market. Through this, the client was provided with critical insights on the most attractive markets with lucrative opportunities to capitalize on within each of these markets. Experts at Infiniti proposed North America and APAC as the ideal markets for the client to expand their investments.  China, India, Japan, and South Korea were identified as the key markets to focus on in the APAC region.
An in-depth competitor analysis also highlighted key competitors of the client in each of these markets, product offerings to cater to changing customer demands, their key strategies and competitor best practices for customer journey deployment, and managed services offered by top market players. The client leveraged these insights for a SWOT analysis of each of their key competitors to gauge how their offerings compared to that of key market players.
The client also leveraged Infiniti's market trend analysis to gauge the most feasible technological innovations on which they can invest and create a competitive advantage in the market.
Key recommendations
Through the engagement, some of the key recommendations given by our industry experts to the ATM managed services client include:
Focusing on service offering and investments in the US, Canada, and APAC will help the ATM services provider increase share in the market
Key services that are currently highly in-demand in the market include ATM network monitoring, virus and malware protection, encryption services, anti-skimming solutions, and compliance. The client must expand their capabilities in these services to gain a competitive advantage in the market.
The client can reduce operational and maintenance cost by offering new and innovative services such as cash recycling, OTP-based cash withdrawal, and loan payments through teller machines.
For more detailed industry expert recommendations, request a FREE proposal
Business Impact for the ATM Managed Services Provider
The custom market intelligence helped the client identify critical gaps in their service offerings in contrast with the key market competitors. Other business outcomes obtained by the client include:
Reduced operational costs by 20% by adopting innovative and cost-effective services as recommended by our industry experts.
Invested into new and lucrative markets based on region-wise strategic recommendations to gain a competitive edge obtained through the engagement
Recorded 2X increase in ATM usage and increased customer engagement by incorporating additional value-added services that are convenient and support superior cybersecurity measures.
For more insights into the ATM managed services market, get in touch with an industry expert