The specialty chemicals market is highly complex and competitive. The most prominent segments of this market are specialty polymers, surfactants, flavors and fragrances, electronic chemicals, and industrial and institutional cleaners.
Specialty chemicals are in high demand and have a high growth rate due to the purpose they serve in industrialization, which is a widespread global phenomenon currently. As a crucial addition to the cleaning, disinfectant, and food industries, it is also seeing higher demand due to the current COVID-19 global pandemic.
As emerging markets are proliferating, the largest contributors to the specialty chemicals market are Germany, North America, Netherlands, China, and India. The highest consumers over the past few years have been China for antioxidants, construction, water management systems, and more; North America for agriculture, food, cosmetics, oil field chemicals, and more. Other countries with high consumption rates are India, Japan, and other developing countries and emerging markets due to rapid industrialization.
Emerging markets reflect a higher growth rate because they are calculated from a lower base and are growing rapidly in both demand and consumption. As of 2018, the highest consumption of specialty chemicals was found in the automobile, food, aerospace, agriculture, textile, and cosmetics industries, in no order.
However, as every market does, even the highly demanded specialty chemicals market is faced with various challenges, and key players are attempting to adapt efficiently. Currently, specialty chemicals market players need to identify the ideal opportunities to grow with the growing demand. In this article, industry experts from Infiniti Research discuss the major factors affecting the specialty chemicals market and the solution to identifying market opportunity.
Speak to Infiniti's industry experts to gain more in-depth insights into the fast-growing specialty chemicals market.
Factors Affecting the Specialty Chemicals Market
The specialty chemicals market is highly influenced – positively and negatively – by various factors. Before employing a solution, it is crucial to gain a comprehensive understanding of the challenges and opportunities within the market. The following two factors majorly affect the specialty market.
High Demand:
With the constantly developing supply chain management systems, eCommerce purchasing, and strategic sourcing, transparency has increased. Therefore, higher consumer awareness has led to the exponential rise in demand for specialty chemicals across industries. Specialty chemicals have now become a commodity-like addition to every industry that it plays a role in. While this is beneficial for the market, the higher demand has led to a rise in R&D, raw material, and energy costs. To recover these high costs and improve their margins, specialty chemicals producers have raised the prices of their product.
Additionally, the demand for cleaning agents, sanitization, and hygiene has risen over recent months, due to the COVID-19 pandemic, making specialty chemicals a crucial commodity in the industrial and institutional cleaning industry. Apart from the increased demand for cleaning agents at an individual are family level, major spaces like hospitals, hotels, and community living spaces are in constant need of proper cleaning agents. Further, long-lasting food items with preservatives are in higher demand due to long durations of quarantine across the world.
Emerging markets and developing countries:
The increase in industrialization, trade liberalization and the growing demand for technological advancements in developing countries across the world largely contribute to the growth of the specialty chemicals market. The demand for electronics has grown vastly over recent years of change, and specialty chemicals play a crucial role in the development process of the same. Similarly, construction chemicals and fuel are in high demand across developing countries, which in turn increases the growth of the specialty chemicals market. However, a challenge posed by emerging markets and developing countries is the continually changing regulations regarding additives to food, and chemicals for other manufacturing industries. This could be detrimental to the global growth of the specialty chemicals market.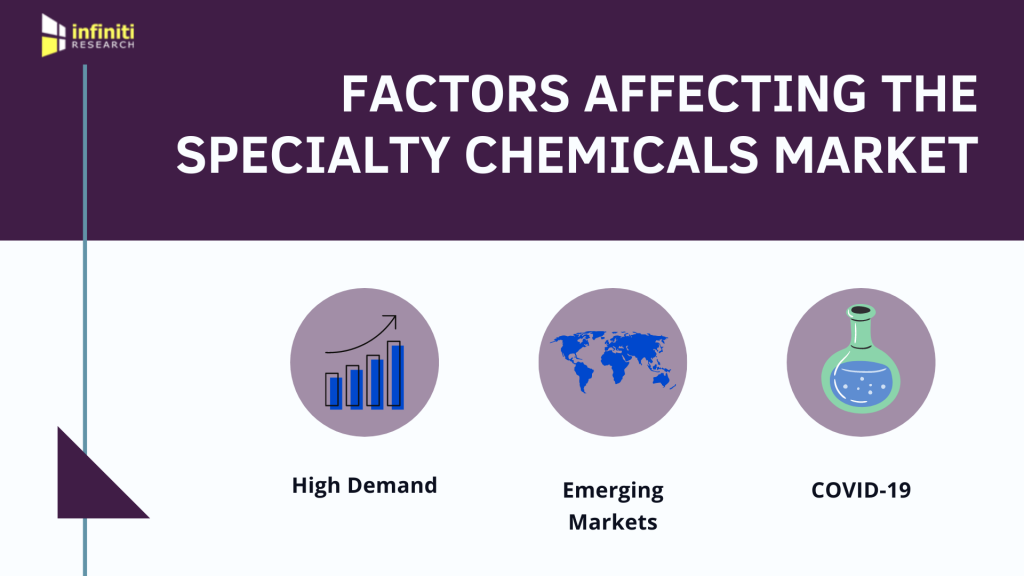 Understanding the market is the first step towards succeeding in it. Get more information on the factors affecting the specialty chemicals market to strategically prepare for the forecasted growth.
Preparing for Forecasted Growth
As the specialty chemicals market continues to grow at a substantial rate, market players need to prepare strategically. This requires understanding the upcoming market trends and changes and their risks and opportunities. While high demand and global market growth are positive news for specialty chemicals producers, strategically analyzing the challenges and ideal opportunities for growth and equipping their companies for the same is crucial. An unplanned approach leads to higher risks and may lead to losses in terms of opportunity and revenue.
Market Opportunity Assessment for the Specialty Chemicals Market
More importantly, for new entries, the market holds a range of challenges and potential barriers to market entry. Infiniti's market opportunity assessment allows businesses to plan a comprehensive approach to all potential barriers and assess the market's preparedness for new offerings. With the specialty chemicals market, as the industry continues to grow, some players are creating barriers for new market entries by focusing on service rather than products. With competitors focusing on building relationships and good customer service, the challenges of entering with new offerings and attempting to build new relationships are much more. Infiniti's research experts offer the appropriate data, approach, and actionable strategies for businesses to successfully deliver their new offerings into a highly competitive and challenging market such as this.
Entering a new market is challenging, especially one that is growing as exponentially as the specialty chemicals market. Infiniti's market opportunity assessment can offer you strategic insights on all opportunities and actionable solutions for all potential barriers when entering this market. Request a free proposal to learn more about the readiness of the chemicals market for new offerings.