The pandemic outbreak and the rise in medical issues among the geriatric populations have turned out to be key drivers of growth in the pharmaceutical labeling market. The ongoing technological advances in this field have further enabled pharma companies to enhance brand value by focusing on key features like product tracking, leading to a significant rise in demand for product labeling. With new regimens and improved drug formulations emerging at break-neck speed, pharmaceutical labeling companies are taking appropriate measures to address their customers' changing preferences and demands. Beyond aesthetics, pharmaceutical labeling and packaging play a critical role in contributing to brand value, flexibility, reliability, and product efficiency.
Besides these factors, consumers' concerns about sustainability and environmental awareness have necessitated pharma companies to evolve and innovate to address their growing needs. As such, many pharmaceutical labeling companies are investing in market research to find sustainable alternatives and capitalize on new opportunities to drive brand value. Speak to our experienced market research experts for insights on the current market scenario and understand how you can drive growth and profitability using our solutions.
Pharmaceutical Labeling Industry Trends
Having analyzed the growing concerns of pharmaceutical packaging companies across regions, experts at Infiniti Research shed light on a few trends impacting this sector-
Rise in eCommerce channels
Our market research experts believe that the growing popularity of e-commerce will diminish the conventional role of pharmaceutical labeling and packaging. However, this growing demand is poised to pave the way for new opportunities for pharmaceutical labeling and packaging companies. In addition to the growing demand for shipment materials, eCommerce could also drive growth for new and different types of pharmaceutical labeling and packaging in the near future.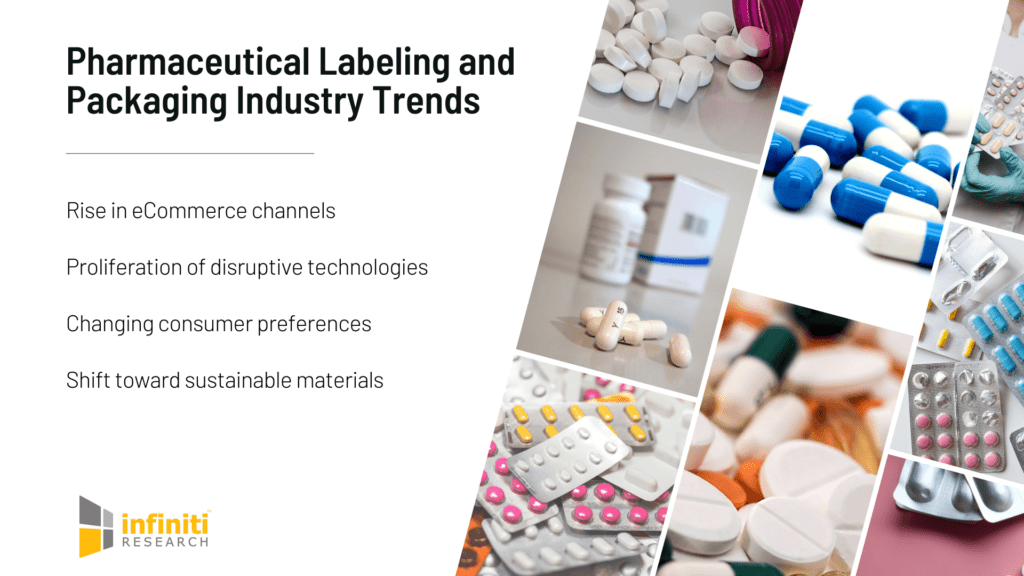 Proliferation of disruptive technologies
Many packaging companies have already adopted new technologies to improve operations and increase productivity across the value chain. Digital printing, for instance, serves as a good example, enabling businesses to track products and assist in quality control along supply chains. Apart from impacting operations and productivity, disruptive technology trends have also paved the way for packaging innovation, enabling pharmaceutical labeling and packaging companies to develop futuristic solutions to address sustainability, pricing, and flexibility concerns.
Our market intelligence solutions help you gain an unparalleled competitive advantage in your domain by leveraging research reports and custom market insights that positively impact your operations and revenue. Request a free proposal (now!)
According to experts at Infiniti Research, The future of the pharmaceutical labeling market looks promising with opportunities in the several sub-segments, including bottling, blister packaging, parenteral containers, sachets, syringes, and inhalers, but only for those who take timely actions and capitalize on new, emerging opportunities.
Changing consumer preferences
Consumers are not just changing how they shop for pharmaceutical products, but their growing needs and sustainability concerns are also affecting what they buy. The ongoing lifestyle changes have given rise to major shifts in personalization, support for local or regional products, and price awareness, all of which have contributed to a step-change in productivity and the demand for new packaging and labeling solutions. In recent years, pharma companies have started using value-added labeling solutions such as labels with QR codes and RFID tags. A new concept around clear label designs has also emerged, enabling pharmaceutical labeling companies to communicate the benefits of their products to the end-users.
Shift toward sustainable materials
The inclination towards using sustainable materials has prompted leading pharmaceutical labeling and packaging companies to set higher recycling goals. But when it comes to sustainability, these companies also confront a mismatch between the need to reduce waste and the consumers' willingness to pay for the necessary changes. This has prompted packaging and labeling companies to look for cost-effective solutions when developing sustainable packaging.
For further assistance and industry-specific insights, please connect with our market research experts – Request more information.
"The major drivers for this market are growth in the pharmaceutical industry along with growing healthcare expenditures in developed and developing economies," says a market intelligence expert at Infiniti Research.
Given the rapid advances in pharmaceutical drug formulation and proliferation of technology, emerging pharmaceutical labeling trends are poised to impact the dynamics of the industry, leading to a step-change in the use of sustainable labeling products, packaging materials, and detailed content label design.
In line with the evolving market trends and business requirements, we offer customized solutions and detailed reports to help our clients drive rapid growth through:
Market size estimates
Trend and forecast analysis
Customer segmentation analysis
Regional analysis
Business strategy development
Growth planning support
M&A due diligence
Are you looking for specific insights with a core focus on additional industry sub-segments and countries? We customize solutions according to your unique business requirement – Request a free brochure to know more.