The growth of the pharmaceutical industry has slowed down over the last few years. Experts suggest that the market has reached its saturation level. However, due to recent advances in technological innovation, the market is anticipated to witness further growth. Innovations such as wearable devices, real-world evidence, telemedicine, nanotechnology, and precision medicine are expected to change the landscape of the pharmaceutical industry. Despite such innovations, the pharma industry has started facing some tough tests recently.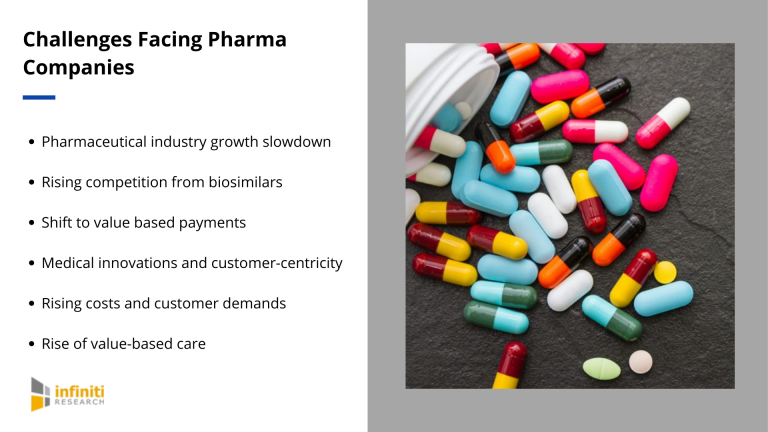 Request a free proposal to learn how we can help you tackle pharma challenges and uncover new business opportunities.
Pharmaceutical Industry Challenges
Pharmaceutical Industry Growth Slowdown
Numerous market research reports have highlighted the fact that the pharmaceutical industry will experience a slowdown in the next few years since the major markets are nearing their saturation point. Historically, the pharma industry has experienced a sporadic increase in growth rates with the introduction of generic medicines for diseases like hepatitis and cancer. Therefore, it can be estimated that the growth prospects of the pharmaceutical industry are currently dependent on the invention of effective medications.
With over 17 years of experience in serving customers across the globe, we can help you to gather detailed insights into the market. Contact us today!
Biosimilar Showdown
Biosimilar drugs are capable of increasing the efficacy of medicines and patient safety at an economical cost. However, big players in the pharmaceutical industry are opposed to biosimilars as it's hurting their innovative capacities. In the US, the FDA has approved 41 new medicines, the most in 18 years, with more drugs in the pipeline. The recent Sandoz vs. Agmen case has also brought into the limelight the fact that the cheaper version of complex and pricier drugs, called biosimilars, get to patients faster.
Shift to Value-based Payments
As a whole, the healthcare industry is moving towards value-based payments from volume-based or fee-for-service-based payments. This system rewards the increment in quality and value of healthcare services. Companies in the pharmaceutical industry are also looking to implement value-based purchasing but will face challenges in estimating an appropriate time frame for manufacturers to demonstrate drug efficacy. Therefore, it will be difficult for new drugs to compete in the value-based payment system.
To gather more insights into our services and their benefits for your business, Request more info.