The medical device industry continues to innovate aggressively and record stronger growth with each passing year. The key growth enablers for medical device manufacturers include the underlying demographics and the innovation and expansion in clinical applications of medical devices. Against this backdrop, it has become more important than ever before for medical device manufacturers to ensure improved quality in the design, manufacture, and distribution of devices. Furthermore, the rising regulatory compliance requirements imposed by FDA is further putting pressure of companies in the medical device market to prevent themselves from the risks of non-compliance.
Why quality compliance is paramount for medical device manufacturers
A single error caused by a medical device can have severe consequences not only for the patient but also for stakeholders of the medical device company. One major quality-related issue can significantly reduce the share price of medical device manufacturers. As most medical equipment manufacturers are aware of this risk, they give increased emphasis on quality.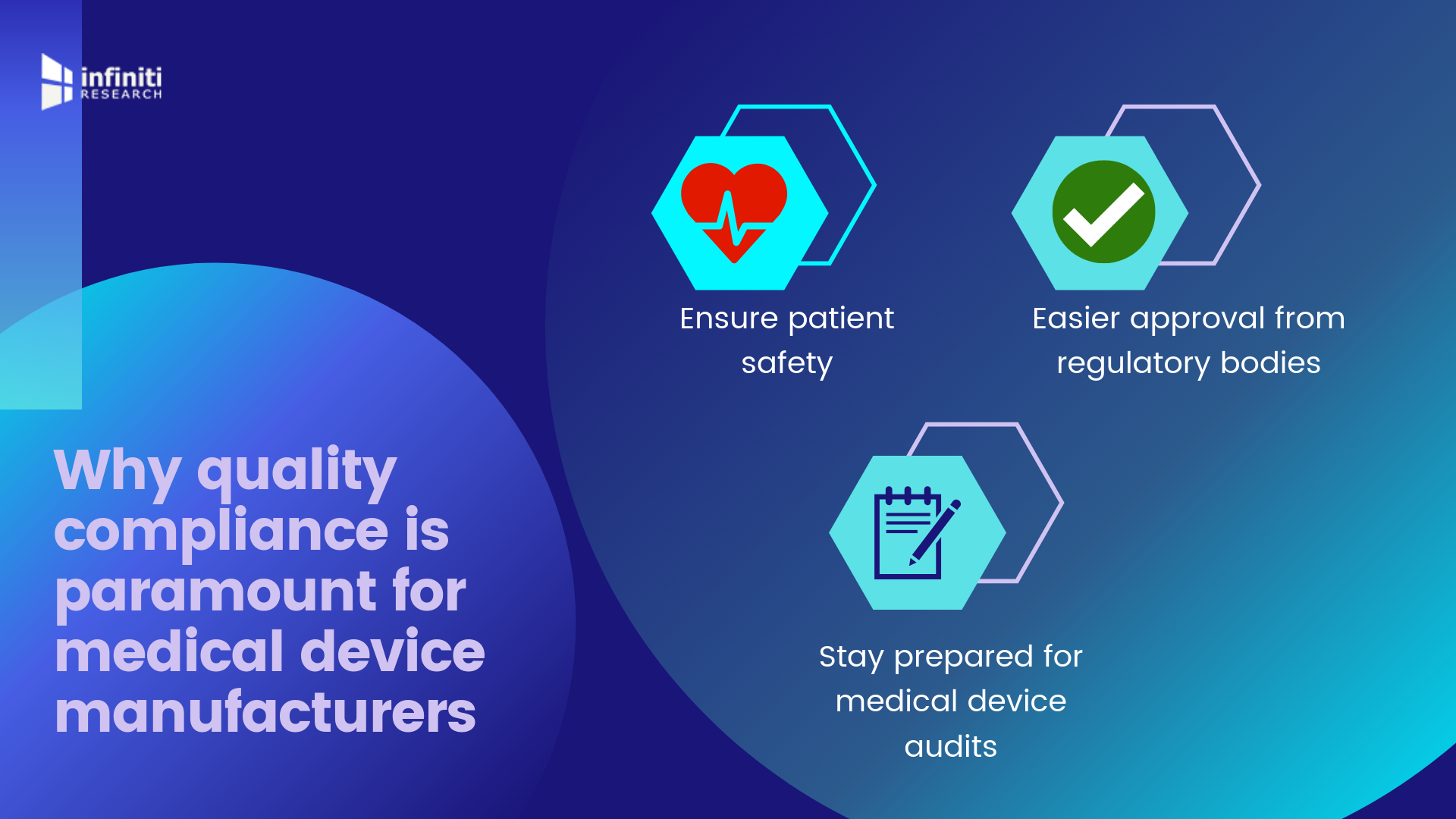 Improving quality can bring costs down significantly for medical device manufacturers. Request a free proposal to know how Infiniti's experts in the medical device industry can help you identify and curtail both direct and indirect costs that you may incur.
How to ensure medical device quality
Some recent high-profile device failures have led to major product recalls that are costly and impact significantly patient care. To avoid such mishaps medical equipment manufacturers can undertake some of the following strategies to ensure and maintain medical device quality:
Quality assurance through regulations
Since there is increasing focus being given to value-based patient care, regulatory bodies have tightened the compliance requirements to increase transparency and ensure medical device quality and efficacy. There is also intensified compliance requirements for post-market surveillance, device submissions, quality systems, cyber security directives. With such stricter norms and greater emphasis being given to patient safety, medical device manufacturers must establish processes to achieve compliance through device identification, clinical data collation, and labeling improvements. Using a unique device identification (UDI) system backed by a centralized database will promote the traceability of each device and in turn maintain quality standards.
Maintaining quality is not the only challenge faced by medical device manufacturers. Get in touch with our experts to gain an overview of how our solutions can help you identify challenges that are most likely to affect your organization and strategize an action plan to overcome them.
Creating culture of quality in the organization
Quality begins with every employee in a medical device company and includes every process and procedure ranging from development to delivery. This involves implementing robust quality standard processes across the business. By Improving quality across operations and establishing a comprehensive control mechanism, encompassing people, process, product, and assets, medical device manufacturers can cultivate a culture of quality.
Embracing quality management best practices
The need to curtail losses due to device failure and to comply with government mandates, medical device manufacturers must give more focus on quality management. The help of innovative technologies can be used to develop high-quality products. This includes additive manufacturing for producing customized implants, lasers to facilitate precision manufacturing, micro molding of silicone to manufacture accurate minimally-invasive surgical devices, and low-friction fluoropolymer coatings to efficiently lubricate the guide wire that is used in cardio-vascular surgeries. Furthermore, a risk-based approach would be more effective in ensuring design and manufacturing accuracy for life-critical machines. For instance, in blood line tubing, higher control over cooling water temperatures after extrusion is required compared to PVC tubing to reduced low microscopic defects.
Request a free brochure to gain more insights on our solutions for medical devices and medical equipment manufacturers.