Ajay Biswari, AVP – Custom Research (Market and Competitive Intelligence) at Infiniti Research has over 10 years of experience in delivering solutions for global giants in the industrial and heavy equipment sector. His core expertise includes market entry, market expansion, merger and acquisition identification, and customer needs assessment.
Industrial and manufacturing firms often face dilemma in understanding market dynamics and developing an effective market entry or market expansion strategy. Also, the rising competitive pressure, increasing need for differentiation in the market, and need to comply with the stringent regulatory environment have adversely impacted companies in the industrial and manufacturing industry. Consequently, industrial and manufacturing firms are under the pressure to expand their base of operations to developed markets. This necessitates stakeholders to develop an effective market expansion strategy, understand the competitor landscape, and gain a comprehensive view of the current market scenario.
Our market expansion strategy engagement can help industrial and manufacturing firms to gain in-depth market and consumer insights, collaborate with local businesses, garner government support, and devise an efficient market expansion strategy. Request a FREE proposal!
Do industrial and manufacturing companies need to expand their business to new markets?
Amal: Absolutely! Today, several market dynamics affect the business operations of companies operating in the industrial and manufacturing industry. The rising market uncertainties such as increasing competitive pressure, uncertain political scenarios, and rising operational costs are some of the major factors impacting the business operations of companies in the industrial and manufacturing sector. Let me explain in detail the impacts of these challenges on companies in the manufacturing industry. The growing competitive pressure often leads to price wars between companies and negatively impacts a manufacturing company's bottom line. Furthermore, increasing political instability in the recent times including events such as BREXIT and NASTA are even making it more difficult for companies in the industrial and manufacturing industry to sustain a leading edge in the market. To remain ahead in the market and expand market share, it is vital for industrial and manufacturing firms to expand their base of operations to new markets.
Can you shed some light on the strategies that must be adopted by manufacturing firms to survive in today's competitive market scenario?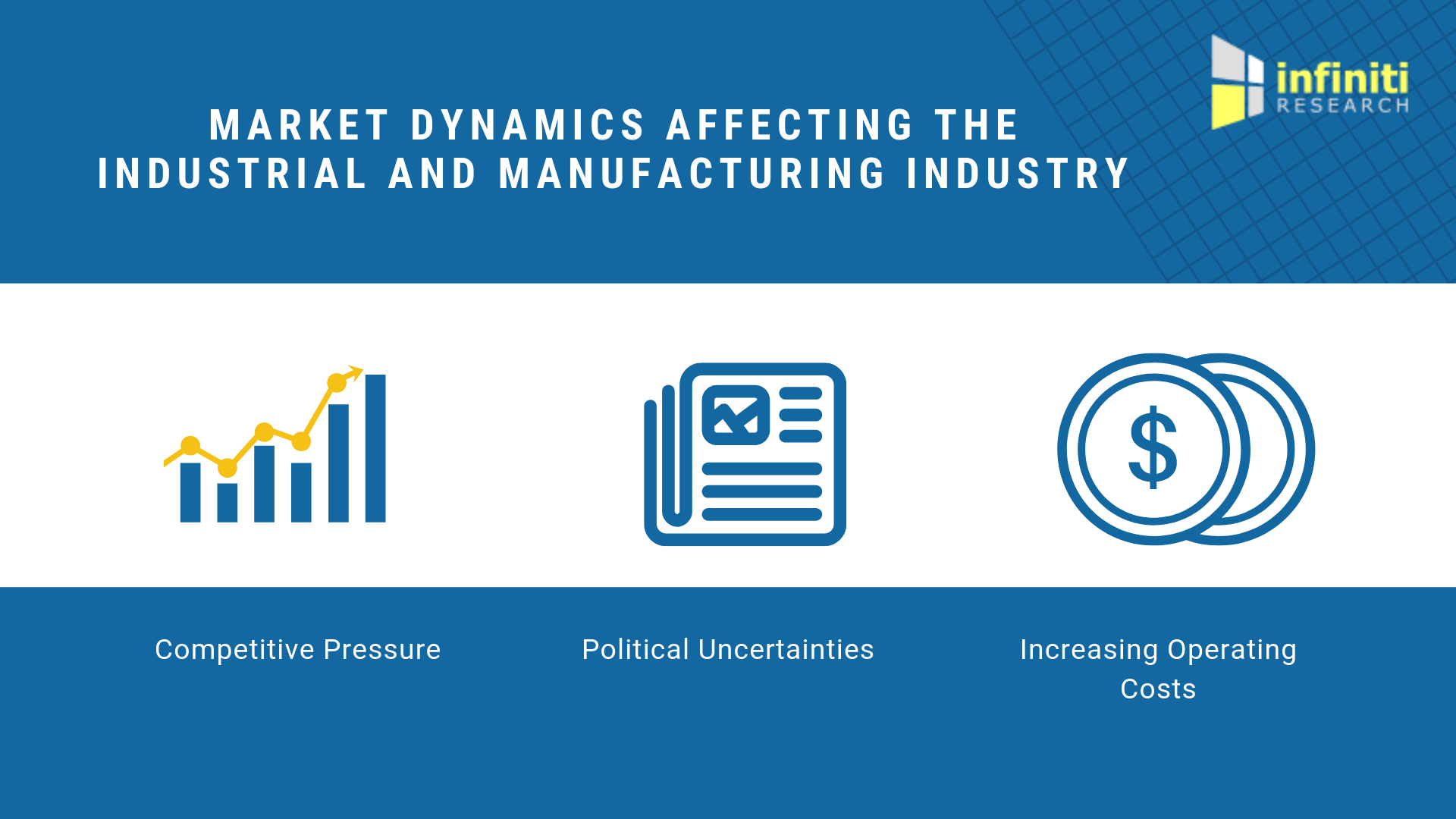 Amal: Let me list out three major strategies, which according to me help companies stay ahead of the game. Some companies use technologies to overcome challenges. For instance, recently a major tool manufacturing company achieved 24% productivity improvement and 10% workforce efficiency improvement by investing in new technologies such as IoT and AI.
Also, companies are investing in new product innovations. The introduction of new products in the market can help companies to stay competitive. But, I would highly recommend manufacturing companies to employ a market expansion strategy, as this is sure to provide an above-average growth rate and can save millions of dollars in savings.
With over 15 years of expertise in providing custom market intelligence solutions, we have helped various global companies to devise efficient market expansion strategies. CONTACT US to know how our solutions can help your company.
But, why do you think entering the Asian market can be an ideal growth strategy for manufacturing firms?
Amal: Well, recent studies show that over forty per cent of global economic activity is now occurring in Asia, and world growth is expected to continue being led by Asia over the next decade. Also, India and China are two of the major economies which are growing at the fastest rate globally and provide vast opportunities for manufacturing companies. And even these countries heavily depend on exports as one of the revenue streams. So, new manufacturing companies can easily set up manufacturing bases relatively with a low cost of labor and raw materials. So, I think choosing the Asian market can be an ideal growth strategy for companies in the manufacturing industry.
Can you provide more insights on why Asia is a promising market for industrial and manufacturing companies?
Amal: Definitely! To start off with, Asia offers an attractive manufacturing environment that is favorable for manufacturing companies. Also, if we look at the share of global manufacturing output, it has almost doubled in the last decade. Moreover, the low operating cost and diverse demography are some of the other attractive factors in the Asian Market.
I would also like to add another significant geographical advantage within the Asian market in terms of access to market. With companies in the Asian manufacturing industry already competing with each other to be on top of the manufacturing pyramid, this market is trying to garner interest among global firms by offering smooth entry into their market. Also, considering the production cost, Asia offers lower operational costs compared to other developed countries.
What are the major market expansion approaches that some of the top manufacturing companies in the world adopt to stay ahead of the game?
In my view, most manufacturing companies look at setting their individual manufacturing bases or enhance their sales through various approaches. For setting their own manufacturing bases, companies generally leverage greenfield and brownfield expansion approaches. Let me explain these approaches in detail. Generally, greenfield expansion approaches involve huge investment in terms of resources, time, and capability. Although this approach provides complete control over the manufacturing and supply chain processes, this involves huge risks and takes a longer period for results to be shown. However, the brownfield expansion approach provides a kick-start immediately. Also, the brownfield expansion approach requires relatively lower capital investment compared to greenfield approach.
In the case of sales expansion strategies, manufacturing companies mostly look at own sales network or channel partners. Own sales network approach is mostly similar to the greenfield approach, which requires huge capital investment. However, channel partner approach helps companies gain in-depth knowledge about the market through channel partners who are already present in the market.
Request for more info to gain detailed insights into our services portfolio and to learn other benefits of leveraging our market intelligence solutions.