Entering a new market is a challenging and defining process across industries. Building a strong foundation, strategizing for changing market dynamics, and always staying ahead of the curve is imperative to succeed. Without comprehensive plans and data-driven decision-making, companies often struggle to overcome market entry barriers and establish a strong foothold in the new market. An effective market entry strategy helps companies build an unparalleled route-to-market, evaluate the competitive environment, and understand factors influencing the market.
A market entry strategy includes identifying profitable opportunities, planning for potential barriers to entry, and gaining a comprehensive understanding of the new market. Challenging industries such as pharmaceuticals and healthcare and industrial manufacturing are known to have high entry barriers and an extremely competitive environment. To stay a step ahead of competitors, identify and strategize for potential entry barriers, and mitigate significant risks, industry leaders develop and follow a strong market entry framework.
As competition increases and the need for innovation increases, many markets are open to innovative offerings and alternative solutions to long-lasting challenges and consumer demands. Capitalizing on this time of change, innovation, and growth can help companies propel forward, enter a new market, and develop robust strategies. Research and planning for an efficient approach require extensive knowledge regarding the field, exceptional strategizing, and a meticulous market entry framework. In this article, Infiniti's experts discuss three crucial steps to developing a comprehensive plan and highlight our market entry solutions' value across industries and markets.
Infiniti's market entry advisory solutions have helped businesses across industries mitigate industry risks, identify barriers, and succeed in a new market. Request a free proposal to leverage our expertise in devising unparalleled strategies.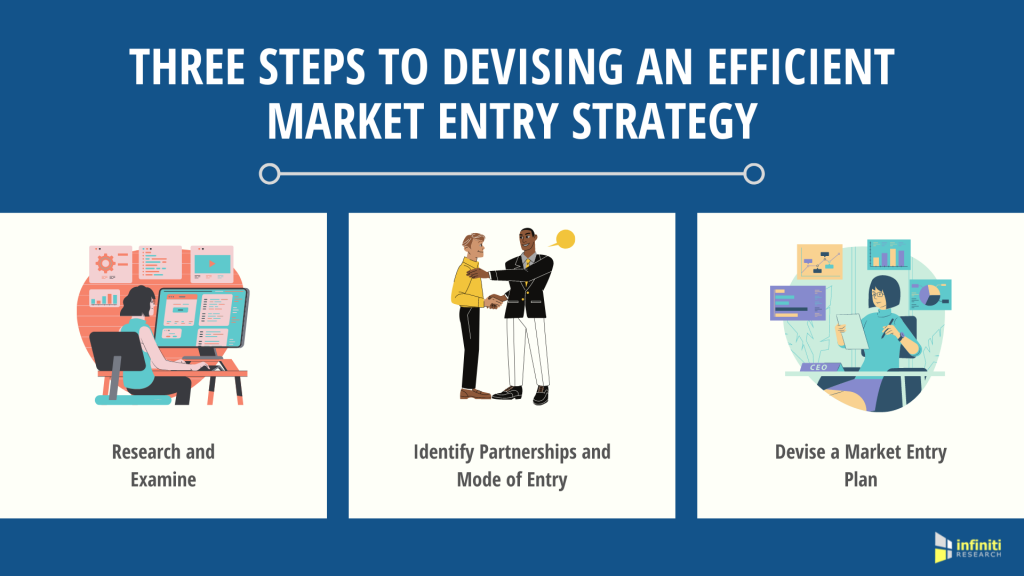 Step 1: Research and Examine
Developing an exhaustive understanding of the new market is the first step towards establishing a strong foundation and succeeding. Conducting in-depth research, acquiring data-driven insights, and compiling crucial information from reliable secondary sources is imperative to this process. Additionally, businesses must evaluate their competitors' initiatives and strategies, understand the competitive environment, and compare their approaches and offerings with leaders. Infiniti's market entry solutions experts have helped companies enter new markets and significantly surpass revenue expectations by providing detailed insights regarding market size, industry developments, and competitors' strategies.
To gain a more in-depth understanding of how our market entry framework helps businesses enter a new market, request more information.
Step 2: Identify Partnerships and Modes of Entry
Devising a market entry strategy requires precision, planning, and efficient execution. Achieving precision requires successfully identifying the preferred mode of entry and planning accordingly. There are various ways to enter a new market, including licensing, franchising, direct export, joint ventures, and more. Identifying the preferred mode of entry helps businesses plan efficiently and improve execution at later stages. To ensure efficient performance, many companies choose to identify ideal strategic partnerships to support their business operations, expansion strategy, or marketing activities. With guidance from Infiniti's experts, businesses have successfully planned and executed their plans, identified ideal partnerships in new markets, and discerned their preferred mode of entry into new markets.
Step 3: Devise a Market Entry Plan
Lastly, companies must gain and maintain a detailed understanding of the market, evaluate all the data procured in the previous steps, analyze the data, build a plan that addresses all potential risks, overcome barriers, and establish a foothold in the new market. Infiniti's experts have followed this framework, offered solutions to companies across various challenging industries globally, and helped companies become industry leaders and top contenders in their new markets.
Speak with our industry experts to learn how our market entry solutions can help your business enter a new market and champion the industry.