With the rapid pace of technological advancements in the healthcare industry, the future of medical devices looks promising.
The new-age medical technology has transformed the way doctors and patients participate and interact with each other. Obtaining real-time information, tracking past health records, identifying potential health issues, and devising a treatment plan are all

 signs of the gradual shift from traditional methods to smart medical devices. The future of medical devices is influenced by technological trends and opportunities that promise to revolutionize the operations of the healthcare providers and the medical technology companies. The medical device market space is driven by innovation, and the development of state-of-the-art medical devices and technologies has shown an unparalleled growth and advancement in the healthcare services industry.
The Future of Medical Devices Impacted by the Changing Market Dynamics
A medical device is an apparatus that helps prevent, diagnose, detect, restore, or treat diseases. According to our specialists, the future of medical devices is affected and influenced by the ever-changing market dynamics and other factors such as innovation, growth of emerging markets, advent of new business models, evolving healthcare delivery models, health information technology (HIT), and rapidly changing regulations and compliance standards.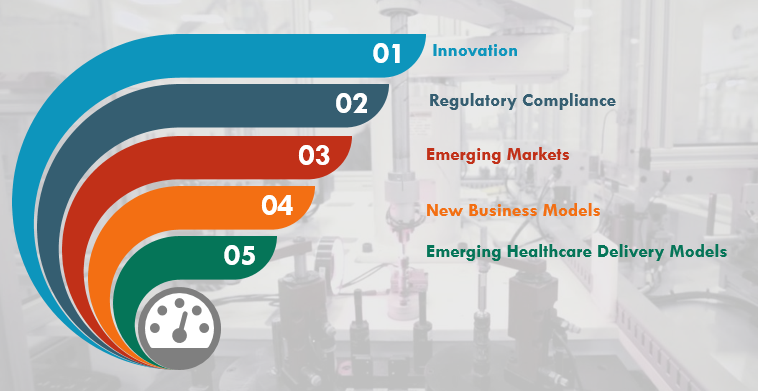 Today, the medical device market is driven by innovation, which has coerced the medical device manufacturers to invest in research and development. As a result, the medical device manufacturing companies are contemplating new business models and market expansion strategies in emerging markets such as the APAC, Africa, and LATAM. With the technological advancements and revolutionary changes in the medical device market, manufacturers and healthcare service providers have started offering personalized patient care and access to complete end-to-end medical device products and services. Med-tech companies are also focusing on new medical device development and are expected to invest a significant amount of the organization's revenue on research and development. However, the future of medical devices looks interesting but crowded as manufacturers and med-tech companies are launching several new technologies and products.
Want to know more?

Medical Device Manufacturers and Emerging Technologies
Medical device manufacturers are seeking to develop and enhance product prototyping, minimize operation costs, and be responsive to product developments and latest market trends. Emerging technologies in the medical device space have revolutionized the way surgical tools and medical equipment is formulated, improved, and manufactured to cater to the demands of the healthcare service industry. Why should medical device manufacturers track the development of emerging technologies, you ask? Here's why:
By tracking the development of emerging technologies, med-device manufacturers can enhance existing product lines or create adjacent product categories, thereby offsetting the potential impact on existing product lines and categories
Targeting new markets is the future of medical devices and manufacturing that allows companies to expand market and devise market entry strategies for emerging markets. A medical device manufacturer can either enter a new product category or a new region. Companies can leverage the benefits of low-cost country sourcing and manufacturing, thereby reducing operational costs and providing the highest quality products at the best possible price
The emerging technology market space has witnessed a surge in M&A activities over the past years. Med-tech companies are participating in mergers and acquisitions to gain market shares and acquire patented medical technology. This allows companies to gain the first mover advantage and operate in new areas.
Emerging medical device technologies are driven by the internet of things (IoT) and are equipped with wireless communication technologies such as the Bluetooth and internet connectivity to facilitate machine-to-machine communication. Interconnectivity between these tools and equipment with cloud-based platforms that capture, store, and analyze patient data and health information is the next step in the future of medical devices. These systems will enable remote patient monitoring, tracking of previous medical prescriptions and patient locations, monitoring patient progress, and providing access to caregivers.
Tracking The Potential of Emerging Technologies
To stay ahead in the market, it is essential for med-tech companies to track the potential of emerging technologies at an early stage. Traditionally, medical device companies relied on internal intelligence and syndicated research reports that provide insufficient data, invalid assumption, and offer findings that often misleads the organization. Besides these, companies scan the web and media such as magazines, trade journals, industry published reports and brochures that provide limited, outdated, and biased information. Organizations who follow the traditional way of assessing emerging technologies and their potential face the following three issues,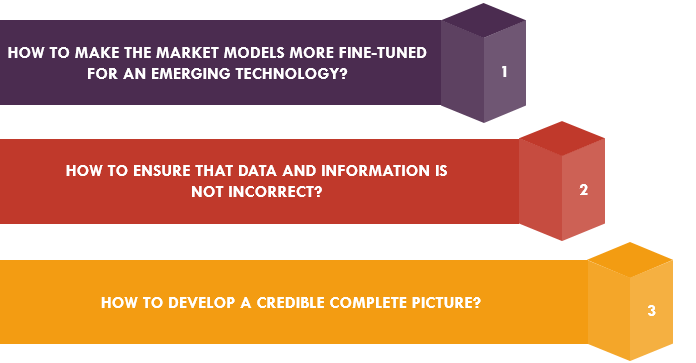 Assessing The Future of Medical Devices, The Infiniti Way
Infiniti's team of expert analysts understand the shortfalls of the traditional method of assessing the potential of emerging technologies and present new market models that are fine-tuned to track the latest developments and emerging technologies in the medical device market space. The Infiniti market assessment model categorizes product into three categories namely very new, moderately new, and existing products. The process entails extracting real time data, building realistic market models, and validating the models, framework, and assumption with physicians, patients and others in the med-tech industry to provide accurate and relevant actionable insights.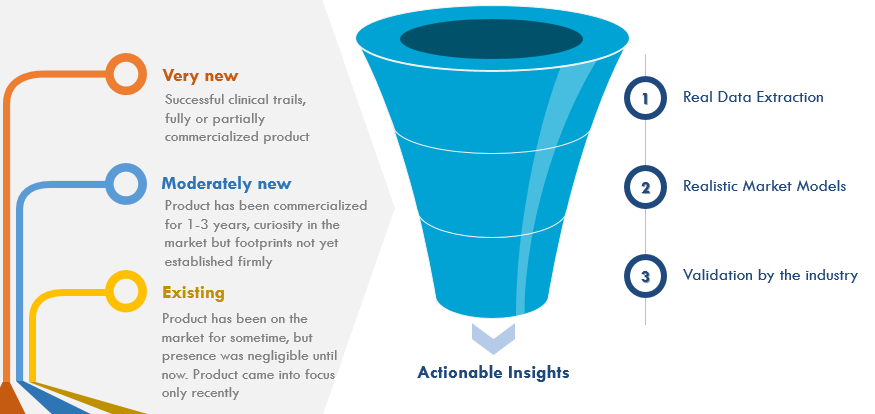 We assist healthcare service providers and med-tech companies by providing actionable insights that help them in strategic decision making and assess the future of medical devices. These insights enable the companies to answer the following questions,