Today, external forces are affecting the success of any business like never before. Experience and conventional wisdom cannot be expected to guide the strategies of the future. This is especially important when it comes to entering a new market. It is aptly said that "One man's ignorance is another man's opportunity." What one organization ignores becomes an opportunity for another. Therefore, to have a strategic advantage, companies should learn about what, where, and why of the market environment before entering a new market. However, before stepping ahead to explore a new market, there are several factors that must be considered. This methodical process of analyzing every potential opportunity and investing resources, time, and effort in market analysis and finally deciding on the entry method to ensure success in the new markets, forms the basis of a new market entry strategy.
Request more information to find out how our solutions can help you succeed in a new market segment.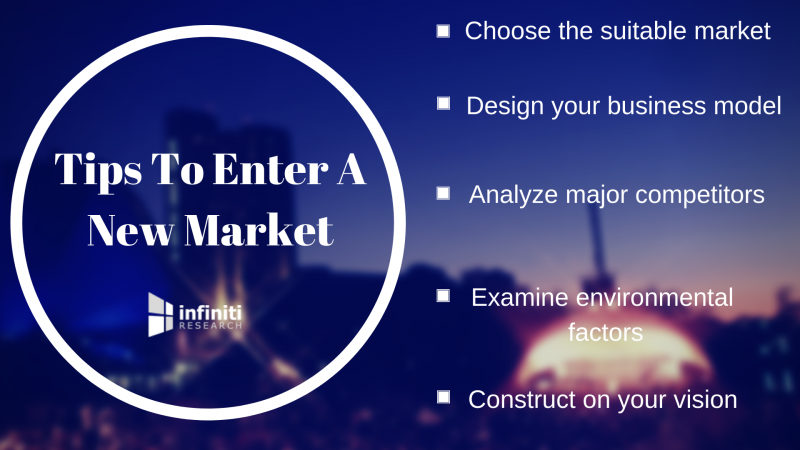 Tips for Entering a New Market
Analyze and choose the suitable market
Before entering a new market, you must analyze where in the world your product or service will perform well. For this, demographics, needs of the customers in that particular market, location, etc. must be taken into consideration. This requires acute market research and a detailed understanding of supply and demand, substitutes, the rate of market growth, and also if there is any barrier to entry. This job is comparatively easier for the markets which other businesses have already explored. But it is not easy if you are entering a new market that is untested since you need to be thorough with your research. This is the first step to take in a new market entry strategy.
Design your business model
Before entering a new market, designing an appropriate business model is another very important thing to consider. You must have a business model that is appropriate for the target market. If you want to set up your business from scratch, it is very important to follow a proper new market entry strategy. For entering a new market, finding a reliable local partner to help you with the success of your product can also work well for your business.
Continue reading to explore more tips to follow before entering a new market or request a free proposal.
Analyze major competitors
Now, this is a factor that you cannot ignore before entering a new market. Analyzing and determining who is gaining or losing and what are the factors behind that is an essential part of a new market entry strategy. Also, it is very important to figure out who all are the emerging competitors in the niche market and what is their value proposition. SWOT analysis is very essential for better market analysis. It helps in positioning yourself effectively against competitors.
Examine environmental factors
Environmental factors like economic, political, social, legal, and cultural factors must be considered before entering a new market. It forms a very fundamental and crucial part of a new market entry strategy as it helps you to understand which place is most attractive and suitable for your business. This slice of new market entry strategy helps to understand how welcoming the government and regulations of that particular place are. All these factors play a very crucial role in the success of the business.
Construct on your vision
Not to expect quick success is very important if you are entering a new market. A long-term strategy for capturing the market is an extremely important part of a new market entry strategy. It helps in strengthening the brand and product in the new market. The goals should be realistic to ensure that your business walks hand in hand with the market.
Such factors, if considered and taken care of well, can surely help in making the best decisions for your business before entering a new market. The success of a new market entry strategy is partially driven by factors outside your control but investing effort in these upfront factors will definitely help mitigate risks.
---
To know more about the strategies that will help you in entering a new market, request a free solution consultation.
---