Environmental concern and awareness regarding the need for renewable energy sources have grown exponentially over the past decade. Millennial and Gen Z individuals have taken various initiatives to improve the environmental status of the world. Natural hazards, climate change, loss of precious habitat, and the endangerment and extinction of different animal species have led to governments' increased caution and renewable energy initiatives. These factors have influenced and impacted various renewable energy trends worldwide, and renewable energy market players have witnessed significant change.
The COVID-19 pandemic took a severe toll on the renewable energy market, causing various supply chain disruptions and slowing the process of shifting from traditional energy sources. However, there is immense scope for growth in the coming years due to significant and positive renewable energy trends affecting the market currently. Further, the reduced availability of fossil fuels, changing trade policies regarding the oil and gas industry, and increasing petrol and diesel prices have led to piquing consumers' interest in renewable energy.
Although there have been various changes and renewable energy trends over the past year, the most significant ones have led to increased interest in the market, rising competition, and a range of options for consumers. Renewable energy sources include solar, wind, hydro, geothermal, tidal, and various others. All the sources of renewable energy require substantial investment and can be challenging to procure. However, Infiniti's trends analysis experts studied the market and identified three significant renewable energy trends that can help companies and consumers tackle these challenges efficiently.
The world is evolving, and consumers have realized a need for change in energy consumption. To learn how renewable energy trends are propelling this conversion and how your business can capitalize on it, request a free proposal.
Renewable Energy Trends
There has been an upsurge in consumer and company interest in renewable energy. Considering the vast number of challenges, renewable energy was expected to grow at a slow and steady pace. However, with the recent renewable energy trends, experts can expect substantial growth in the market over the coming years, particularly in the post-COVID era. Three trends that are impacting the renewable energy market and propelling the growth are as follows: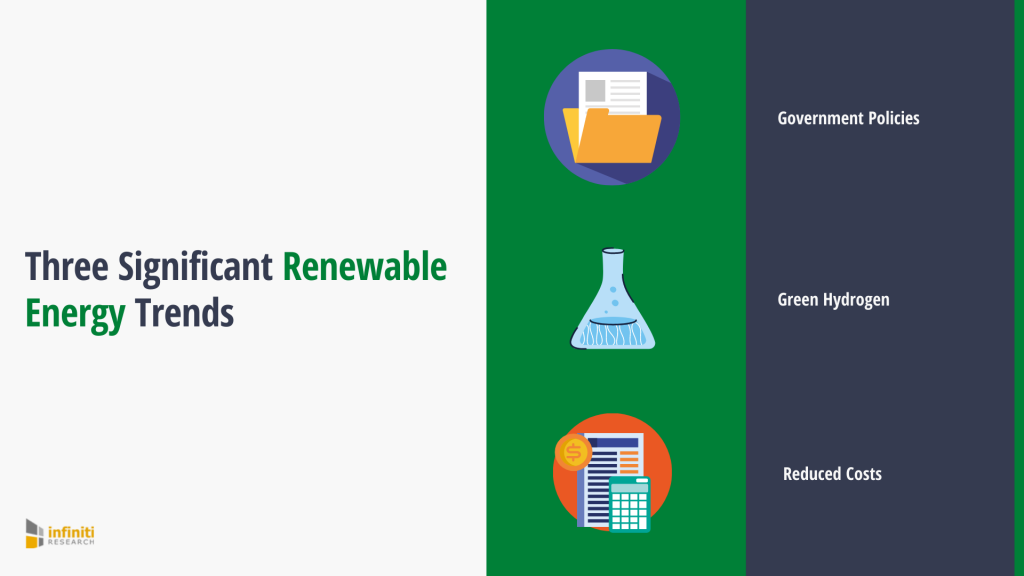 Government Policies
The social, political, and economic impact of the COVID-19 pandemic has led to a significant set back for many countries. The post-COVID era holds the opportunity for countries and governments to recover and create a stronger, better, and more environmentally friendly country. While governments have increased economic and financial support for small businesses and citizens, there have also been significant investments towards creating a healthier and new country. Renewable energy sources enable sustainable and healthy recovery for countries.
Therefore, governments have introduced policies to promote the adoption and widespread use of renewable energy sources. Support from governments immediately translates into improved tax credits, expedited permits, better grants and loans for innovators, and new deadlines for interrupted projects. Companies can use this renewable energy trend to their advantage and further the promotion and adoption of their offerings, while consumers can adopt renewable energy sources with fewer challenges.
Change comes with advancement, innovation, and government initiatives. For comprehensive insights into how these changes impact your business and support the ideal growth strategies, speak with our industry experts.
Green Hydrogen
Due to citizens' demanding lifestyles and the high consumption of energy, available renewable energy sources may not suffice. The lack of or stoppage of traditional energy sources such as coal and fossil fuels, which produce high levels of carbon emission, will remain an accessible option, slowing down the process of shifting to an improved world. Therefore, innovation has been abundant within the renewable energy market, and scientists, researchers, and companies have adopted a new form of providing small amounts of energy.
Green hydrogen is a type of fuel created through a process called electrolysis, which removed all traces of carbon dioxide from the eventual product. This fuel can be used to fuel electric or hybrid cars and provide central heating in homes. European countries have quickly adopted this fuel, and the European Union aims to include green hydrogen in their economic recovery plan. Green hydrogen serves as an efficient alternative to natural gas and other high emission fuels. Companies can explore this renewable energy trend and other innovations to expand their offerings and provide customers with further options.
Reduced Costs
Technological advancement has transformed the world for the better in many ways. The evolution of the renewable energy market is one such transformation. Through various breakthroughs, the renewable energy market has successfully improved its supply chains and streamlined manufacturing substantially. These changes have led to reduced costs of production and implementation for businesses and consumers.
These costs are expected to reduce further in the coming years. Therefore, making renewable energy alternatives available to low-income countries and furthering renewable energy over fossil fuel alternatives. With the ideal policies and supportive government policies, these renewable energy trends can help the market expand and grow substantially, creating healthier and greener countries, a better world, and citizens' healthier lives.
Trends Analysis Solutions in the Renewable Energy Market
The COVID-19 pandemic left a lasting impact on the renewable energy market. However, awareness of these trends and capitalizing on them can help the market recover and grow further in the post-COVID era. To capitalize on major renewable energy trends, propel their business, and grow exponentially, companies need to be aware of their market dynamics, challenges, trends and require appropriate guidance in the matter.
Infiniti Research offers the expertise of over 50 years in providing trends analysis solutions in the energy sector. With our experts' help, industry leaders in the energy sector have improved customer satisfaction, reduced production costs substantially, and increased revenues. Our trends analysis solutions help businesses identify significant trends in the market, gain a comprehensive understanding of their impact, and develop impeccable strategies to address the same.
Infiniti's trends analysis solutions can help businesses understand and incorporate the latest renewable energy trends efficiently. Request more information to learn how our solutions can help your business grow.