The agribusiness industry has a strong history of adapting to economic and environmental changes. In recent years, agrifood exports have grown dramatically, generating millions in annual sales from the agricultural sector in Canada. Many signals bode well for continued business growth, provided businesses adapt and cater to changing consumer expectations.
The world's population is booming, and agribusiness companies will have to cater to the needs of more than one billion people by 2030. The agribusiness industry must adopt new practices while cultivating its connection to the soil to meet these requirements. By offering innovative research-focused solutions, we help agribusiness companies across the agriculture value chain prepare for the challenges ahead. As agribusiness companies continue to navigate complexities, they are often challenged by the legitimate concerns around the unique subtleties and economics of agricultural markets and the critical issues facing emerging agribusiness companies.
Contact us to learn how market intelligence can help agribusiness companies capitalize on emerging market trends to drive business results.
These factors boil down to the need for sustainable innovation and advanced capabilities to analyze the supplier landscape, customer requirements, and competitive forces. Given the dynamism in the market, there has never been more reason to be optimistic about the road ahead for agribusiness companies.
Market shifts impacting the growth of agribusiness companies
Given the dynamic market shifts, there's no easy path to climbing up the ladder. But based on our research and experience in helping agribusiness companies develop winning strategies, we believe capitalizing on evolving trends will help businesses succeed in the long term.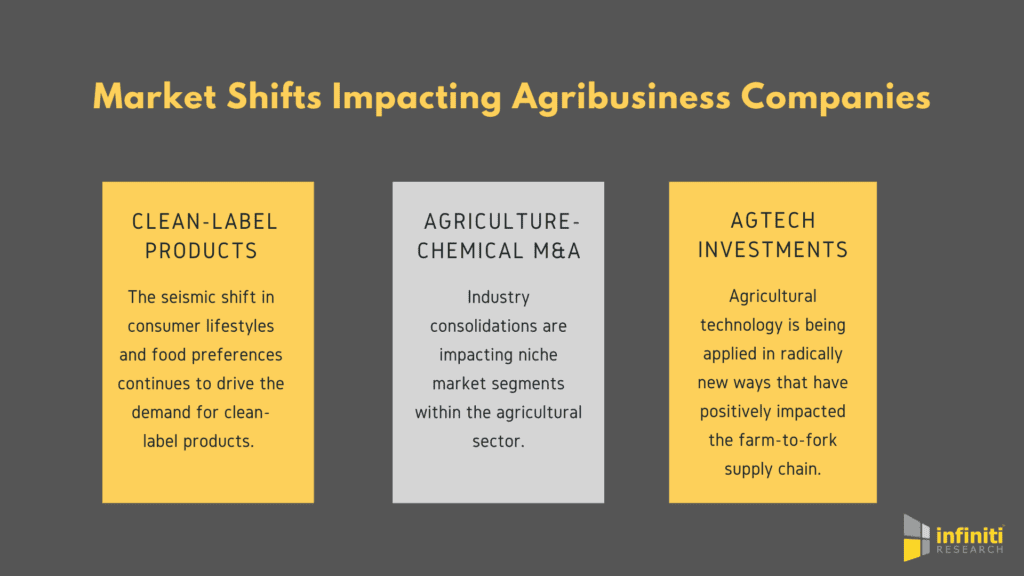 Growing demand for clean-label products
The seismic shift in consumer lifestyles and food preferences continues to drive the demand for ingredients with clean-label attributes such as organic, antibiotic-free, gluten-free, etc. The implications of this shift have driven colossal structural changes in the upstream agribusiness value chain.
Businesses will undoubtedly find ways to supply clean label products as long as the demand persists. But producers require significant upfront investments to shift their practices and qualify for the label they seek.
Submit a proposal request to learn how we have helped leading agribusiness companies achieve their strategic business objectives within short timeframes.
The rise in agriculture-chemical M&As
For many years, industry consolidations have played out across the agribusiness landscape, impacting niche market segments manufacturing agribusiness equipment and sorting & grading tools. The agricultural seed and chemicals mergers are increasing industry concentration significantly than ever before.
However, consolidation within the agri-retail space has not brought about remarkable changes. Yet mergers and acquisitions are announced regularly as prominent regional and national players seek economies of scale and better buying power with the major suppliers.
With decades of experience in providing insight and strategy support, we have helped several companies operating in the agribusiness industry achieve successful results. Request a free brochure to find out how our market intelligence expertise can be tailored to your organizational requirements, providing the support and direction you need to achieve rapid business growth.
Increase in AgTech investments
The growth of agricultural technology has been fervent over the past few years, with technology being applied in radically new ways that have positively impacted the farm-to-fork supply chain. These trends are certainly not the only dynamic shifts driving the evolution of the global farm-to-fork ecosystem.
As these changes unfold and accelerate in some cases, they are almost certain to create opportunities for agribusiness companies that can adapt to the increasing disruptions across the industry. At the same time, these forces will challenge companies that are slow to adapt. And while the recent industry upheaval has been enormous, research suggests that this is just the beginning of a much more profound shift that is likely to drive change for decades.
How Infiniti's market intelligence solutions help agribusiness companies

Having worked with leading agribusiness companies on various projects, we understand the market and challenges impacting agribusinesses. Our dedicated agribusiness research division comprises seasoned market experts, analysts, and industry thought leaders who work with our clients to help develop strategies for business success. Among other things, our agribusiness team helps clients reimagine strategy and business models, facilitate industry consolidations, implement post-merger integrations, and identify investment opportunities. Collaborating with us can help you conduct in-depth industry assessments, gain comprehensive competitive insights, determine the technologies and sustainable practices that best suit your business. Request more info from our experts for more information on how we've helped leading agribusiness companies