Healthcare payers and providers face numerous challenges due to a dynamic business landscape. Thus, an organization's ability to respond and adapt quickly to change has gained increased importance. Companies that have managed to crack the paradox of agility in healthcare innovation have successfully redeployed their capabilities to address new challenges. But as far as agile innovation is considered, both stability and dynamism play a significant role. Therefore, companies that get the mix wrong are usually unable to respond to the fluctuations in market dynamics.
Agile Innovation in Healthcare
Agile innovation in healthcare has now become imperative for success. During the pandemic, healthcare companies were forced to break free of conventional processes and help address a massive humanitarian crisis. Beyond the ability to rapidly address human needs in the face of future crises, the pandemic outbreak brought to light the fact that healthcare companies that adopt agile innovation can overcome long-standing hurdles and address unmet needs. When considering innovation failures, senior healthcare executives cite ineffective cross-functional collaboration, inability to address customer needs, and the failure to allocate sufficient resources to scale projects as the most common causes. However, when done systematically, agile innovation can help address most of the challenges facing healthcare.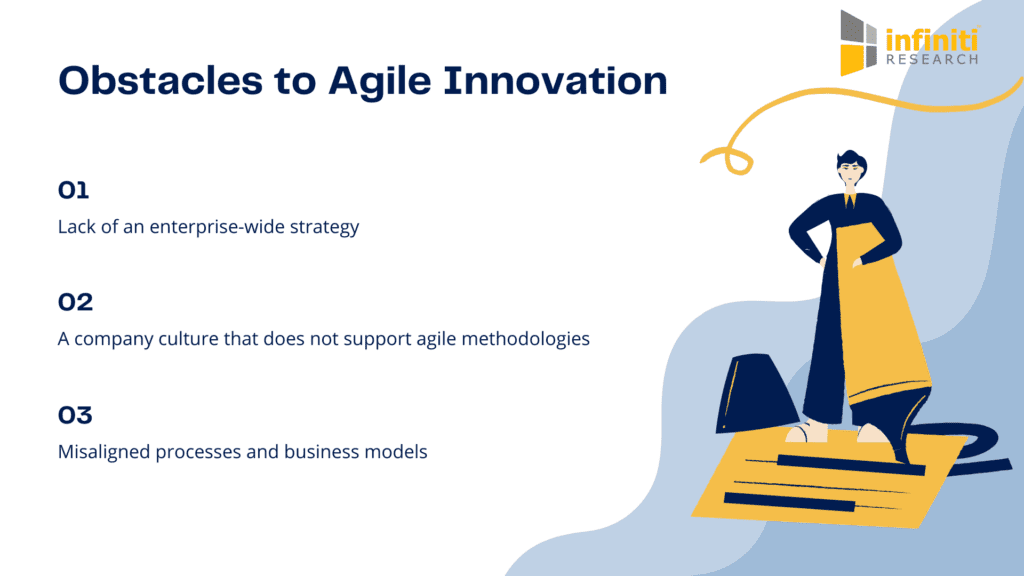 Given the rapid changes in healthcare needs, companies operating in this sector are under mounting pressure to improve quality and reduce costs. Contact our market research experts to find out how leading players are tackling this challenge by focusing on agile innovation.
Why Agile Innovation is Imperative
Agile innovation in healthcare can help address patient needs, physicians' concerns, and even internal challenges. However, most companies face three obstacles:
Lack of an enterprise-wide strategy
A company culture that does not support agile methodologies
Misaligned processes and business models
Adopting agile innovation can not only help healthcare payers and providers address these emerging challenges but can also help more tactical scenarios, like:
Pursuing new alignment models
Focusing on M&As to foster growth and innovation
Investing in functions that drive market differentiation
Improving productivity without losing local responsiveness to patient needs
Improving transparency across clinical and non-clinical areas
Agile innovation in healthcare focuses on enabling healthcare com­panies to adapt quickly without requiring a full-scale redesign. Hence, change becomes part of the norm rather than a disruption, and it evolves fluidly and naturally, without intervention from the top-level executives. Healthcare companies can acquire the flexibility needed to respond as the landscape shifts by developing the ability to adapt to change. Request a proposal to find out how our expertise in market intelligence can help you adapt to change.
Since agile innovation is a concept that has helped transform other turb­ulent and complex industries, it is up to healthcare players to decide if they want to lead or risk falling behind. However, agility exists in silos within healthcare organizations but is not a foundational element of the whole. Hence, healthcare payers and providers looking to adopt agile methodologies must learn to build the capabilities necessary to drive organization-wide change so that they can shift from practices that inad­vertently promote undesired behavior to those that enhance their capabilities.