Effective market segmentation, targeting, and positioning have never been more challenging. In addition to a dynamic regulatory landscape, building automation companies today face challenges such as growing competitive pressures, lack of market insights, and increasing raw material costs all of which are made more daunting by the new realities of the industry. To succeed in an uncertain environment, companies are increasingly focusing on their target market strategy.
Most businesses use their peak sales estimates to determine investment levels, resource allocations, and manufacturing plans yet fail to drive the desired outcome. The trouble with most approaches is that they capture customers' preferences only at one point in time. Leveraging real-time market insights and futuristic approaches to strategy creation can help tackle this challenge. Creating a custom target market strategy to identify trends impacting consumers and market needs, can help companies to understand what consumer preferences are likely to be tomorrow. Looking for new ways to drive rapid growth and business success? Contact us to find out how we can help.
How can target market strategy help?
A target market comprises consumers who are most likely to purchase a product or service offered by an organization. Once target markets are identified by a company, a target market strategy needs to be created to find ways to promote, communicate and reach individual target groups. Hence, it's essential to devise a robust strategy to identify potential consumer groups, drive business outcomes, and increase sales in the long run.
About the client
The client is a leading player in the building automation industry. Headquartered in the US, the company is well-known for designing and developing building automation systems and products that work in conjunction with smart building controls and automation.
Business challenge
Target market: Construction and building materials | Region under focus: United States | Key Focus area: Building automation systems
The client wanted to develop a well-defined target market strategy to drive market success for their new building automation product line. They wanted to efficiently utilize their marketing budget to focus on the most lucrative customer segments. Hence, they approached Infiniti Research to leverage its expertise in market research to develop a custom target market strategy to identify potential customer groups and analyze their demands.
The challenges faced by the client included-
Limited market access
Inadequate understanding of customer needs
Poor product differentiation
While businesses may not always have access to market and consumer insights, many factors contributing to missing expectations can be mitigated with exhaustive planning and target market strategy execution. Hence we adopted a holistic approach that focused on different aspects of the market and the underlying factors impacting business success.
A robust market strategy is essential for businesses to succeed in today's complex business scenario. Request a free proposal to know why it's essential for your business.
Our approach
Our market research experts performed an in-depth market analysis to identify market adjacencies and potential customer groups. After identifying the top five market segments and individual companies within the market, we conducted primary research to define each segment's buying behavior and value proposition attributes. We then devised a target market strategy to penetrate the markets. Each market segment had unique value proposition attributes that were linked to the target customer groups.
Our comprehensive approach involved the following phases:
Market scanning with a focus on identifying new profitable opportunities
Primary market research that focused on identifying the value proposition and customer buying behavior
Analysis of vertical market segments to identify and prioritize profitable segments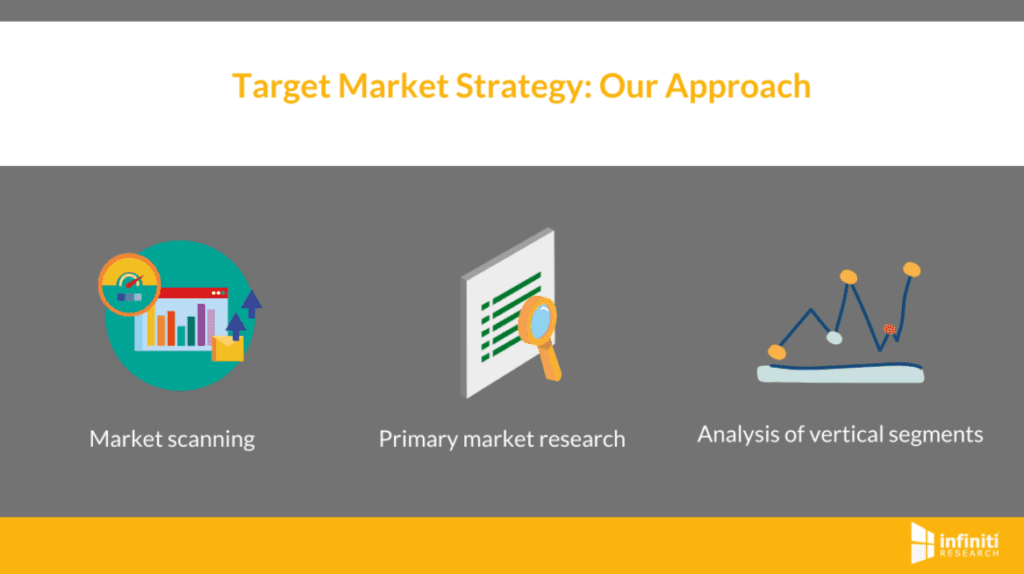 Request a free brochure to learn more about the business benefits of developing a target market strategy.
Tailored solution: Target market strategy
The following were the focus areas of our tailored approach:
Target market strategy planning: Based on a detailed analysis of target markets, we identified three areas where the building automation company could succeed, build long-term relationships, and gain an edge. This involved bridging insight gaps, breaking down organizational silos, and aligning functional and enterprise goals.
Portfolio analysis: A rigorous approach to target market strategy also helped define the probability of their product's technical, regulatory, and market access success.
Innovative approaches: We employed innovative research methodologies and advanced tools to size and segment target markets.
Target market strategy execution: Establishing a well-defined, cross-functional approach to target market strategy execution helped the client drive rapid growth by catering to the diverse needs of its customers.
Business impact
Within twelve weeks of execution, the client achieved a 26% improvement in growth. By leveraging customized solutions and recommendations, the client was able to analyze the needs of each segment and monitor performance using pre-defined metrics across the product portfolio. Our market research experts also provided an elaborate list of potential clients and customer groups, which helped the client establish a strong foothold in the target markets by clearly articulating customer value proposition and differentiation across customer segments.
Request more info to gain detailed insights on similar engagements.