Surface Disinfectants Market Overview
The global surface disinfectants market is expected to witness profitable growth over the coming years due to the increasing prevalence of hospital-acquired infections and advancements in surface disinfectants. Also, rising investments in the healthcare sector offer immense growth opportunities for companies in the surface disinfectants market. But the surface disinfectants market is not completely free of challenges. Market competition, changing customer demands, emerging technologies, and supply chain hurdles are increasing challenges for companies operating in the surface disinfectants market. As such, companies in the surface disinfectants market will need to be always forward-thinking in their approach to the supply chain. This is where Infiniti's inventory management solution comes into play. By leveraging Infiniti's inventory management solution, businesses can maximize supply chain efficiency.
During this time of upheaval, it is essential for surface disinfectants market clients to have the right guidance and market information to plan their next course of action. Request FREE proposal to learn how our business continuity support solutions can help surface disinfectant manufacturers to emerge stronger in the post-COVID-19 era.
Business Challenges Faced:
The client is a surface disinfectant manufacturing firm based out of China.
Ongoing high-cost pressure caused by intensifying global competition increased challenges for the client. Also, external factors such as global demand shifts, market consolidation, commoditization, and uncertainties such as political instability made it difficult for the client in meeting the changing market demands. Besides, the client struggled to meet the rising expectations regarding pre- and post-sales services. The surface disinfectants market client, therefore, wanted to revamp their traditional supply chain operations and improve financial performance. They chose to partner with Infiniti Research to leverage their expertise in offering inventory management solution. By partnering with Infiniti Research, the client also wanted to meet customers' increasing demands for customized products and value-added services.
Other key objectives of the surface disinfectants market client were:
Lack of transparent, structured, and lean supply chain model
Inability to cope with market uncertainties
Lack of differentiation from competitors
Inability to meet customer's supply chain service expectations
Our Integrated Approach:
The experts at Infiniti Research adopted a detailed approach to inventory management which included:
Identifying the current state of the client and analyzing supply chain complexities
Tailoring supply chain processes based on the client's needs
Identifying the crucial elements of the client's supply chain and focusing resources on value-adding processes
Automating supply chain processes to quickly respond to market changes
Analyzing and grouping customer base according to defined criteria
Conducting customer evaluation based on defined criteria and identifying the gap to current service offerings
Developing new pricing models based on individual service preferences
Applying a systematic, holistic approach to the digital transformation to make sufficient use of the business opportunities
In response to the coronavirus outbreak, some surface disinfectant manufacturers are developing contingency plans, while others are adopting strategic initiatives. Is your organization prepared to combat the COVID-19 pandemic challenges? If not, contact us to know how our business continuity solutions can help you to combat the business impacts of the COVID-19.
Business Outcome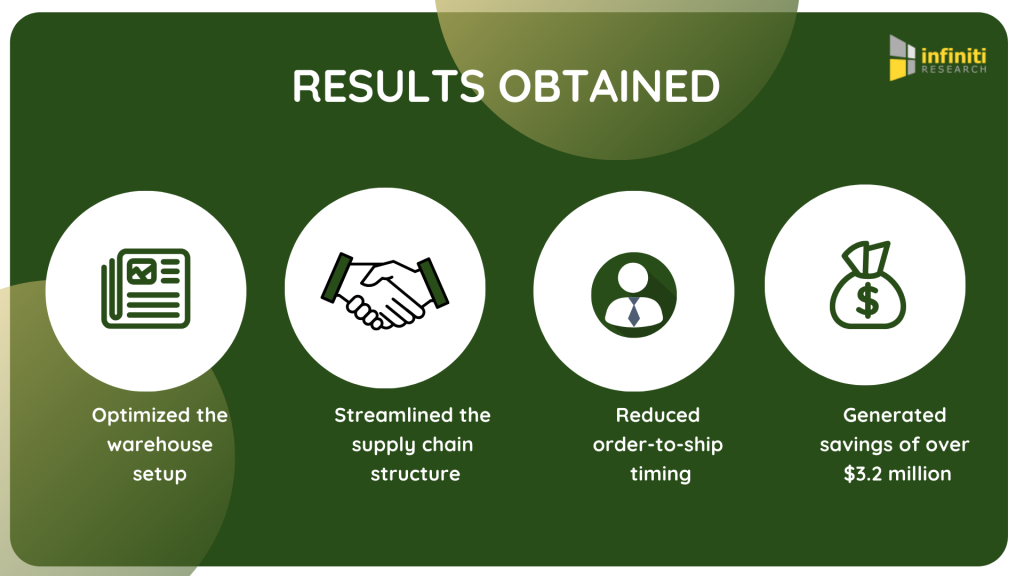 Infiniti's inventory management solution helped the surface disinfectants market client to make the inbound supply chain more efficient, set up multi-distribution center operation, and reduce outbound shipping costs. The client was also able to understand basic product category demand and stock up products with the highest demand. By implementing SCM software, the client was able to keep a pulse on inventory, gather real-time inventory data within one convenient system, and take advantage of profitable opportunities.
Besides, the client was able to optimize their warehouse setup, develop an inventory management framework to coordinate supplies at multiple locations, and speed up shipping processes. The client was also able to optimize functions such as forecast-to-stock, order-to-cash, prepare effective production schedules, and optimize inventory levels to significantly lower operating costs.
With the insights obtained from Infiniti's inventory management solution, the client was able to streamline their supply chain structure, set up warehouse space and distribution centers in areas with highest product demand, and reduce order-to-ship timing. Besides, the implementation of an automated storage and retrieval system helped the client to automatically place and retrieve loads from warehouse locations with precision, accuracy, and speed. Within six months of leveraging our inventory management solution, the surface disinfectants market client was able to achieve annual transportation cost savings of around 23%, generating savings of over $3.2 million.
Supply chain leaders in the surface disinfectants market must ensure the dynamic monitoring of forecasts in order to react quickly to inaccuracies. Our experts can help you achieve this strategic objective. Request more info here.