In today's dynamic market space, a simple and the challenging task that any manufacturing industry face is to identify the right partner channel to scale their marketing opportunities efficiently. Also, to stay relevant in the marketplace, leading manufacturing companies should identify optimal suppliers and analyze their capabilities. Moreover, in the thermal interface materials space, choosing the right suppliers involves the consideration of a wide variety of factors in terms of quality, reliability, and service. In this context, identifying and shortlisting suppliers spurs the need for a robust supplier selection solution. In the thermal interface materials space, supplier selection helps businesses understand the business needs and characterize the suppliers in terms of their quality, lead times, and deliveries. In this supplier-oriented space, selecting and organizing supply management helps companies reduce deficiencies such as inventory costs, storage expenses, and additional costs associated with transferring materials.
To seize potential opportunities and improve operational efficiency, renowned companies in the thermal interface materials space are approaching companies like Infiniti. With years of expertise in offering a plethora of services, Infiniti's supplier selection solution helps leading firms gain the benefit of cost reduction while improving their overall profit margins.

The Business Challenge
A renowned thermal interface material manufacturer with a considerable number of manufacturing units spread across the globe was facing certain predicaments profiling the right suppliers and improving their products in terms of quality and performance. The client wanted to save unnecessary transportation costs and reduce additional costs associated with inventory. With the help of the supplier selection solution, the client further wanted to profile various vendors with exceptional technical capabilities to further streamline their quality and performance.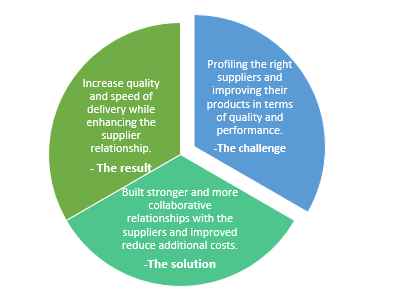 Want more information about our supplier selection solution?

Our Approach
To help the client remain profitable and stay relevant in the market, Infiniti's supplier selection experts carried out extensive research comprising both qualitative and quantitative techniques. To identify the profitable suppliers, the client also compiled information across a wide array of proprietary sources such as paid industry databases, company presentations, and industry forums.
Benefits of Supplier Selection Solution:
Built stronger and more collaborative relationships with the suppliers and reduced additional costs
Lowered administration costs, increased delivery and improved supplier relationships
Evaluated different purchasing categories and determined top suppliers
Effectively tracked supplier performance and maintained purchasing contracts
Defined the potential needs of the customers and delivered products in an agile and seamless manner
Benefits of Our Integrated Approach
The supplier selection solution helped the client increase the quality and speed of delivery while enhancing supplier relationship. Moreover, the engagement also helped the client address concerns related to supplier tracking and improved the overall supply chain visibility. Moreover, the client was further able to determine the potential suppliers and reduce the overall supplier costs. The engagement also helped the client increase quality and the overall supplier responsiveness.
A must-read case study for strategy experts and decision makers looking to target potential suppliers in the metals and mining space.