In 2017, the revenue of the global security solutions market was just over 86 billion U.S. dollars and is forecasted to reach 93 U.S. billion by 2018.
The growth of the global security solutions market is expected to be driven by the necessity to protect individuals as well as properties from rapidly evolving threats, security concerns, increasing consumer awareness, adoption of IoT-based security systems, and the growing demand for the use of wireless technology in security systems. Additionally, as corporate profit levels are on the rise, businesses have additional funds available to spend on security services, and an upsurge in the number of new businesses has led to an expansion in the potential pool of clientele for security solutions.
However, our analysis of the ICT industry shows that the security solutions providers are facing challenges in terms of:
Artificial intelligence (AI) and machine learning: These technologies are expected to be at the epicenter of changes in security robotics, physical security as a service (PSaaS), and biometric solutions. Such technologies are expected to present a number of challenges to the security solutions industry relative to cybersecurity and data protection and true integration of disparate systems. As a result, it is essential for security solutions providers to leverage the technology to improve their service offerings.[spacer height="20px"]
DIY systems: DIY systems are expected to multiply in the residential space, and tech-savvy Millennials will influence a larger portion of the light-commercial base, eroding market opportunity for small integrators. As a result, it becomes crucial for integrators to find creative ways to implement DIY systems to stay in business.[spacer height="20px"]

Many such factors are compelling security solutions providers across the globe to make use of market segmentation solutions. Market segmentation solutions help firms increase revenues by assisting them to increase their focus on more complete, high-value offerings, with high margins — and avoid segments with the high cost of selling and low margins. These solutions also help firms reduce risks by providing them with a deeper understanding of targeted customers.
The Business Challenge[spacer height="20px"]
The client: A leading security solutions provider
The client, a leading security solutions provider with business units spread across the globe, was experiencing a slowdown in their sales, which resulted in high revenue loss. Although they were trained on the features and supplied with effective sales tools, the sales team had little direction or support as to which market segments to pursue and which customers to call first. Moreover, the initial marketing communications programs were also ineffective at generating sales leads as they were too generic and lacked focus.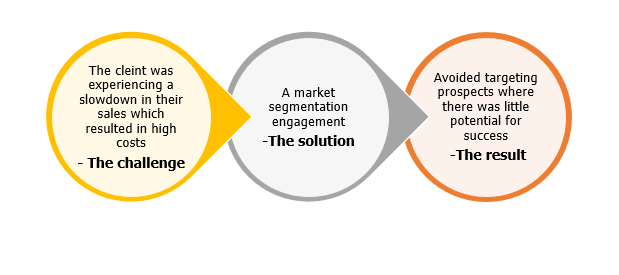 Want more information about our market segmentation solutions for the ICT industry?
---
The Journey[spacer height="20px"]
To help the security solutions provider boost profit potential, the market segmentation experts at Infiniti carried out extensive research comprising interviews and discussions with prominent stakeholders in the security solutions market space. The experts also compiled information from a wide array of reliable sources such as industry forums, paid industry databases, and company presentations.
The Solution and the Business Impact[spacer height="20px"]
With the help of Infiniti's market segmentation solution, the security solutions provider developed better strategies to understand the segments and acquired a deeper understanding of the selected customer groupings. Additionally, the client's sales team had a list of qualified prospects to contact to better manage their territory — and avoid targeting prospects where there was little potential for success. This help the security solutions provider boost their profit potential. 
The Future[spacer height="20px"]
The global security solutions industry is growing massively, with both traditional security and cybersecurity professions expected to grow at an average of 18 % through the end of the decade. As the growth continues, and as the need for online and offline security solutions continues to grow, these trends will characterize everything from education to job openings and career paths for security professionals.
---
A must-read case study for strategy specialists and decision makers looking to develop a better understanding of the security solutions market across the ICT industry

---