In this era of customer-driven economy, retail companies are trying to learn the art and science of catering to the never-ending demands of the customers. Furthermore, with the rising popularity of social media platforms, customers' preferences are changing, and businesses in the retail industry are seeking new and innovative ways to increase their product offerings. However, with the rising expectations of the consumers and concerns pertaining to the quality of products offered, retail companies have started facing the need for solutions that help in effective retail management. Retail management strategies help design fresh experiences for the customers and offer customized offerings. Also, with the popularity of e-retailing platforms, retail companies have started implementing market opportunity as a part of their business strategy to enhance their presence in the retail industry.
Infiniti's market opportunity assessment helps firms in the retail management space identify potential opportunities and risks and the pain points and unmet needs within the market. Moreover, with the presence of numerous competitors, the engagement also focuses on understanding the market requirements and the barriers to entry.


The Business Challenge
A leading client in the retail management space wanted to seek ways to improve customer engagement and deliver personalized offerings to the customers. The client wanted to profile the potential market trends and specific consumer behavior and better position their products in a seamless manner. With the recent shift toward mobile shopping, the client wanted to devise effective ways to enhance their retail presence across niche target segments. Moreover, the client wanted to improve customer experience and enhance brand presence.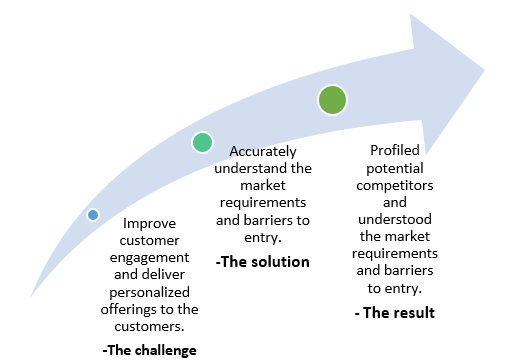 Want more information about our market opportunity assessment?

Our Approach
With the aim to attract and retain the most profitable customers, Infiniti's market opportunity experts carried out extensive research and comprehensive interviews with prominent stakeholders in the retail management space. Moreover, to identify growth opportunities in the retail space, Infiniti's experts further compiled information from a wide array of secondary sources such as paid industry databases, company presentations, and industry forums.
Benefits of Market Opportunity Assessment
The market opportunity assessment solution offered by Infiniti helped the client accurately understand the market requirements and barriers to entry. With the help of a SWOT assessment, the retail management client was able to profile the most profitable customers and identify the major threats and opportunities. Moreover, the engagement offered by Infiniti also encouraged the client to build accurate go-to-market strategy and business plans.
Additional Benefits:
Profiled potential competitors and understood the market requirements and barriers to entry

Identified the bottlenecks in the retail space and devised a robust go-to-market strategy

Identified the segments that churn more revenue and personalized offers to the customers
---
A must-read case study for strategy specialists and decision makers looking to develop an understanding of the retail and CPG industry


---