Medical Ventilator Market Overview
The global medical ventilator market is projected to witness substantial growth through 2022 owing to the rising prevalence of respiratory diseases, growth in the geriatric population, and the increasing number of preterm births. Besides, COVID-19 has put the medical ventilator market at a stage with unparalleled demand for ventilators. To meet this demand, companies in the medical ventilator market are focusing on partnerships with companies outside the sector, open-source equipment design, and deployment of medically trained employees. But beyond the immediate crisis response, companies in the medical ventilator market must focus on accelerating capacity, managing demand-supply requirements, and accurately predicting demand fluctuations. This is where Infiniti steps in with its best-in-class market intelligence solution. Infiniti's market intelligence solution can help companies in the medical ventilator market to ensure business continuity and deal with rapid changes in the healthcare market.
To combat the business impacts of the COVID-19 crisis, most ventilator manufacturers are engaging in end-to-end risk assessments to gauge points of vulnerability and ensure supply continuity. Our business continuity support solutions can help ventilator manufacturers to achieve their strategic goals. RFP here.
Business Challenges Faced:
The client is a medical ventilator manufacturer based out of North America.
The rising demand uncertainty in the medical ventilator market made it difficult for the client to manage demand-supply requirements. Also, multiple supply chain risks increased challenges for the client in ensuring supply continuity. Additionally, the medical ventilator market client encountered difficulties in shifting investment to digital media, digital detailing, and creating digital product demonstrations to further strengthen go-to-market models. Consequently, the company encountered a steady decline in profits for two consecutive years. The medical ventilator market client, therefore, wanted to manage the long-term downside risks, ensure liquidity, digitize go-to-market model, rethink customer support process, and ensure supply continuity. This required developing a detailed understanding of the attractiveness of market opportunities for their product offerings and tackling the challenges coming its way. The client chose to partner with Infiniti Research to leverage their expertise in offering market intelligence solution.
By partnering with Infiniti Research, the client also wanted to:
Engage in end-to-end risk assessments to gauge points of vulnerability and ensure supply continuity
Activate supply contingency plans, reposition inventory, and protect the health and safety of workers on the manufacturing floor
Ramp up ventilator production based on the market demand
Scale-up their digital capabilities
Rethink the customer support processes
To succeed in today's competitive marketplace, medical ventilator manufacturers must consider five key areas where action may be needed, including supply-chain management, cash preservation, go-to-market models, customer support, and clinical trial design. Our business continuity solutions can help ventilator manufacturing companies to tackle challenges in these areas and maintain profitability. Contact us here.
Our Integrated Approach
The experts at Infiniti Research conducted a comprehensive analysis of the North American medical ventilator market. Our experts also analyzed the client's supply chain processes and benchmarked their processes against the industry best practice. 
The next phase involved a root-cause analysis of the major problems and bottlenecks. Besides, our experts conducted a risk assessment to understand the current and potential risks faced by the client and their key suppliers. Our engagement also included an analysis of ongoing cost-pressure in the market, competitors' strategies, and changing pricing structures.
Based on the analysis, we identified certain obstacles that were hampering the company's growth:
Inadequate planning and scheduling led to unnecessary downtime and scheduling gaps in the organization
Organizational disconnect between critical strategic sourcing activities and buying-unit decision-makers
Unclear accountability for procurement decisions
Lack of coordination between Tier1 and Tier 2 suppliers
Lack of digital capabilities and automation technologies
Risk in clinical trial success and execution
Business Outcome: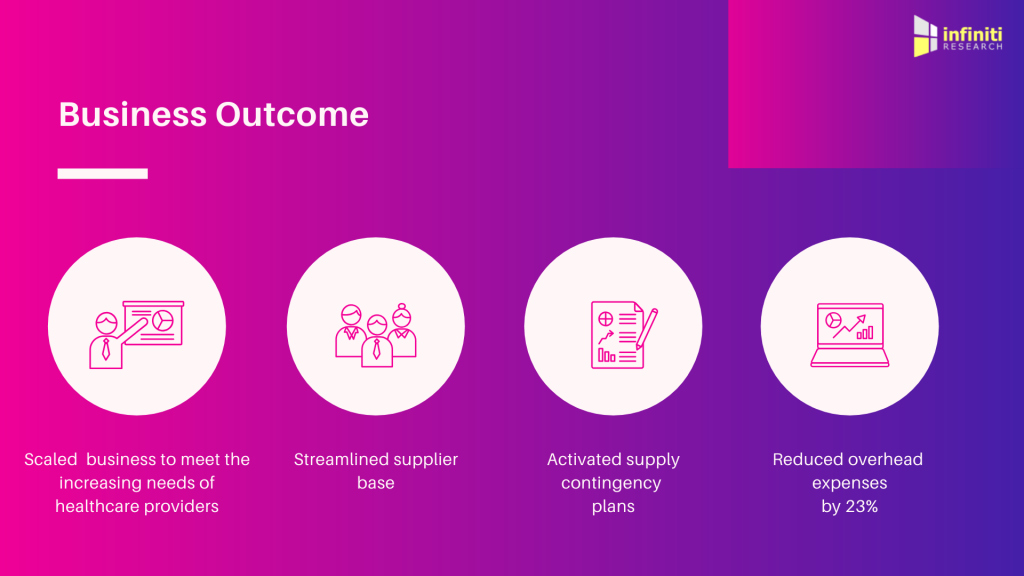 With Infiniti's market intelligence solution, the medical ventilator market client was able to segment their supply chains according to the requirements of customers and develop forecasting, production, and distribution strategies for each category. Also, they were able to rapidly scale their business to meet the increasing needs of healthcare providers and streamline their supplier base. As recommended by our experts, the client considered stress-testing their operational models under various scenarios to identify the areas of biggest risk and opportunity.
By identifying potential demands, they considered activating supply contingency plans and repositioning inventory to areas of greatest need. The company also considered quickly prioritizing and scaling new digital capabilities to enable digital touchpoints with their customers. This subsequently helped them to strengthen go-to-market models.
Within ten months of leveraging our market intelligence solution, the client was able to reduce overhead expenses by 23%, generating savings of over $7.8 million.
Want to know how our COVID-19 business continuity support solutions can help your business? Request more info here.