Consumer Intelligence revolves around gathering and analyzing consumer data to understand what consumers are doing, what consumers need, and gain insights to create and deliver an outstanding customer experience. A preferred way of capturing consumer insights is by understanding natural conversations and tracking their behavior using advanced customer intelligence tools and techniques. The evolution of digital channels has empowered both businesses and customers to interact across multiple touchpoints. This also makes it easy to resolve queries and grievances.
As modern businesses are highly focused on enhancing customer experience, developing customer-centric strategies is imperative to success. Customer intelligence plays a crucial role in improving the customer experience because marketing, sales, and business strategies have become customer-centric. Contact us if you'd like to learn more.
As far as retail is concerned, the dynamic business environment makes it imperative for retailers to connect with customers to evolve their business. For future-thinking retailers, we recommend prioritizing these three initiatives centered around customer experience-
Differentiate your customer experience by leveraging customer intelligence
Improve customer experience across all digital channels
Break down organizational silos that cause negative customer experiences
The increasing number of digital touchpoints makes it easier for businesses to interact with customers, but customer journeys have become more complex. Businesses that want to understand their customers must focus on the following areas to provide a better customer experience and enhance their customers' journey:
Voice of Customer
Voice of the customer refers to the opinion of customers about a brand's offerings. Making VoC analysis a part of customer experience management and understanding customer behavior qualitatively and quantitatively will give more insight into the brand's offerings and customer perceptions. Collecting feedback using solicited means like email, web intercept, SMS, and other sources like social media gives companies deeper and complete insight into their product/service acceptance in the market. Businesses can also prioritize what will make the greatest impact on their bottom line, along with delivering a great customer experience.
Sentiment Analysis
It is essential to understand the behavioral patterns if you wish to improve customer experience. Sentiment analysis aid this process by providing insights into customer opinions, demands, and emotions. The information can either be sourced from internal systems or social channels. Through sentiment analysis, businesses can assess customer emotions and provide immediate assistance, if necessary. Consequently, this ensures that businesses convert negative experiences to positive ones and deliver exceptional customer experiences.
Request a proposal for detailed insights on how customer intelligence can help businesses offer a positive customer experience.
Customer Satisfaction Score
Customer satisfaction scores should be assessed periodically to identify if the products/services successfully meet customer expectations. Comparing scores for products and services can help assess the quality of services and improve them if needed.
Customer Shoutout Index
With a rise in digital platforms, customers today can share their views and opinions on various channels. It is imperative to track online reviews on digital channels to identify customers who can significantly impact business success in such a scenario. A review or opinion from a fashion enthusiast about a fashion label/brand on social media would probably prompt hundred other potential customers to make a purchase. Social media channels and users have grown exponentially in the past few years, making it easier for customers and brands to interact share customer experiences with a particular brand or product.
Request a brochure to learn how Infiniti Research can support your customer experience management needs.
Adopting a strategic approach to customer experience management
It's crucial to understand that customer intelligence helps to improve customer experience if businesses adopt a strategic approach, as outlined below.
1. Create segments using customer data
Identify and segment the audience by demographics, geography, interests, generation characteristics, age ranges, gender, languages, locations, and channel & media.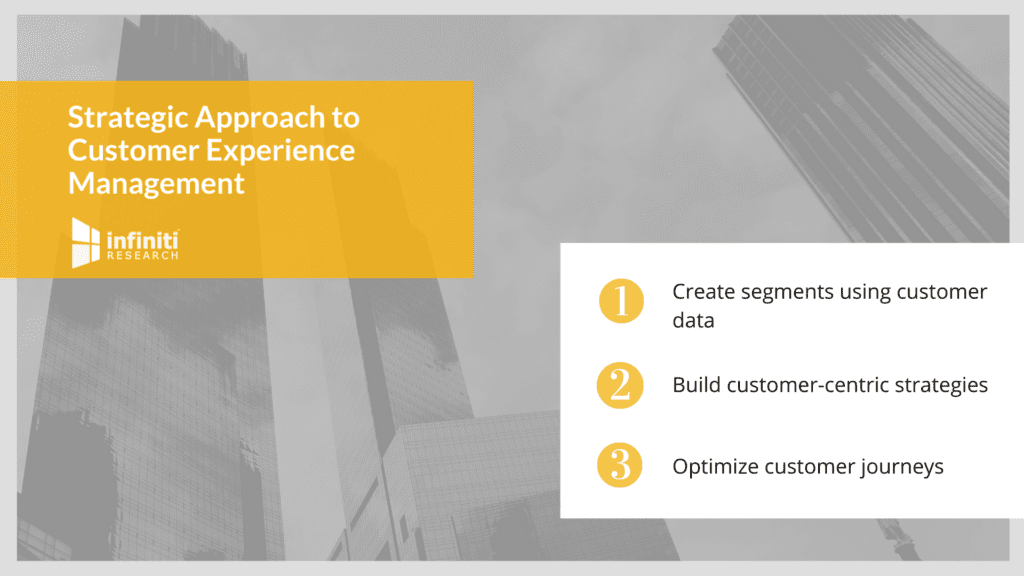 2. Build customer-centric strategies
Consumer conversations are a goldmine. Monitor conversations by segment to understand customer needs and demands and build customer-centric strategies to meet their growing needs.
3. Optimize customer journeys
Know what a specific audience segment wants in a specific stage of the customer journey or phase of the conversion funnel.
Customer intelligence is an instrumental tool that helps improve customer experience which in turn results in healthier bottom lines. Get more information on customer intelligence from an expert.