Flexible Packaging Industry Overview
The global flexible packaging market is currently witnessing a period of low growth due to the rising tariffs on raw materials, evolving consumer buying behavior, and flexible packaging companies' inability to make technology upgrades to meet rising market demands. In addition, the increase in prices of raw materials and sustainability issues are presenting additional challenges for companies in the flexible packaging industry. Consequently, companies in the flexible packaging industry are compelled to streamline operations, revamp traditional business models, and proactively take approaches to tackle challenges coming their way.
Are you facing difficulties in keeping up with the rapidly evolving business models? If yes, our market research experts can help. Request a FREE proposal today.
Business Challenge
The client is a flexible packaging firm based out of the United States
The US flexible packaging industry has been experiencing rapid transformations due to the rising tariff on raw materials and rapidly changing customer buying behavior. In order to adapt to the changes and gain a leading edge, an American flexible packaging firm wanted to gather comprehensive insights into the market's development, industry regulations, customer needs, and competitive landscape.
They approached the experts at Infiniti Research to leverage their expertise in offering market research solution. By leveraging Infiniti's market research solution, the client also wanted to tackle challenges such as: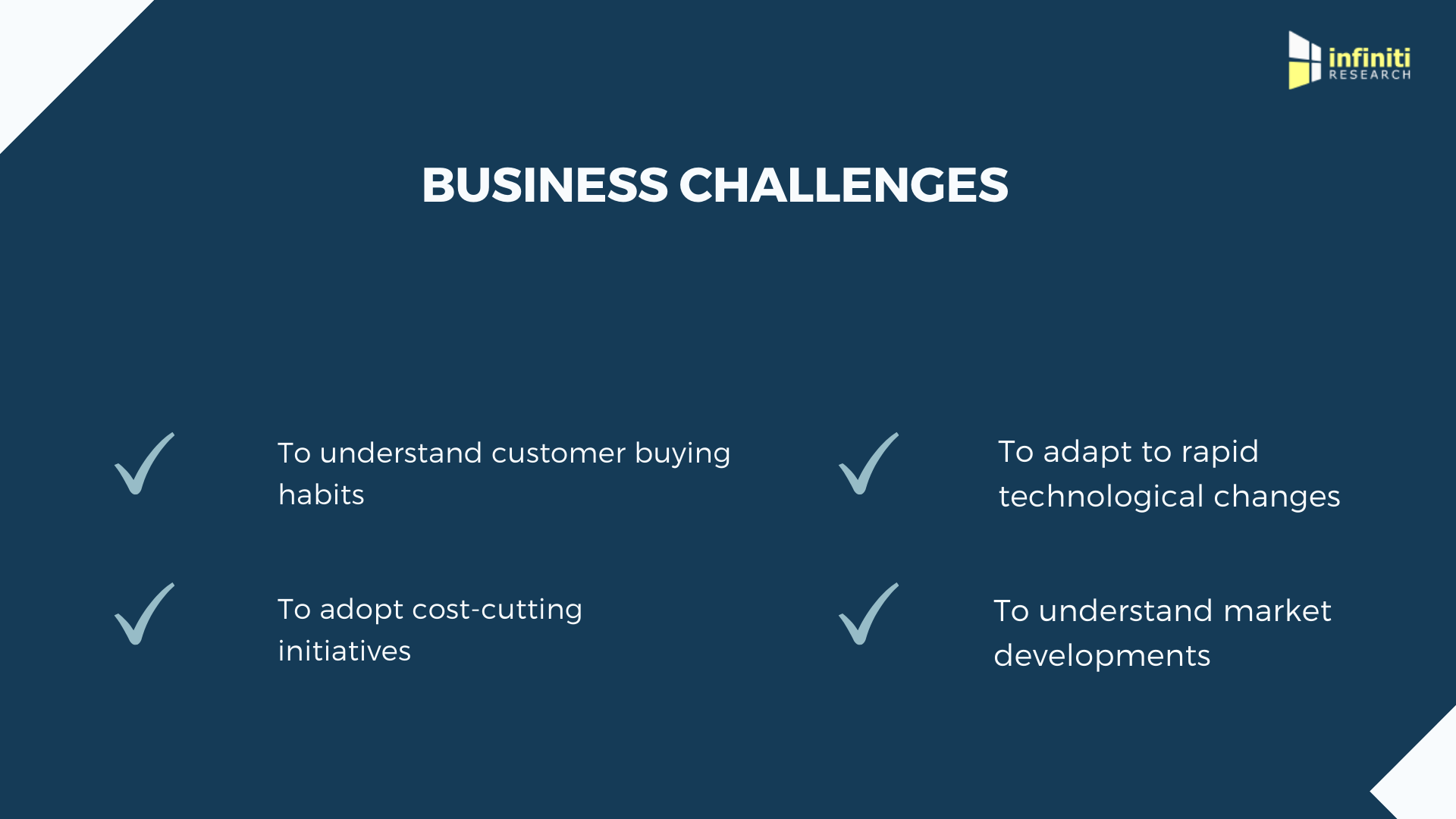 Flexible packaging industry challenge #1: Understand customer buying habits
As the growth of online shopping has reduced the emotional impact that traditional packaging generated in retail stores, the client was struggling to understand customer buying behavior and adapt packaging to suit online shoppers needs.
Flexible packaging industry challenge #2: Adapt to rapid technological changes
As leading companies in the US flexible packaging industry heavily invested into new technologies and processes, the client wanted to keep up with rapid technological developments in the market. By doing so, they wanted to make constant technology upgrades to meet the rising market demand. In addition, by keeping up with market demands, they wanted to stay financially prepared.
Flexible packaging industry challenge #3: Adopt cost-cutting initiatives
As common raw materials used in the flexible packaging industry are experiencing steep price increases, the wanted to identify cost-effective measures undertaken by their competitors to cut down on operational cost.
We analyze market trends and competitive activities to help you identify global opportunities and maximize business growth. Contact us today!
Solutions Offered
We followed a three-phased approach to market research engagement.
A customer intelligence engagement to gather insights on primary customer needs and identify reasons behind customer switching to different brands.

A market trend analysis study to identify trends in the flexible packaging industry in the United States. In addition, this engagement involved analyzing factors impacting customer buying behavior and understanding technological developments.

A competitive intelligence engagement to analyze competitors' strategies and identify growth opportunities. This engagement also involved measuring the client's market position compared to their competitors. Also, this engagement involved identifying areas where the client lacked in comparison to the top companies in the US.
Results Obtained
Our market research engagement helped the company to understand customers' buying behaviors and innovate packaging materials to suit online shoppers needs. Also, by closely analyzing competitors' strategies and business models, they were able to identify the best technologies and processes to invest on to yield huge savings. In addition, they were able to make technology upgrades before their competitors. This helped them to efficiently meet customers' needs and demands.
In addition, by understanding supply chain challenges in advance, they were able to revamp their traditional supply chain models and adopt innovative techniques. This helped the client to enhance operational efficiency and product quality. Also, the company was able to enhance sales by 23%.
Want to know more about our solutions for companies in the packaging market? Request for more info!