Getting insights into the current market scenario, analyzing the marketability of products, and identification of potential customers are key to understanding the marketability of products.
With the increasing affluence of the global population, most people have started caring more about their health issues than problems such as famine or hunger. Even today, many people across the globe die because of contagious diseases or infectious diseases. Can you imagine what the result will be if someone who is undergoing surgery is

accidentally infected with other diseases through equipment such as a blood transfusion set or bags used for blood collection? The repercussions of such instances of carelessness would be huge for hospitals using such contaminated equipment. Consequently, while providing services to raise the utilization of healthcare facilities, it becomes essential for healthcare providers to take the patient's health and safety into consideration and enhance the utilization of surgical disposables. By doing this, instances of unnecessary death rates can be prevented and a high living standard can be assured, which subsequently will prompt the use of surgical disposables.
Since the past decade, the global market space for surgical disposables has been witnessing profound growth and has consequently resulted in the influx of products such as latex gloves, disposable syringes, and infusion or transfusion sets, including needles, catheters, and infusion bags. At Infiniti, our "market entry strategy support" team understands that due to this market's competitive nature, suppliers are finding it difficult to develop effective strategies for market entry. The competitive nature of this industry also makes it difficult for manufacturers and strategy experts to understand the market's competitive dynamics to estimate the marketability of their products across target regions.
The Business Challenge
With a keen eye on exploring future growth opportunities and understanding the market size for surgical disposables, the client – a global manufacturer of plastic packaging and protection products for household, food, healthcare, and industrial applications – was looking for effective market entry strategy support for its products across South America. To meet the client's specific business requirements, industry experts carried out an in-depth market opportunity study to assess current and projected market size and demand trends for disposable surgical gowns, drapes, and back table covers across target regions.
The scope of this in-depth market opportunity study was to offer the client insights into the market today, and it's

potential moving forward. Most companies operating in this market space believe that, in regions such as South America, the current hospital infrastructure is affecting the hesitancy to move towards disposables. However, a key to understanding the extent of how large investments in healthcare laundry is affecting this uncertainty is to gain an understanding of the reimbursements offered to hospitals.
Additionally, Infiniti's market entry strategy support team tracked recent developments and innovations in the market through secondary journals and reached out to relevant stakeholders, including industry experts, KOLs, product users, and procurement experts to understand their views on the market landscape. Our research team also spoke to stakeholders responsible for the sales and distribution of surgical disposables to understand how the market would grow in the near future to validate the market size and opportunity model developed for this segment.
Why Infiniti Research is the preferred partner for more than 55 Fortune 500 Companies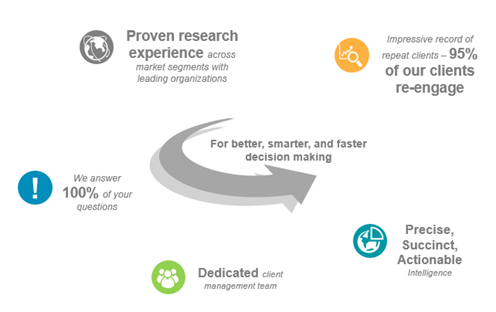 Solution Offered and Business Impact
Based on the nature of this engagement, market entry specialists, who have considerable experience in medical devices and healthcare segments, carried out this project through a combination of research methods aimed at the accurate assimilation of market information followed by data validation and tabulation. The research methodology also encompassed an analysis of proprietary and other secondary sources such as paid industry databases, annual reports, media platforms, news aggregators, and industry forums to develop initial market hypotheses and identify key stakeholders. The market opportunity engagement also offered the client insights into medical practitioners, surgeons, hospital staff, industry experts, and key market stakeholders.
In just eight weeks, the client – a global manufacturer of plastic packaging and protection products for healthcare, and industrial applications – was able to gain a better understanding of how the current healthcare infrastructure in regions such as South America will affect the marketability of their products in the market today and its potential going forward. We also offered the global manufacturer insights into the market's data, including but not limited to hospitals/clinics/office, procedures per year, breakdowns on procedure types, and an understanding of how to effectively access the market for disposable gowns.
To assess challenges specific to the surgical disposables market space, Infiniti's healthcare analysts have developed an extensive proprietary database consisting of information on more than two million industry experts, doctors, physicians, key opinion leaders, medical technicians, payers, end-users, and patients.
What do the clients appreciate about our approach?
In a relatively short period of time, just eight weeks, the client saw clear benefits from our relationship. The market opportunity service offered by Infiniti's market entry strategy support team helped the client augment their revenues by offering insights into how reimbursement policies for hospitals will affect the sale of surgical gowns, drapes, and back table covers across target regions.
Here are some of the key points appreciated by our clients
Dedicated Market Intelligence Portal. A centralized platform for the collection, storing, processing, reporting, and dissemination of information with the specific purpose of assisting the decision-making process and developing actionable insights. This portal includes comprehensive information on quantitative and qualitative aspects on target markets, competitors and end-users.
Collaborative learning. We leveraged experience of our healthcare team and our technical capabilities to enable report-sharing and other collaborative features appreciated by client teams.
Database Access. Access to a patient database containing information about 60+ medical diseases and conditions, such as a patient undergoing treatment, untreated patients, and patients with chronic conditions.
Interactive Dashboard. Using our Portal based solution for healthcare professionals, we took a design-first approach to problem-solving and helped break through previously held assertions.
Value for Money. Infiniti's dedicated client management team customizes reports to suit business requirements and offers the best insights for every dollar spent.
A must-read case study for strategy experts and decision makers looking for market entry strategy support.