It has been observed that the presence of foreign particles and water and oxidation deposits are the major causes for more than 80% of process breakdowns. By realizing the need to keep the manufacturing processes free from pollutants and preserve resources, there is a significant demand for filtration equipment from several industries including food & beverage, pharmaceuticals, textiles, oil refining, chemicals, and power and even from medical institutions and large commercial buildings, making market opportunity analysis crucial. The use of filtration equipment will result in huge cost savings in terms of maintenance costs, component replacements, and production downtime.
From emulsion paints and offset inks to resins, filtration systems are now in demand from numerous industrial segments.
With constant innovations and rising demand, the market space for filtration equipment is competitive, and the manufacturers are introducing filtration equipment based on various processes or techniques such as sedimentation, vacuum, pressure filtration, and centrifugal separation. Some of the leading filtration equipment manufacturers are

also offering industry specific equipment to target niche market segments like wastewater treatment and mining. Though innovations and the increasing demand encourage manufacturers to focus on expanding their operations, intense competition from the other players makes it difficult to enter new markets. With a clear understanding of the key application areas and by identifying key competitors, we at Infiniti offer effective market opportunity assessments to help clients develop effective growth strategies while entering new markets.
The Business Challenge
To understand the market dynamics and identify niche market segments that have attractive opportunities for acquisition or investment, the client – a leading manufacturer of steam management systems and peristaltic pumps and the associated fluid path technologies – approached Infiniti to engage in a market opportunity study that would help in identifying the key application areas for niche filtration equipment. The scope of this market opportunity assessment was to perform an overall assessment of the parent market and a relative assessment of the individual segments and also offer conclusions and recommendations relating to investment opportunities.
The primary objective of this market opportunity assessment was to assess the niche filtration segment in North

America and Europe and identify the niche market segments that support high net margins and also offer above average CAGR. Additionally, this market opportunity assessment also helped the client understand, assess, and evaluate the potential market attractiveness in select business segments and also realize attractive opportunities for investment and acquisition across the North American and European markets.
To meet the specific requirements of the client, Infiniti's experienced team of project management experts followed a blended approach of qualitative and quantitative assessment and carried out interviews and discussions with business executives, filtration equipment, process analyzers, and process fluids experts, and manufacturers. Additionally, to build market modeling methods for the current and future markets, our research experts also reached out to key stakeholders and industry experts.
Why Infiniti Research is the preferred partner for more than 55 Fortune 500 Companies
Solution Offered and Business Impact: Market Opportunity
By deploying a project management team with considerable expertise in market research within the industrial, process fluids, filtration and allied industry segments, we offered the client a comprehensive analysis of the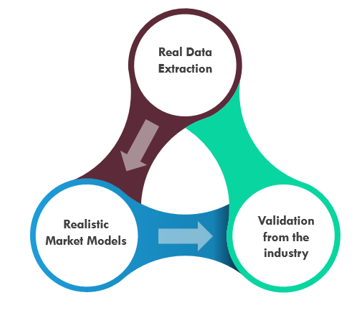 investment and acquisition opportunities for niche filtration equipment across the target regions. Furthermore, this market opportunity assessment also helped the client identify the key areas related to the usage and control of industrial or process fluids. Additionally, our market opportunity assessment also offered the client insights based on the assessment of the market structure across filter material manufacturers, manufacturers of finished filter products and solutions, and other influencers or channels, such as consultants and contractors.
In a mere span of just eight weeks, the leading manufacturer of steam and specialty pump products was able to develop a detailed understanding of the market across the target regions and also gain actionable insights on the niche market segments, main routes to enter the market, and attractive investment and acquisition opportunities.
To assess the challenges specific to the industry, Infiniti's experts have developed an extensive proprietary database that consists of information on more than two million industry specialists, key distributors, major competitors, and end-users.
Benefits of Our Market Opportunity Assessment
In just eight weeks, the client – a world-renowned provider of steam systems and related services, saw numerous benefits in terms of identifying new opportunities for acquisition or investment in North America and Europe. The client also realized niche market segments that support high net margins across various industries including food and beverage, pharmaceuticals, hospitals, oil refining, chemicals, and general manufacturing.
Here are some of the key points appreciated by our clients
Dedicated Market Intelligence Portal.

A centralized platform for the collection, storing, processing, reporting, and dissemination of information with the specific purpose of assisting the decision-making process and developing actionable insights. This portal includes comprehensive information on quantitative and qualitative aspects on target markets, competitors and end-users.

Collaborative learning.

We leveraged the experience of our healthcare team and our technical capabilities to enable report-sharing and other collaborative features appreciated by client teams.

Database Access.

Access to a patient database containing information about 60+ medical diseases and conditions, such as patients undergoing treatment, untreated patients, and patients with chronic conditions.

Interactive Dashboard.

Using our Portal based solution for healthcare professionals, we took a design-first approach to problem-solving and helped break through previously held assertions.

Value for Money.

Infiniti's dedicated client management team customizes reports to suit business requirements and offers the best market opportunity assessments for a wide range of industries.
A must-read market opportunity assessment for strategy experts and decision makers looking to develop effective market entry strategies for filtration equipment.