Backed my good reimbursement systems, and increasing aging population, the intermittent catheter market is expected to continue on its strong growth trajectory over the coming years.
Clean intermittent catheterization (CIC) is widely considered as an effective way for bladder management for patients with idiopathic or neurogenic bladder dysfunction. Some of the major causes for the use of urinary catheters include urinary incontinence, urinary retention, and neurological disorders. Over the last few years, there has been a significant increase in demand for urinary catheters with the introduction of technologically advanced urinary catheters and a rapidly growing geriatric population. While high unmet needs in emerging economies and increased government support present lucrative opportunities for established players in the market, the alarming rise in catheter-associated urinary tract infections (CAUTIs) is anticipated to affect growth adversely.
With a significant increase in healthcare expenditure in developing countries, the demand for single-use and self-catheters has grown considerably. Moreover, favorable reimbursement policies in

across European countries and the US, along with several innovations in urinary catheters have boosted the adoption of clean intermittent catheters (CIC). However, the negligence of homecare service personnel and distributors in serving patients is one of the major challenges facing this industry.
Infiniti's market intelligence study helps players in the urinary catheter industry deduce effective growth strategies and market entry solutions. The market intelligence assessment also analyzes the key trends, challenges, and growth drivers and helps companies with effective decision-making strategies that is essential to understand the marketability of various urinary catheter products. These solutions also help manufacturers analyze the market dynamics and assess the distribution and payer landscape.
The Business Challenge
To gain a better understanding of the market landscape, the client –  a global provider of innovative medical devices with a focus on helping people suffering from urinary retention or chronic constipation – approached Infiniti to engage in a market opportunity and landscape assessment study. The scope of this market intelligence engagement was to help the client get an in-depth understanding of the market opportunities for expansion, future strategic planning, and support for decision-making process for a go-to-market strategy in specific countries.
The primary objective of this market intelligence study was to assess the current and future market size, market segmentations, along with a detailed overview of the key players, their market shares and position at a global level. Additionally, the market intelligence assessment also helped the client in analyzing

the key trends in the market related to CIC and hydrophilic catheters including types of catheters being used and their prescription trends, reimbursement trends for hydrophilic and other intermittent catheters, preferences for single-use vs. re-use products, and understanding the growth/decline in the usage of intermittent catheters. This extensive market opportunity assessment also offered a detailed analysis of the key threats and challenges in the market and provided a detailed overview of the regulatory environment and the value chain and major stakeholders involved in each step.
Infiniti's experienced healthcare team tracked recent developments and innovations in the market through secondary journals and reached out to key respondents such as sales representatives (hydrophilic intermittent catheters), physicians/urologists, and business line managers to understand their views on market. Our analysts also spoke to stakeholders responsible for sales and distribution of these devices to understand how the market would grow in short and long term and also to validate market size and opportunity model developed for this segment.
Why Infiniti Research is the preferred partner for more than 55 Fortune 500 Companies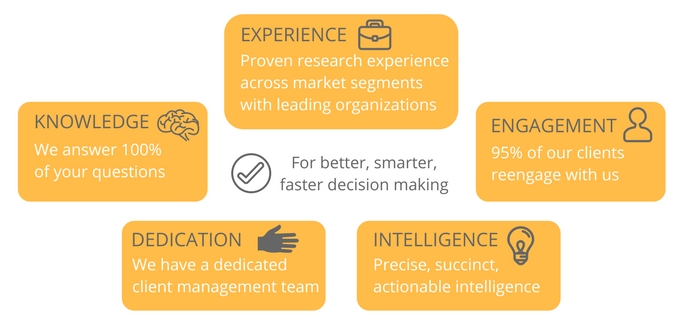 Market Intelligence Solutions Offered and Business Impact
With an aim to help the client assess the market and distribution landscape for CIC, Infiniti's market intelligence team followed a blend of research methodologies to obtain an in-depth understanding of market conditions and to identify business opportunities for the client in the target market segment. By analyzing a plethora of proprietary and open data sources including industry research reports, magazines and trade journals,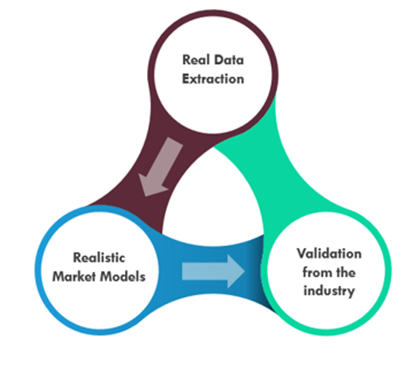 yellow pages and company brochures, white papers, and industry associations, the team developed an initial hypothesis and analytics framework. The team utilized existing industry database, connections and networks, along with secondary research and access to other databases to develop and filter out the most relevant respondents. The research team also conducted a large number of semi-structured interviews and discussions with major market stakeholders to obtain information specific to the market.
In just eight weeks, the client – a leading global provider of innovative medical devices – was able to gain a clear understanding of the market and payers landscape, distribution landscape, market opportunity, and the overall competitive analysis of the CIC market in terms of expansion, future strategic planning, and support for decision-making process.
Benefits of Our Integrated Approach
In just a relatively short period of time, just eight weeks, the client saw clear benefits from our relationship. The benefit was not only in terms of revenue impact or analytics turnaround time but also in terms of the experience we were staging for them by exposing them to a new way of problem-solving.
The market landscape assessment also helped the client create an effective go-tomarket strategy for catheters in countries such as US, Germany, UK, France, Latin America, and APAC.
Here are some of the key points appreciated by our clients
Dedicated Market Intelligence Portal. A centralized platform for the collection, storing, processing, reporting, and dissemination of information with the specific purpose of assisting the decision-making process and developing actionable insights. This portal includes comprehensive information on quantitative and qualitative aspects on target markets, competitors and end-users.
Collaborative learning. We leveraged the experience of our healthcare team and our technical capabilities to enable report-sharing and other collaborative features appreciated by client teams.
Interactive Dashboard. Using our portal-based solution for healthcare professionals, we took a design-first approach to problem-solving and helped break through previously held assertions.
Value for Money. Infiniti's dedicated client management team customizes reports to suit business requirements and offers the best insights for every dollar spent.
A must-read market intelligence study for strategy experts and decision makers looking to obtain effective market landscape assessment and opportunity analysis for CIC in the target regions.