With antibiotic resistance on the rise, healthcare looks to molecular assays and surveillance to halt the surge of infectious diseases.
Infectious disease diagnosis is among the most dynamic spaces in the in-vitro diagnostics industry. The increasing need for accurate and rapid identification of infectious agents in individual illness and global health threats cannot be undermined. Limitations in timely diagnosis and accuracy of pathogen identification can have devastating effects on public health. The conventional methods that are typically used often provide data in a time span that does not allow the most efficient, precise, and direct treatment options. This leads to antibiotic treatments that are broad, based on symptoms, or based on an unconfirmed tentative diagnosis. However, this approach increases the risk of antibiotic resistance both at the single patient and public levels. As a result, the companies operating in this market space have started investing and focusing more on the development of novel diagnostics, which will escalate the growth of this market.
Infectious diseases are highly prevalent in underdeveloped regions owing to minimal healthcare expenditures, a severe lack of awareness for personal hygiene, and absence of efficient physician services. The high incidence of infectious diseases across emerging economies presents several opportunities for in vitro diagnostic device manufacturers to invest in countries like China and India. Moreover, the growing incidence of infectious disease, increasing adoption of advanced molecular practices, and increasing interventions from government and non-profile organization to reduce the impact of infectious disease in under-developed countries is proliferating the growth of infectious disease diagnosis market. However, lack of awareness of novel diagnostic solutions, the absence of compiled regulatory procedures, and lower positivity rates due to inferior laboratory conditions will restrict the growth of infectious disease diagnostics market.
Laboratory tests including blood test, urine analysis, spinal tap, throat swabs, and stool test are usually the first line of diagnostics referred by physicians. By test type; the laboratory tests are primarily used in infectious disease diagnosis because they are inexpensive and easily available. However, molecular diagnostic techniques such as PCR, and other nucleic acid amplification test are likely to gain prominence in developed region. Infiniti's market intelligence study helps players in the infectious disease diagnostic industry deduce effective growth strategies. The market intelligence assessment also analyzes existing trends, challenges and drivers across the target region. Our market intelligence solutions help companies looking to enter this competitive market space by developing an effective decision-making strategy that is essential in understanding the marketability of diagnostic testing products.
The Business Challenge
To obtain a better understanding of the diagnostic devices market, the client – a leading player in the global infectious disease diagnostic testing market – approached Infiniti to engage in a market intelligence study offered insights into infectious disease diagnostic testing market in Europe.
The primary objective of this market intelligence assessment was to analyze the market trends, growth drivers, and challenges for the infectious disease diagnostic testing market in the target region. The market intelligence study also offered a detailed overview of the market segments including rapid diagnostics (POC), molecular diagnostics, immunoassay, and microbiology. Additionally, this market intelligence assessment helped the client understand the overall market dynamics of the infectious disease diagnostic products segment. Infiniti's research experts have gathered information on the most commonly purchased medical equipment, their key features, and average sales prices across nine European countries to gain a clear understanding of the industry's growth in the long term.
Why Infiniti Research is the preferred partner for more than 55 Fortune 500 Companies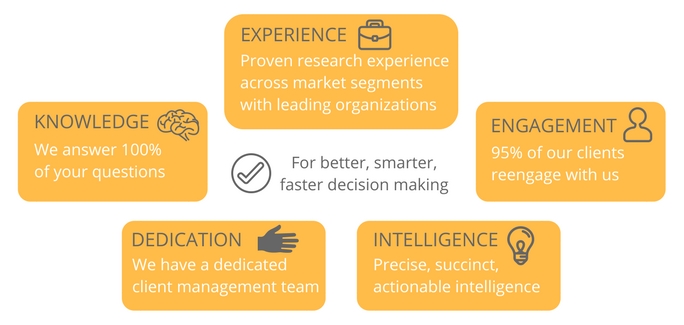 Solutions Offered and Business Impact
By deploying an experienced market intelligence team, Infiniti helped the client obtain a clear understanding of the infectious disease diagnostic testing market in Europe. The exhaustive quantitative and qualitative research methodologies determined the market trends for various sub-segments such as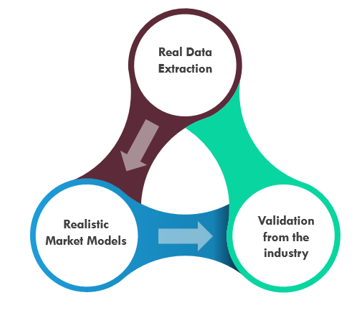 respiratory disease testing, malaria testing, and HIV testing. A broad range of published literature such as laboratory test reports, company presentations, white papers, and market assessment reports was evaluated by the research experts to develop an initial hypothesis and analytical framework for the market intelligence study. The secondary research provided actionable insights on the design and manufacturing requirements for the diagnostic testing market. The study also shed light on the performance and warrant standards of diagnostic testing devices.
In a short period of time, our market intelligence team helped the client assess the challenges, trends and analyze the various research and development activities specific to infectious disease diagnostic testing market. Moreover, the client also got a holistic overview of the approved accreditation systems, reimbursement pathways, and regulatory bodies for disease diagnostic testing devices across the focus countries in Europe. Our experts competitively mapped the market landscape and the market participants' behavior to formulate strategic solutions.
Benefits of our Integrated Approach?
In a short timeframe, the client saw clear benefits from our market intelligence engagement. The client gained numerous benefits in terms of identifying the market space for infectious disease diagnostic testing products. Overall, the client benefited immensely in terms of the experience we were staging for them by exposing them to various regulations and reimbursement pathways needed for diagnostic testing devices.
Here are some of the key points appreciated by our clients:
Dedicated Market Intelligence Portal. A centralized platform for the collection, storing, processing, reporting, and dissemination of information with the specific purpose of assisting the decision-making process and developing actionable insights. This market intelligence portal includes comprehensive information on quantitative and qualitative aspects on target markets, competitors and end-users.
Collaborative learning. We leveraged experience of our healthcare team and our technical capabilities to enable report-sharing and other collaborative features appreciated by client teams.
Database Access. Access to a patient database containing information about 60+ medical diseases and conditions, such as patient undergoing treatment, untreated patients, and patients with chronic conditions.
Interactive Dashboard. Using our market intelligence portal based solution for healthcare professionals, we took a design-first approach to problem-solving and helped break through previously held assertions.
Value for Money. Infiniti's dedicated market intelligence team customizes reports to suit business requirements and offers the best insights for every dollar spent.
A must-read market intelligence study for strategy experts and decision makers looking for effective market strategy support for medical testing devices.