Increasing electrification in vehicles and hybrid and electric vehicles, in particular, is anticipated to spur the demand for power semiconductors in vehicles.
Over the years, automobiles have evolved considerably from being a modest means of transport to a portable hub for modern electronics. As the electronic content in vehicles is increasing by the day, there is a subsequent rise in the demand for automotive electronic components and semiconductors. Electronic components now constitute nearly 40% of the total costs of a conventional, internal combustion engine car, and this cost can jump as high as 75% for electric and hybrid-electric vehicles. As staying well-connected via smartphones and tablets is the modern way of life, most car drivers are dependent on Bluetooth, cellular technologies, and other telematics functions. Such technological features require power semiconductors to distribute and control power through vehicles.
Globally, the number of automotive electronics is only going to increase as OEMs continue to introduce cutting-edge safety features, latest information and entertainment services, and improvements in energy efficiency for their devices. Additionally, it has been noted that there is a surging demand for the inclusion of safety features in automobiles, such as lane change assistance, automatic parking, and collision avoidance. Also, the gradual shift towards fully autonomous vehicles is likely to increase the demand for safety features over the next few years.
Over the last few years, the automotive industry has undergone a major transformation and is slowly moving towards self-driving, connected and green cars, which is critical for achieving safety standards like platooning and automatic emergency braking. In the automotive electronics market, a vehicle is categorized into five domains – automobile body and convenience features, chassis and safety features, infotainment, powertrain, and advanced driver assistance systems (ADAS). The increased pressure on auto manufacturers to enhance fuel consumption and to comply with the emission norms is expected to spur the use of semiconductors in powertrain applications.
The Business Challenge
To gain objective insights into the current market scenario of the automotive semiconductor and module design market, the client – a leading trading company in the automotive electronics field – approached Infiniti to conduct a market intelligence study on the automotive electronics component market in India.
The primary focus of this market intelligence study was to analyze and assess the automotive electronics component market in the target region. Moreover, the market intelligence study also offered an in-depth overview of the design and development process for semiconductors and modules, along with the identification and development of the list of semiconductor and module design houses. The market intelligence team at Infiniti also carried out a detailed competitive assessment, including an analysis of the key processes and applications, revenue and profit, certifications, key clients, competitors, employees, and organizational chart. Additionally, our research specialists and industry experts tracked the recent technological developments and innovations, along with the details of the testing, R&D, and design facilities. The analysts also reached out to key opinion leaders to understand their views on how the market is expected to grow in the short and long term to validate the market size and opportunity model developed for this segment.
Why Infiniti Research is the preferred partner for more than 55 Fortune 500 Companies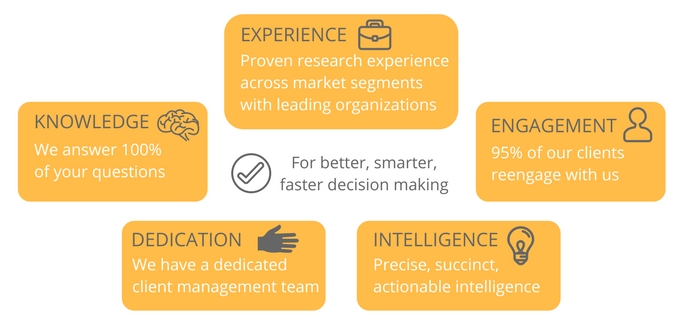 Market Intelligence Solutions Offered and Impact
A broad range of published literature such as annual company reports, company presentations, white papers, and market assessment reports was evaluated by the research experts to develop an initial hypothesis and analytical framework for the market intelligence study. Moreover, an assessment of the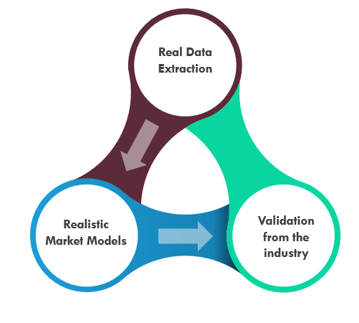 automotive semiconductor industry, including the identification of relevant market stakeholders and exhaustive primary and secondary research to determine the major competitors and their revenue and profit, and testing, R&D, and design facilities, was carried out to understand this market's growth potential. Secondary research formed the basis of the formulation of several hypotheses, which were then tested through primary research and detailed engagements with industry experts in the automotive semiconductor market.
In a short period of 10 weeks, our market intelligence team helped the client gain strategic insights into the market landscape of the automotive semiconductor market in India. The solutions offered by our research specialists also helped the client gain insights into the design and development process for semiconductors and modules and the latest developments and innovations for this market space.
To assess the challenges, latest trends, and keep a close tab on the research and development activities specific to the automotive electronics component sector, Infiniti's research team have developed an all-inclusive proprietary database consisting of information on key industry experts and analysts, academic research institutions, and major competitors and their research capabilities. This database also comprises of precise and accurate information, which has been obtained through quantitative and qualitative surveys with effective response rate.
Benefits of our Integrated Approach?
In a short time frame of 10 weeks, the client saw clear benefits from our relationship. The benefit was not only in terms of the insights offered for the automotive electronic components market space but also in terms of revenue impact and analytics turnaround time. Overall, the client benefitted immensely in terms of the experience we were staging for them by exposing them to a new approach to problem-solving.
Here are some of the key points appreciated by our clients:
Dedicated Market Intelligence Portal. A centralized platform for the collection, storing, processing, reporting, and dissemination of information with the specific purpose of assisting the decision-making process and developing actionable insights. This market intelligence portal includes comprehensive information on quantitative and qualitative aspects on target markets, competitors and end-users.

Collaborative learning

. We leveraged experience of our healthcare team and our technical capabilities to enable report-sharing and other collaborative features appreciated by client teams.
Database Access. Access to a patient database containing information about 60+ medical diseases and conditions, such as patient undergoing treatment, untreated patients, and patients with chronic conditions.
Interactive Dashboard. Using our market intelligence portal based solution for healthcare professionals, we took a design-first approach to problem-solving and helped break through previously held assertions.
Value for Money. Infiniti's dedicated market intelligence team customizes reports to suit business requirements and offers the best insights for every dollar spent.
A must-read case study for strategy experts and decision makers looking for effective market intelligence solutions for the automotive semiconductor market, specifically for the automotive electronic components.