With the increasing focus on consuming food products that are gluten-free, ancient grains have started gaining traction in the global food retail and foodservice market, with quinoa leading the pack.
With the rising demand for food products that lack genetic modification or gluten, two ingredients that no trendy eatery would dare leave off the food menu are kale and quinoa. Though some experts suggest that quinoa fatigue has started to set in among consumers and another ancient grain is about to take its place in the market, quinoa fans need not despair as the number of food products that contain quinoa is continually increasing. Furthermore, the ability of ancient grains to add visual, flavor, and textural appeal to food products available in the market today spurs its demand among the millennials, who generally prefer consuming gluten-free food products. Clearly, the benefits of ancient grains resonate so strongly with consumers, and their nutritional benefits are so persuasive that there is plenty of room for quinoa to share the stage with other ancient grains such as Freekeh, Millet, Teff, Kamut, Amaranth, and Chia to name a few.
With market-leading players incorporating ancient grains into edibles such as yogurt, bars, shakes, and pizza crust and the shifting preference of Millennials towards such healthy alternatives, the market space for ancient grains has become extremely competitive. Consequently, players looking to enter this market have to develop an extensive portfolio of edibles that are flavorful and nutrient-dense. Additionally, to develop an effective market entry strategy, they also must associate with companies that have experience in helping global suppliers of food products get actionable insights into the eminent trends and future requirements for the food and beverage products. Additionally, Infiniti's market intelligence study would also help clients from the food and beverage sector identify potential competitors who would pose a challenge for market entry.
The Business Challenge
To understand the changing consumers' preference in this market and explore future growth opportunities, the client – a world leading food, commodity, and agribusiness company – approached Infiniti to engage in a market intelligence study that would offer the global conglomerate agribusiness market insights into the market space for ancient grains. This market intelligence engagement would also offer insights into major market dynamics, supply and demand outlooks, and supplier profiles for ancient grains across major geographical regions.
The primary objective of this engagement was to develop a global market map of various ancient grains for use in edibles and provide a fact base to identify attractive market opportunities. Additionally, this market intelligence study would also help develop a comprehensive understanding of target regions under focus, covering facets such as the regional distribution of key products, demand-supply trends, price profiles of key products, and an assessment of key suppliers for ancient grains.
To meet the specific category requirements of market-leading companies in the food and beverage sector, Infiniti's experienced market intelligence team tracked recent developments and innovations in the market through secondary journals and reached out to key stakeholders, KOLs, product users, procurement experts to understand their views on the market. Our market intelligence experts also spoke to key stakeholders responsible for the sales and distribution of these devices to understand how the market would grow in the short and long term to validate the market size and opportunity model developed for this industry.
Why Infiniti Research is the preferred partner for more than 55 Fortune 500 Companies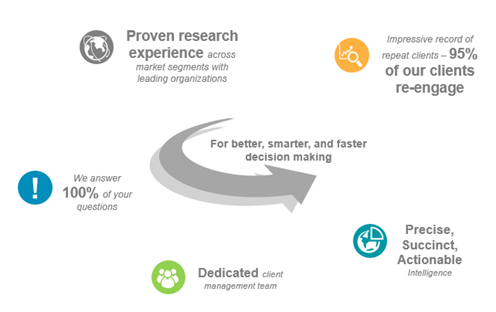 Source: Infiniti Research
Solution Offered and Impact
By evaluating numerous published literature to develop an initial hypothesis and to address the specific category requirements of the client, our market intelligence team focused on offering the global manufacturer a detailed assessment of the current market in the Americas and Asia, and its growth prospects in the near future. The solution offered by our market intelligence team also included two major facets, a market landscape assessment and a supplier landscape assessment. The market landscape assessment would offer the global manufacturer detailed regional profiles of each region under focus covering supply outlooks, demand outlooks, price profiles, market volumes for key segments, and background information on each grain type. Similarly, the supplier landscape assessment would offer the client detailed profiles of the top five ancient grains suppliers in each region with specific focus on their market position and shares.
In just 14 weeks, the world leading food, commodity, and agribusiness company was able to develop a detailed understanding of the market across target regions, covering regional distribution of key products, supply-demand trends, price profiles of key products, and an assessment of major suppliers for ancient grains. Additionally, this engagement also helped the global client develop an effective market map of various ancient grains for use in edibles and provide a fact base to identify attractive market opportunities.
To assess the challenges specific to the food and beverages sector, Infiniti's healthcare experts have developed an extensive proprietary database consisting of information on more than two million industry experts, key opinion leaders, payers, end-users, and distribution channels. This database also includes high quality and accurate information obtained through quantitative and qualitative surveys with effective response rate. We also have a collection of the best-in-class global network of approximately 3000 influencers and KOLs spread across multiple channels in more than 50 countries.
Benefits of Our Integrated Approach?
In a span of 14 weeks, the client – a leading food and commodity manufacturer – saw numerous benefits from our relationship. The benefit was not only in terms of ROI impact or turnaround time but was in terms of the custom market intelligence services that were offered to help them understand the market space better and identify lucrative market opportunities in the near future.
Here are some of the key points appreciated by our clients
Dedicated Market Intelligence Portal. A centralized platform for the collection, storing, processing, reporting, and dissemination of information with the specific purpose of assisting the decision-making process and developing actionable insights. This portal includes comprehensive information on quantitative and qualitative aspects on target markets, competitors and end-users.

Collaborative learning.

We leveraged the experience of our healthcare team and our technical capabilities to enable report-sharing and other collaborative features appreciated by client teams.

Database Access.

Access to a patient database containing information about 60+ medical diseases and conditions, such as patients undergoing treatment, untreated patients, and patients with chronic conditions.

Interactive Dashboard.

Using our Portal based solution for healthcare professionals, we took a design-first approach to problem-solving and helped break through previously held assertions.

Value for Money.

Infiniti's dedicated client management team customizes reports to suit business requirements and offers the best insights for every dollar spent.
A must-read market intelligence case study for strategy experts and decision makers looking to develop effective market entry strategies for ancient grains.