With increasing shipments of consumer electronics such as smart watches, wearable health monitoring devices, and smart glasses, a tremendous expansion is in store for the rechargeable battery market globally.
At present, there are a growing number of portable consumer electronic devices that rely on batteries, such as laptops, smartphones, digital cameras, and music players. More recently, rechargeable batteries also are being used to power tools and automobiles, as they function as an effective and efficient portable source of power. Today, most rechargeable batteries are principally made using either Nickel or Lithium as they provide excellent energy density, low self-discharge rate when not in use, and do not exhibit the "memory effect" while charging. Moreover, they can be manufactured in multiple shapes and sizes to fit the devices they power and are much lighter than conventional batteries.
Globally, the market for lithium-ion batteries is expected to proliferate significantly over the coming years. Lithium-ion batteries offer a greater charge storage capacity than other types of rechargeable batteries. Moreover, they offer several other advantages such as low natural discharge, seamless operation at low temperatures, and an extended battery life. The largest share of the market for rechargeable batteries for consumer applications is held by Japanese companies, principally because of a competitive advantage in terms of rechargeable battery technology. Practical development work continues to extend the possibilities inherent in secondary lithium-ion batteries to new areas.
The demand for rechargeable batteries is anticipated to increase at a faster rate than that of disposable batteries due to the strong growth in the use of high drain portable electronic devices. Reduced recharging times of secondary batteries will make them more attractive to consumers who prefer primary batteries merely for the high degree of convenience they offer. Moreover, in the recent times, there has been a surge in the consumer level of spending for telecommunication and backup power systems, which, in turn, will have a significant impact on the rechargeable battery market.
The Business Challenge
To gain actionable and objective insights into the current and future market scenario of rechargeable batteries, the client – a leading manufacturer of rechargeable batteries for portable consumer electronics – approached Infiniti to engage in a market assessment and competitive intelligence study for the rechargeable battery market, specifically for the consumer electronics sector.
The scope of this market assessment study was to analyze the growth prospects of the rechargeable battery market across the globe. Moreover, the market assessment study also offered key insights on the demand and battery consumption patterns of popular consumer electronics, including smartphones, tablet, digital cameras, e-cigarettes, electric shaver, and electric toothbrush. Infiniti's experienced market assessment team also provided an in-depth analysis the major manufacturers of rechargeable batteries and their current market shares. Our industry experts also tracked recent developments and innovations in the market through secondary research and reached out to relevant stakeholders to understand their views on how the market is anticipated to grow in short and long term to validate the market size and opportunity model developed for this segment.
Why Infiniti Research is the preferred partner for more than 55 Fortune 500 Companies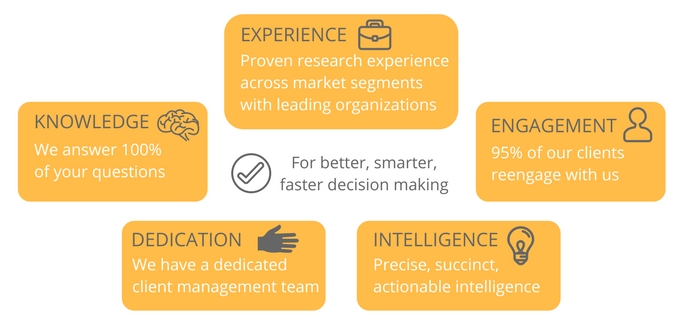 Solution Offered and Impact
By evaluating a broad range of published literature such as market assessment reports, annual reports, and company presentations, the research experts developed an initial hypothesis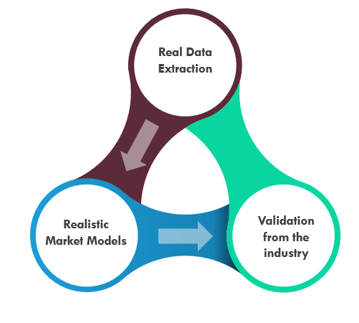 and analytical framework for the market assessment study. Moreover, Infiniti's market assessment experts identified numerous market stakeholders and conducted in-depth primary and secondary research to determine the major manufacturers and their R&D facilities, key academic research institutions researching on the portable consumer electronics, and the upcoming technological advancements in the rechargeable battery market. Secondary research formed the basis of the formulation of several hypotheses, which were then tested through primary interviews and detailed discussions with key experts in the portable consumer electronics rechargeable battery market.
In just eight weeks, our experienced market assessment team helped the client gain strategic insights into the competitor landscape of the rechargeable batteries market. The solutions offered by our research specialists also helped the client gain insights into the latest developments and innovations in this space, such as 3D electrodes, nanocrystal battery, supercapacitors, liquid metal batteries, and smart Li-ion batteries.
To assess the challenges, latest trends, and keep a close tab on the research and development activities specific to the portable consumer electronics sector, Infiniti's research experts have developed an all-inclusive proprietary database consisting of information on key industry experts, academic research institutions, and major manufacturers and their research capabilities. This database also includes high quality and accurate information, which has been obtained through quantitative and qualitative surveys with effective response rate.
What do the clients appreciate about our approach?
In a relatively short period of time, just eight weeks, the client saw clear benefits from our relationship. The benefit was in terms of revenue impact and analytics turnaround time. The client also benefitted in terms of the experience we were staging for them by exposing them to a new way of problem-solving.
Here are some of the key points appreciated by our clients:
Dedicated Market Intelligence Portal. A centralized platform for the collection, storing, processing, reporting, and dissemination of information with the specific purpose of assisting the decision-making process and developing actionable insights. This market assessment portal includes comprehensive information on quantitative and qualitative aspects on target markets, competitors and end-users.

Collaborative learning

. We leveraged experience of our healthcare team and our technical capabilities to enable report-sharing and other collaborative features appreciated by client teams.
Database Access. Access to a patient database containing information about 60+ medical diseases and conditions, such as patient undergoing treatment, untreated patients, and patients with chronic conditions.
Interactive Dashboard. Using our market assessment portal based solution for healthcare professionals, we took a design-first approach to problem-solving and helped break through previously held assertions.
Value for Money. Infiniti's dedicated client management team customizes reports to suit business requirements and offers the best insights for every dollar spent.
A must-read case study for strategy experts and decision makers looking for effective market assessment for the rechargeable battery market, specifically for consumer electronics.