With rapid urbanization and advancements in traditional end-user businesses, the demand for building machinery will rise in the coming years. Market opportunity analysis plays a crucial role in the heavy machinery business sector. It takes into consideration the available technology, financial capabilities, and the competitive readiness of any venture before taking action.

It also helps in decision making, identifying new targets, realizing the competitive advantages, and helps discover unmet customer needs. To determine their market opportunities and build effective product plans, leading heavy machinery manufacturers are approaching organizations like Infiniti Research. Infiniti's market opportunity analysis helps businesses in this sector to determine the current business requirements. Furthermore, it also assists in taking decisive actions while considering the impacts of such activities.
The Business Challenge

                                                                                
A renowned heavy machinery manufacturer was facing a predicament understanding their market effectiveness regarding the potential competitors and product positioning. The client further wanted to build useful plans that would help them pursue new product spaces; thereby, expanding into new market segments. Furthermore, the client wanted to understand the market through a detailed market opportunity analysis to come up with a beneficial plan.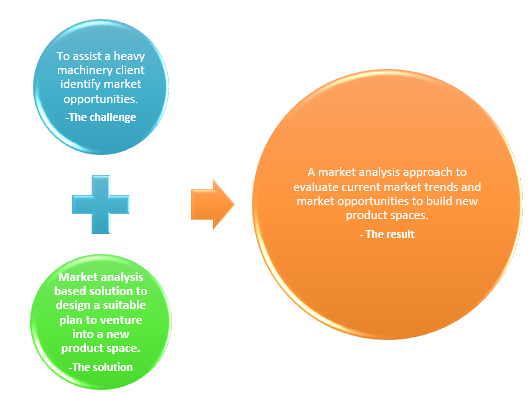 Want more information about our market analysis study?

Our Approach
To identify the potential market opportunities and devise new marketing strategies, the heavy machinery client approached Infiniti's market analysis experts. The market opportunity analysis experts at Infiniti followed a sophisticated market analytic approach, which involved taking into account various factors like technological advancements, customer requirements, geographical target regions, and future enhancement possibilities in the heavy machinery sector. Also, the market analysis experts at Infiniti created a dashboard to compile information from various proprietary sources.
Market Opportunity Analysis Solution Benefits 

                                                
Developed business goals and strategies for building effective plans
Identified potential competitors in the heavy machinery sector
Built efficient intends to pursue new product spacing
Recognized the various segment based loopholes and strategies to overcome them
Helped in determining the strengths, weaknesses, opportunities and potential threats
Insights into the current market knowledge
Adapting to changes to suit market needs in a profitable fashion
Improvised on targeting the relevant customer needs
Benefits of Our Integrated Approach
By utilizing Infiniti's market opportunity analysis solution, the heavy machinery client was able to come up with an innovative plan to help them venture into new product spaces. It also helped the client take crucial decisions and improve their overall market knowledge. The blended approach to analyze the market opportunities assisted the client in exploring and identifying a suitable market opportunity. It also helped the client in building better strategies to addresses the future needs of the heavy machinery sector.
A must-read case study for strategy experts and decision makers looking to develop an understanding of the manufacturing industry.